Stacey Abrams will not be one of the 10 presidential candidates who takes the stage at the third Democratic debate Thursday night in Houston, Texas, but she may be playing an even more important role in the 2020 race through her non-candidate initiative.
Texas is one of the 20 battleground states where Abrams' new group, Fair Fight 2020, is working to promote voters' rights and fair election policies ahead of the 2020 election.
It is a fight that Abrams -- whose father, she has said, was arrested while helping register African Americans to vote -- has decided to take on instead of running for president or for an open U.S. Senate seat in her home state of Georgia.
"I was raised to believe that the right to vote is our most fundamental right and that you protect it, but more importantly, that you work for it," Abrams, who lost her bid for governor of Georgia in 2018, said last month on ABC's "This Week." "For me, this is very personal."
Abrams lost her gubernatorial bid to Republican Brian Kemp, who was then the Secretary of State in Georgia, in a contentious and close race that raised allegations of voter suppression, including aggressive purging of voter rolls and denying the registration of new voters, long waits at polling places and malfunctioning voting machines. Kemp has vehemently denied doing anything improper.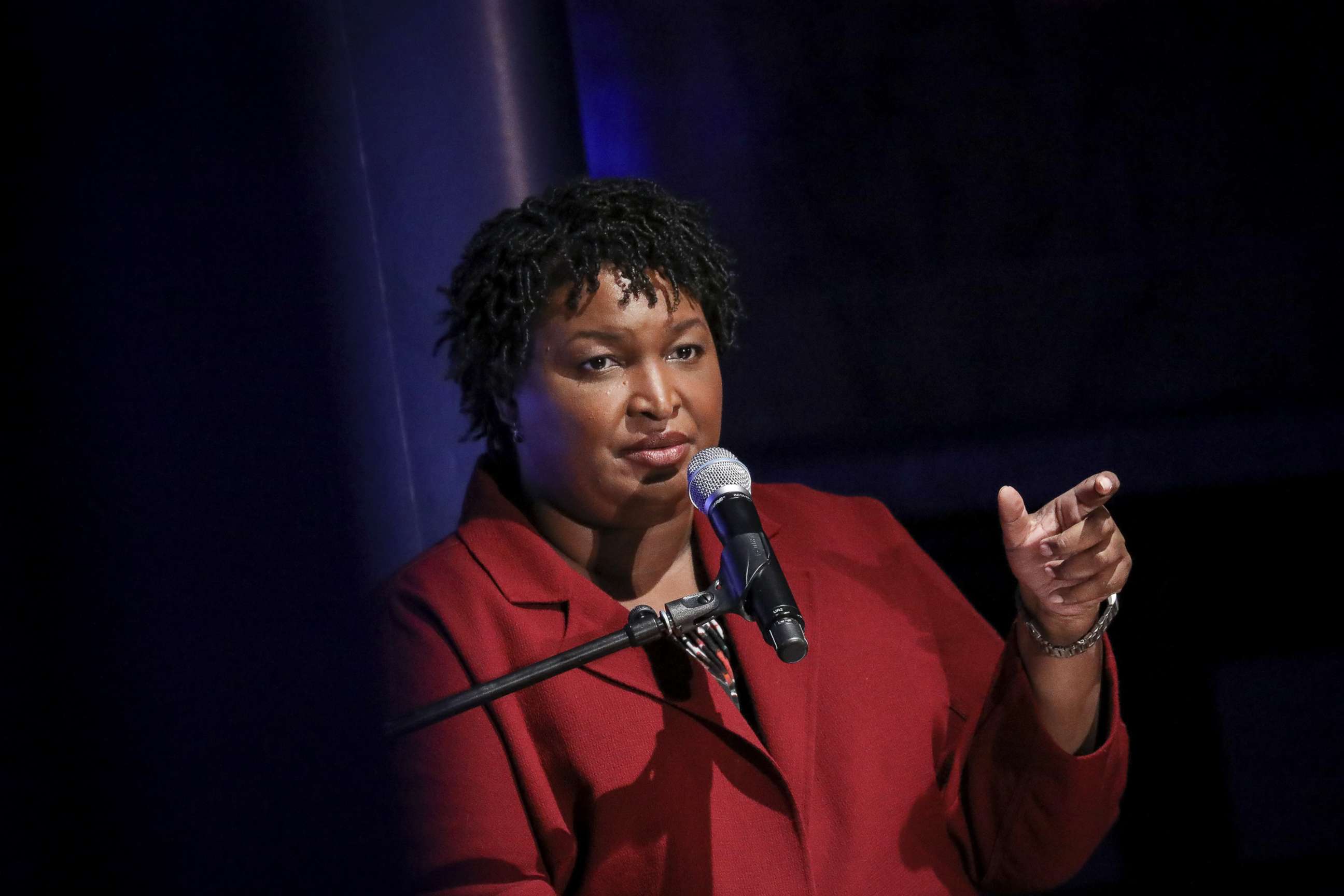 Just days after the election Abrams created Fair Fight Action as an election reform organization, and it then sued the state for having "grossly mismanaged" the 2018 election. In May, a federal judge ruled the case could go forward.
We can have a conversation about gun safety, but if we can't have every American citizen have the right to vote, then we're not going to make progress on the issues we care about.
Fair Fight 2020 was created in the hope that future candidates do not have to go through what Abrams and her campaign team allegedly did in Georgia, according to Lauren Groh-Wargo, Abrams' gubernatorial campaign manager, who is now the CEO of Fair Fight.
"In the aftermath of last year's election I just made the decision that I would do everything in my power to not have another candidate or voters or campaign staff live through that," Groh-Wargo told ABC News. "Going out and talking to people who were waiting in line with their families and their toddlers falling asleep in strollers, those conversations I had with folks were just unbelievably moving and emotional. There's just no other way to describe it."
Groh-Wargo said she sees voter suppression and voter rights as the major issue of the 2020 election, above issues like gun control and climate change that will likely be brought up in Thursday's debate.
"We can have a climate debate. We can have a conversation about gun safety," she said. "But if we can't have every American citizen have the right to vote, then we're not going to make progress on the issues we care about."
"In all of our private conversations with the campaigns and with all the major stakeholders, [protecting voter rights] is universally seen as a critical issue," Groh-Wargo added.
The Democratic candidates on the debate stage Thursday night have largely embraced voting rights as an issue as they race to take on President Donald Trump in the 2020 election.
In just two examples of the 10 candidates debating, former Texas congressman Beto O'Rourke has a plan that he says would increase voter registration by 50 million voters, while Sen. Elizabeth Warren's proposal would make Election Day a national holiday, require a minimum of 15 days of early voting, expand overall voting hours, and allow voting by mail.
Helping Democrats on a non-partisan issue
Voting is a universal right for all Americans, but the issue of voters' rights has become more partisan over the past two decades, as parties decide which policies help or hurt which voters, according to Gayle Alberda, assistant professor of politics and public administration at Fairfield University in Connecticut.
"For most states that passed early voting shortly after the 2000 election, it was either Republican-supported legislation in Republican-controlled state legislatures or it was bipartisan," she said.
"Fast forward to this question today over which groups are voting during that time period and who this actually privileges," she said. "That's when we see, for instance, Republicans in Ohio and Florida calling to reduce the days of early voting, and Democrats saying it's about ballot access."
Fair Fight contends it is a non-partisan initiative, though its efforts are openly aimed at benefiting Democrats.
"What we see in these [battleground] states is there are plenty of young people who are Republicans. There are plenty of Latinos who are Republicans. There are African American Republicans," said Groh-Wargo. "It should be a non-partisan issue that citizens of this country should have easy, fair and clear access to vote."
Fair Fight's plan of attack for 2020 is to work with state Democratic Party leaders in each of the 20 battleground states to build a voter protection infrastructure early on by corralling funding, technology and volunteers.
They launched now to avoid a pitfall Democrats have faced in the past of putting together voter protection programs too late in the election cycle, according to Groh-Wargo.
"We really want to make sure our Democratic presidential nominee in particular ... that they're not starting to build out their voter protection operations [after the primary]," she said. "That what they're doing is being able to scale those operations to meet the very unique challenges we believe are going to be faced next year."
Fair Fight 2020 staff have already been meeting with state party leaders across the country, including in Michigan, another one of their 20 battleground states.
There, they are helping the state party create a hotline for voters to call with voting questions year-round, instead of just before the election. They also plan to provide funding for Michigan, and the other 19 states, to have a full-time voter protection team on staff.
"The [Fair Fight] team has a lot of experience from Georgia in dealing with the questions that come up, and a skill set that they've honed, frankly, [under] fire in Georgia," said Lavora Barnes, chair of the Michigan Democratic Party. "They've been terrific in helping us think bigger about what the program could be and should be."
Not to be flip, but if you want something done, put a woman in charge.
In one example, after Michigan recently made it easier for voters to use absentee ballots, Barnes' team created a summer program where they went door-to-door to help voters get on the absentee ballot list.
"That's the sort of thing that we're doing, having learned to amplify messages of voter protection," she said. "It has been highly successful."
As the first black woman to lead her state's Democratic Party, Barnes described on a personal note how "thrilling" it is to see Abrams, who would have been the country's first black female governor, leading the charge on voters' rights.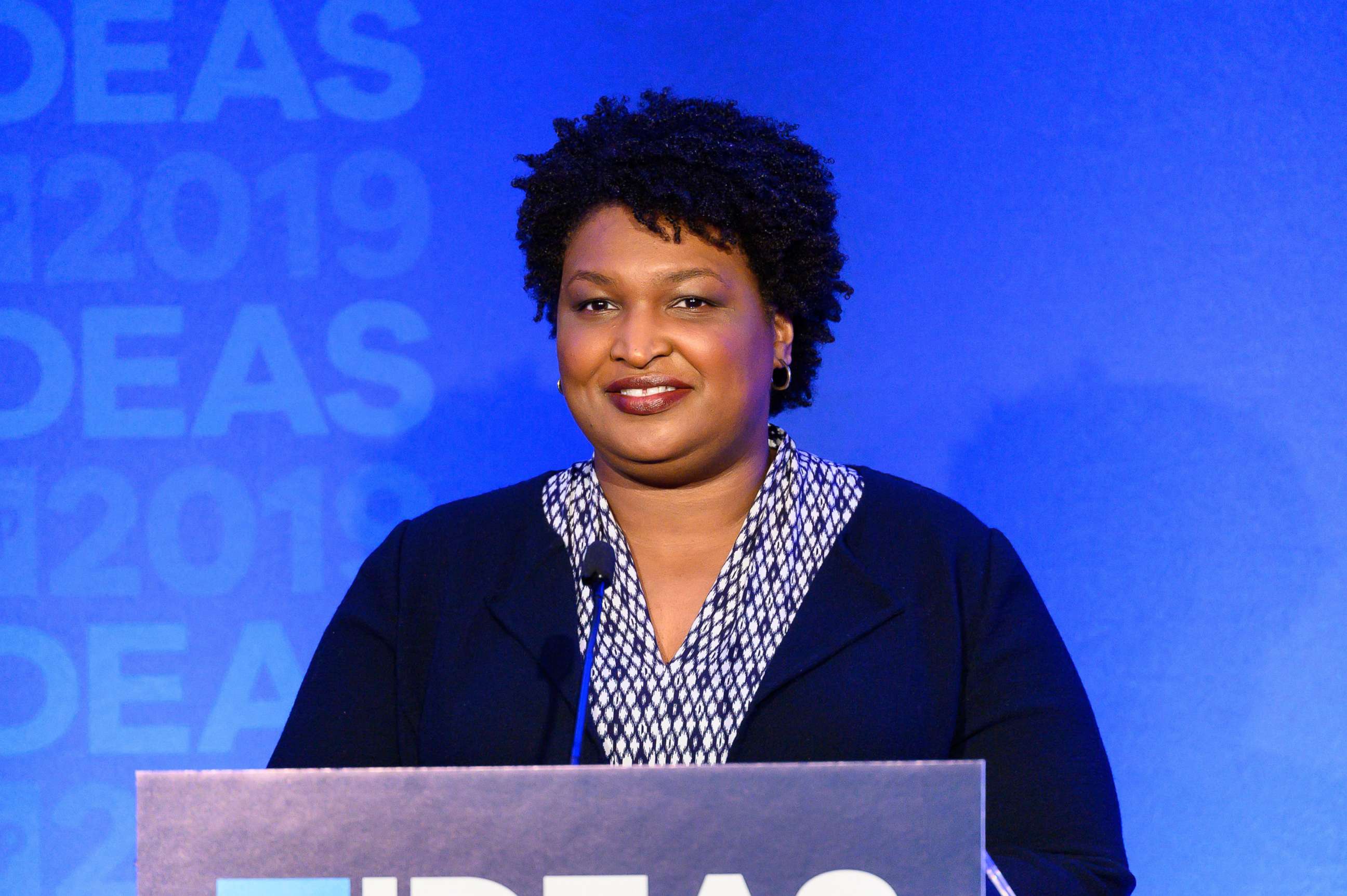 "Not to be flip, but if you want something done, put a woman in charge," she said. "Stacey says, 'I'm going to do something about voter protection in this country,' and then she gets it done."
The rise of voter suppression
In some battleground states, like Ohio and Florida, Fair Fight's efforts will be up against new laws that election experts call "restrictive voting laws" -- ones that call for stricter voter ID requirements or reducing the time period for early voting, for example.
The groups most often targeted by voter suppression efforts are college students and minorities, people of lower income and elderly and disabled people, according to Alberda.
Voting laws are the rules that govern the game and everyone wants to be the winner, so the laws actually dictate who gets to be the players in the game.
She notes that since 2010, 25 states have passed laws to make voting more difficult.
"These are laws that make it harder to register and then also to vote," she said. "Voting laws are the rules that govern the game and everyone wants to be the winner, so the laws actually dictate who gets to be the players in the game."
In Texas, where the Democratic candidates have gathered for the debate, voter protection is a hot issue as the U.S. House Committee on Oversight and Reform announced in March that it would investigate the state for voting irregularities in the 2018 election.
This spring, a bill that proposed major changes to election practices that critics say would make it more difficult to vote made it out of Senate and House committees.
And lawsuits emerged this year after Secretary of State David Whitley initiated a statewide purge of voter rolls, claiming they contained nearly tens of thousands of potential non-citizens, only to determine that many on the list were actually naturalized citizens who are eligible to vote.
Julie Hilberg, a U.K. native who became a naturalized U.S. citizen in 2015, was one of the "potential noncitizens" identified by Whitley. She was also the lead plaintiff in the lawsuit that forced election officials in Texas to pause their planned purge of voter rolls.
"When we go out to vote it is our voice, and when we don't vote then we're letting someone else speak for us," she told ABC News. "We really need to let our voices be heard and that's done in the ballot box."

Hilberg, the chairwoman of her local Democratic party, has made it her mission to ensure everyone has the right to vote, including helping with Fair Fight 2020's efforts on the ground in Texas.
"Democracy is fragile and we really need to nurture it and protect it and allow it to grow," she said. "People have fought so hard for us to have the right to vote and anything that undermines that is really an attack on our democracy and our freedoms and our way of life."
ABC News' Ester Wells contributed to this report.