When Stacey Abrams ran for governor of Georgia in 2018, she remembers finding it sexist that reporters identified her not by her full name but as "one of the two Staceys" in the Democratic primary -- the other being her opponent Stacey Evans.
When Abrams campaigned in the general election against a male candidate, Republican Brian Kemp, she said she faced questions about whether she could take on the job of governor as a single woman and as a black woman.
"What I had to accept, or at least confront, was that they were going to use gender and one of the other 'isms' to try to diminish who I was and my likelihood of success," Abrams told FiveThirtyEight's Clare Malone, a political reporter for the site. "My responsibility was to never allow anyone else to dictate what I imagined I could be, and when you're running for office that's critical."
With the 2020 election just months away and as the debate continues about whether a woman can win the presidency, Abrams is sharing her experience as a woman running for office in the U.S.
She is one of 97 women who opened up to FiveThirtyEight for When Women Run, a project that seeks to better understand what it's really like for women candidates to try and win an election.
Though Abrams lost the gubernatorial race to Kemp by 1.4 percentage points in 2018, she does not count her candidacy as a loss.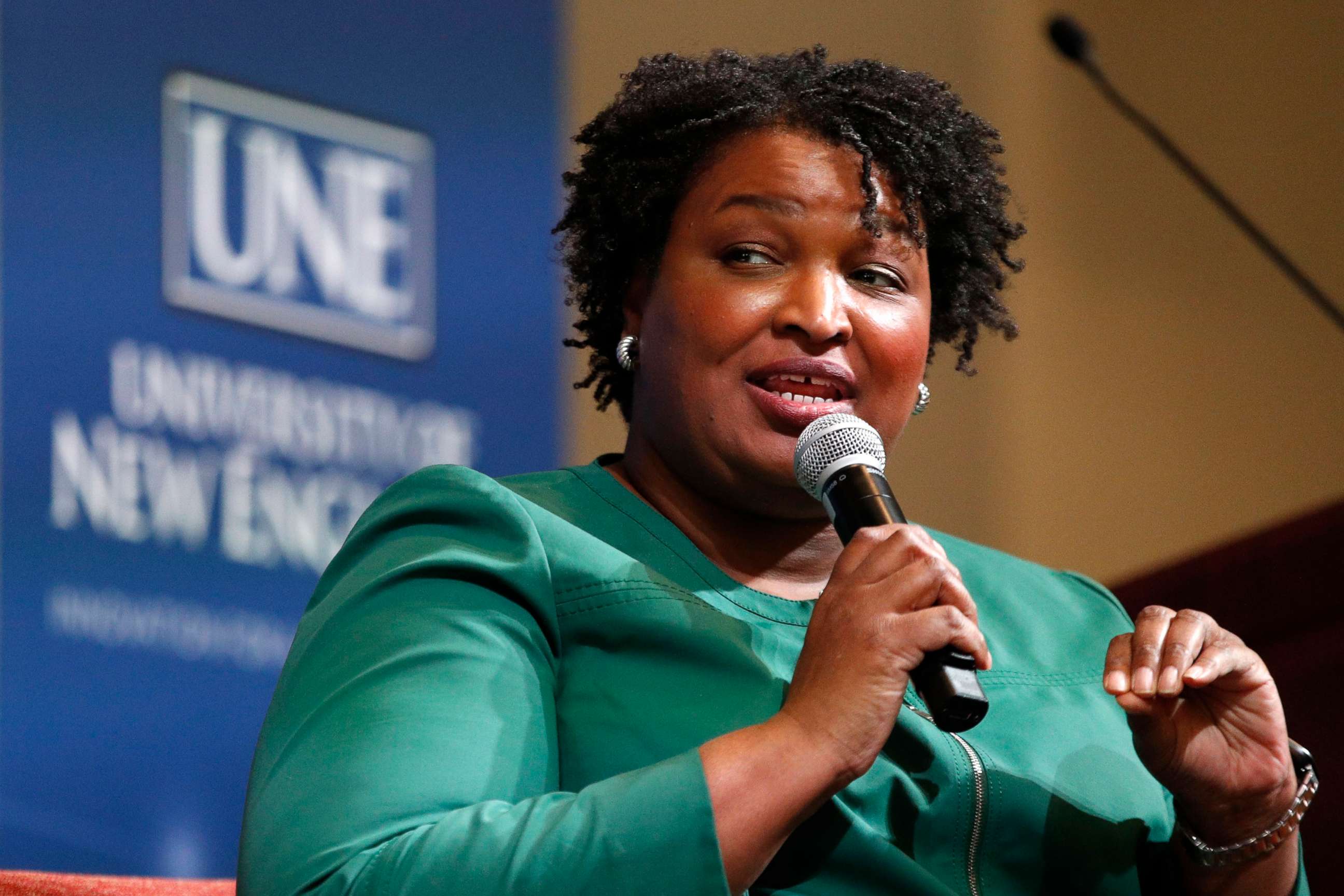 "The progress women make happens with every election, no matter the outcome," Abrams said. "Because every time a woman stands up, every time a woman makes it a little further, even if we don't break every ceiling and crack every new record, we change the dynamic and we change people's experiences."
"When women run, we change the story," she added.
How it feels to confront sexism
Abrams, 46, was part of the record-breaking wave of women who ran for office in 2018.
She described confronting sexism during her campaign as a combination of feelings that included "weary resignation and annoyance and sometimes anger."
"Part of the challenge for me is that the intersectionality of race and gender are inseparable," Abrams said. "And for women writ large, for women of color, figuring out how you navigate that is just exhausting sometimes."
"Most of the sexism and racialized sexism came from offhand comments," she said. "There were questions about my fitness because I was a single woman. There were questions about my capacity because I was a black woman, and so I think that ... gender is always at the center of things that a lot of men don't get asked."
Abrams, who rose to minority leader in the Georgia House of Representatives, was the first woman ever to lead a party in the Georgia statehouse and the first woman to lead a party in the history of the state.
In the 2018 race, Abrams made history as the first African American woman to become a major political party's nominee for governor in the United States.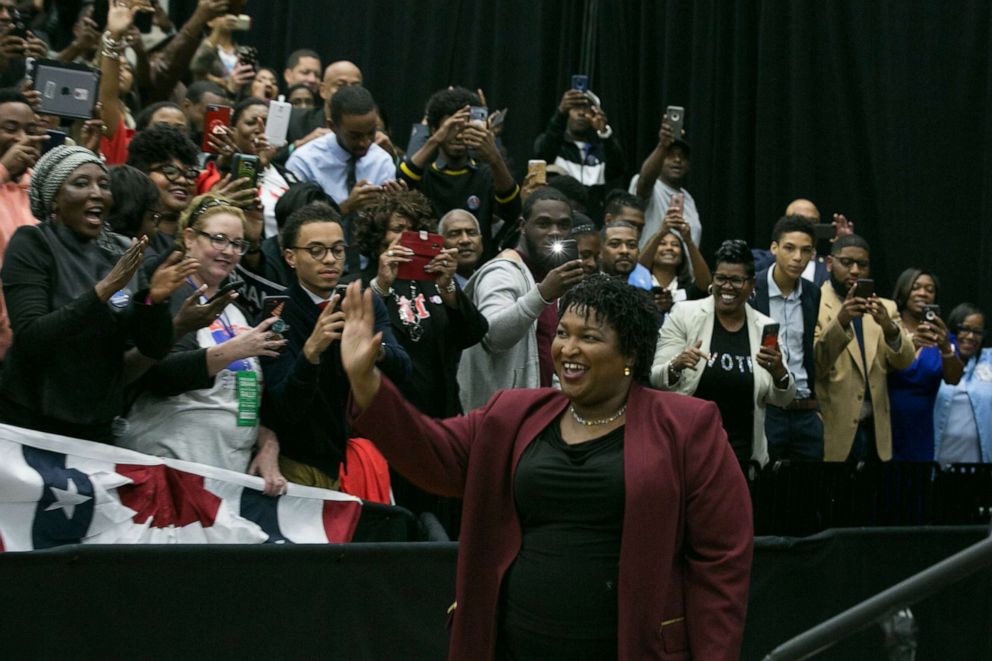 She described feeling pressure to not just run the race she wanted but to operate her campaign for governor in a way that would open doors for other women. That was especially true when it came to responding to attacks that she herself may have ignored thanks to a thick skin generated by her time in politics.
"What I had to recognize was that I wasn't simply standing in the space for myself," she said. "I was standing in the space for every woman, every woman of color who thought they could do it too."
"And my obligation and thus my feelings were it was my job to push back, to do so in a way that didn't produce sort of a harsh counterreaction but one that advanced the conversation and made it better for the next person who had to deal with it," Abrams said.
When asked if, with the benefit of hindsight, she would respond to instances of sexism and racism during her 2018 campaign any differently, Abrams said the only thing she would change is to "accelerate" her response.
"You cannot allow these things to go unanswered because when they go unanswered they fester," she said.
"I would respond in a way that not only put people on notice but gave people permission to be angry for me," she said. "Not anger in a way that makes them pull away but in a way that makes them demand better of reporters, of the system that we are part of."
Pushing herself outside her boundaries
For Abrams, the push to pave the road for other women led her to push against her very nature. She describes herself as an introvert who "is not someone who wakes up in the morning thinking: 'Yay, I get to go out and be around a bunch of people and talk and touch.'"
Yet Abrams, who graduated from Spelman College and Yale Law School, oversaw a grassroots campaign that put her directly in touch with voters and put her in the record books as the top Democratic vote-getter in Georgia history, according to The Atlanta-Journal Constitution.
"Sometimes you think that who you are is all that you are. This campaign taught me that I was capable of more than I imagined," Abrams said. "And more importantly, it helped me to figure out how to hold my core still but to change some of my behaviors so that I became better."
"I'm a better friend because of this campaign. I'm a better sister, a better daughter, and because of those things I became a better person," she said. "Regardless of the outcome, the act of having to make yourself part of something larger makes you better."
When she could have returned to a more private life after the 2018 loss, Abrams chose to keep fighting for more room at the table for women.
"As a woman and particularly as a woman of color, a black woman, my larger obligation was to remember that that campaign was not about just me getting a title," Abrams said. "My responsibility was to create space for people who are usually ignored to be able to vote and to be heard."
In August, Abrams launched Fair Fight, a multimillion-dollar initiative aimed at increasing voter protection efforts in 20 battleground states throughout the 2020 election cycle.
"Remaining in the public eye as an introvert has been very difficult," she said. "My challenge is to remember why."
'What I want women to know is ...'
As Abrams ran for governor, she relied on advice from other female politicians that she is now sharing in the hope that it encourages more women to put their hats in the ring.
"They said be as much as yourself as you can be every day, and that meant from attire to the way I spoke to how I took care of myself," Abrams said. "I didn't change everything to accommodate other people's expectations."
"These women also told me to remember why I'm doing it, that in the hardest part of the campaign, if you don't remember why you're doing it, you're going to question your sanity and you're going to question whether you still have the energy," she recalled.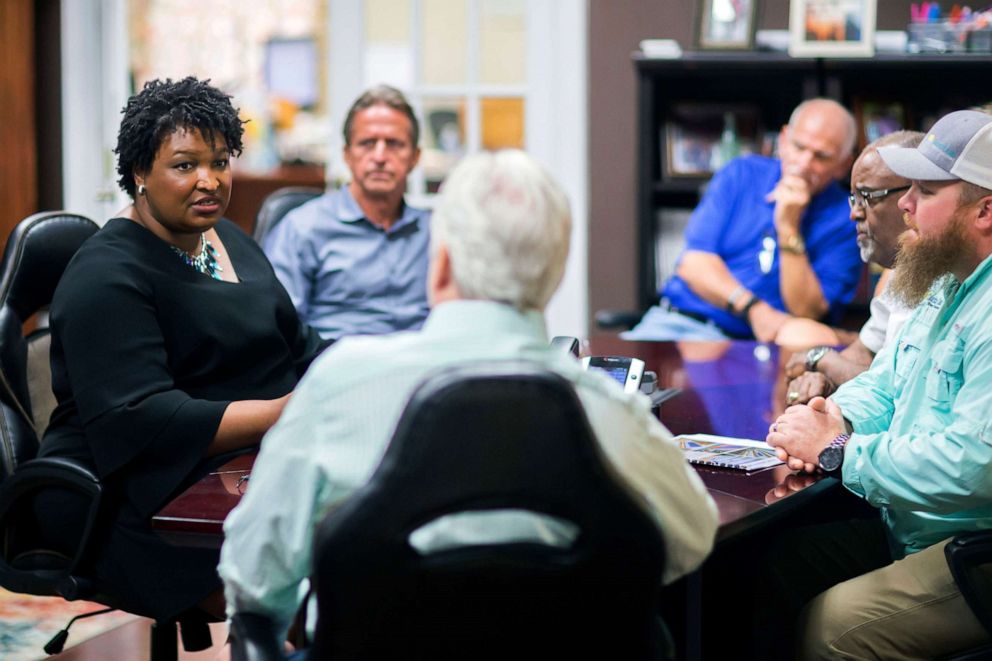 One of the biggest obstacles for women in politics, according to Abrams, is that they believe running for office is "harder than it is." She wants them to know it is hard, but also "very possible."
"I tell women candidates first of all, you're ready," Abrams said. "If you're willing to be intellectually curious. If you're willing to ask questions and if you're willing to do the work, you're ready."
She said all of the adversity can be overcome "if you remember why you're doing it in the first place and that's because you want to do good."
"That should be the only reason we run for office," Abrams said. "If you cross that hurdle, then you're further ahead than a lot of people."
Abrams also wants other women to remember that even the obstacles they may face -- like sexism on the campaign trail -- happen because people "want to believe more is possible."
"The reason I got the coverage I got was sometimes just out of curiosity but even if it's curiosity that opens the door my responsibility and our responsibility is to push that door even wider because no matter why they open it, we can use that as a way to get inside," she said. "What I want women to know is they don't have to welcome us, but if they invite us by accident we're still supposed to come in."