Judge Esther Salas is on a mission to honor her son's life and legacy.
One year after their son, Daniel Anderl, was murdered, Salas and her husband, Mark Anderl, opened up to "Good Morning America" about how they're keeping their son's legacy alive and how they've been coping over the past year.
"Everything I do from this moment on is for Daniel," Salas told "Good Morning America." "He sacrificed his life for his father and me."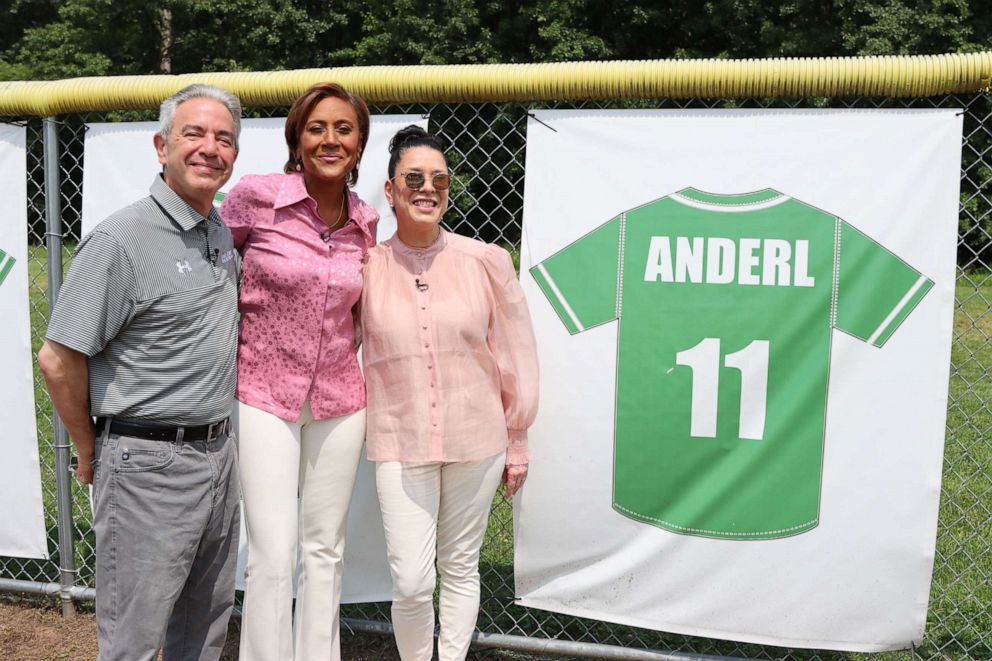 On July 19, 2020, Salas' son, Daniel, was killed in a racially motivated assault at Salas' family home after a gunman posing as a delivery driver attempted to assassinate Salas, according to authorities. Salas' husband, attorney Mark A. Anderl, was also shot but survived.
"I don't want to sugarcoat -- some of the -- depths of our despair at moments," Salas said. "Mark, thank goodness, is thriving, but we had some scares. And you know, we're traveling this journey together."
Over the past year, Salas and her husband have leaned on their faith and each other through challenging times.
"One of the things I learned about my husband was his resilience," said Salas. "The fact that he's here and saying that he's feeling great is a miracle."
On the night their family was attacked, Salas said Anderl, despite being shot three times, crawled out to the porch and was determined to get the license plate of the alleged assailant.
"It was a lot of adrenaline," Anderl told "GMA." "I knew Daniel was not gonna make it just from being with him. I just could tell -- he was in a state of grace. I went over to the other side very briefly. I was in the light and I was assured and I know that he's fine. So when I woke up and I saw Esther, I could tell her that."
The alleged gunman was found dead one day later with a self-inflicted gunshot wound. He was identified by authorities as Den Hollander, who appeared once in Salas' courtroom months before the attack. The FBI said he had a detailed dossier on Salas and her family as well as the names of several other people they believe Hollander wanted to target, including at least one other judge. In an autobiography published on his personal website, Hollander also disparaged Salas' ethnicity.
Now, one year after his death, which also marks just days before what would've been their son's 21st birthday, Salas and her husband are advocating for increased protection for federal judges against threats.
Last week, Sen. Bob Menendez, D-N.J., Sen. Cory Booker, D-N.J., and Rep. Mikie Sherrill, D-N.J., reintroduced a bill called the Daniel Anderl Judicial Security and Privacy Act of 2021, which would "bolster efforts to protect the federal judiciary and safeguard the personally identifiable information of federal judges and their immediate families."
In November, New Jersey Gov. Phil Murphy signed Daniel's Law into effect in the state. Now, Salas is optimistic it will be passed on the federal level.
"What we're asking is that we protect our personal information. Our home addresses, our social security numbers, information that will be used to target us," Salas said. "This is what the shooter did in my case. He took all that available information, created a dossier, knew where I lived, knew my church, knew my husband's office, knew Daniel's school -- he even had games that Daniel had played in and he used that information to target us. And he took the most important thing in my life, in Mark's life. And that should be a grim reminder of what will happen if we do not do something to protect our judiciary."
According to an audit of the U.S. Marshals Service, Judicial Security activities from the U.S. Department of Justice Inspector General, security incidents against federal judges rose 89% between 2016 and 2019. But the USMS does not have the resources to protect USMS-protected people, including judges.
"I think we need to send a message. We are not gonna allow the constitutional principles we've lived by to be attacked," Salas said. "It's not lost on me that this man hated me because I was a woman, but he also hated me because I was Latina. And when you attack people for who they are, you're challenging the very principles that we hold near and dear in this country. The principles of equality and justice for all."
In October 2020, nearly three months after the attack, Salas opened up to "GMA" and said she and her husband both forgave their son's killer, saying "hate is heavy, love is light."
She also returned to the bench earlier this year, telling "GMA," "This man took the most important thing in my life. He will take nothing else."
Today, Salas is focusing her grief on ways to continue honoring her son.
"Daniel, I like to say, loved life and everyone in it. He loved to make his friends laugh and he loved to make the most out of every moment, and I realized, you know what? Out of the senseless tragedy, his life makes sense. It makes sense," said Salas.
Over the weekend, the North Brunswick community in New Jersey hosted the inaugural Love is Light 5K in honor of Daniel and to raise money to fund scholarships in his name.
"Shortly after his death, I saw him in a dream," Salas said. "He said to me, 'Mom, but I still want to help my friends.' -- I'm gonna get emotional -- and I said, 'Danny, I don't know how you do that, honey.' And the next day we found out about a scholarship that had been created in Daniel's honor at Catholic University of America."
Salas added that Rutgers Law School also created a scholarship in Daniel's name, as well as his former high school, St. Joseph High School.
"We hope to fully endow that scholarship," Salas said. "That's a legacy for our son."