What began as just another trip on the school bus turned into a nightmare for 10-year-old Danny Cole and his 5-year-old brother, Castin, in Loudon, Tenn. What none of the students on the bus that day realized was that their driver was under the influence.
"She was driving on the curb after we got on," Danny said of his bus driver and the Sept. 30 incident. "We started going up, we turned [and] she [was] about to hit a car."
"It was scary when I was on the bus," Castin said.
Witnesses said the bus swerved off the road repeatedly and all 30 kids on board, including Danny's next-door neighbor, were terrified.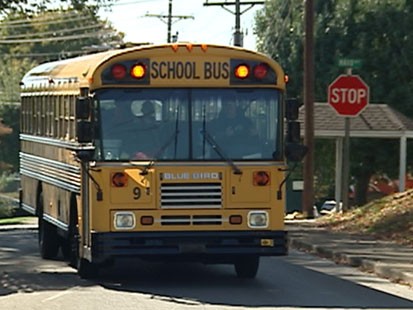 "It was like a roller coaster but scarier," said 10-year-old Dillan Elkins. "It's like she was jerking us and everything. She about went into a car, just trying to stop."
The boys hustled off the bus as soon as they could.
"I was running so fast," Dillan said, "just in case she pulled off and then she'll hit another car, pieces won't be flying everywhere, so, so we all started running as fast as we could."
As the boys fled, 48-year-old bus driver Vickie Kwasny lay passed out just three blocks away — slumped over the steering wheel in a nearby church parking lot.
She was arrested and faces charges of driving under driving under the influence of painkillers and reckless endangerment of a child.
After the incident, concerned parents rushed to the school.
"I was in the hallway waiting for my youngest," said Danny's and Castin's mother, Michele Cole. "We sat on the floor for 10 minutes crying."
Cole tried to reassure her frightened child.
"I said, 'Castin, Mommy's so sorry. You'll never have to be scared like that again.'"
The school district said Kwasny had undergone all proper screenings, including two drug tests, both of which she passed, though those tests don't pick up prescription drug abuse.
Currently, Kwasny is out on bail awaiting trial.
But the results are not enough to appease upset parents.
"I'm really angry at the school system. Whoever the personnel will be that hires these drivers has fallen asleep at the desk," said Danny Cole, father to Danny and Castin. "[We] entrust these officials with the safety of our children. We don't know them, but we trust them."
Vetting Bus Drivers
The incident highlighted parents' concerns about the screening bus drivers receive.
In just the past two months, there have been dozens of examples of drivers who've been accused of selling drugs, driving drunk or even molesting children on school buses.
According to federal law, bus drivers must have a commercial driver's license. Other regulations vary by state and by district, but they all require criminal background checks as well as random drug and alcohol testing. The problem is, some states don't play by the rules.
"We found all kinds of district personnel who had no idea that there were federal regulations," said Susan Montee, who performed an audit of 30 districts looking at 435 drivers.
She found that nearly 70 of them were not in compliance and districts often failed to run criminal background checks, or drug tests or even meet training requirements.
"I think that this is a disaster waiting to happen. I mean we know that our children are at risk because we're not screening the bus drivers," Montee said.
But others disagree.
"The school bus has been an American icon for a long time," said former National Association for Pupil Transportation president Lenny Bernstein. "Studies have shown that it's the safest mode of transportation. If anything, it's getting better."
After weeks of nightmares following the trauma, Danny, Castin and Dillan said one lesson stands out.
"When we tell you stuff about the bus driver, you should really listen and don't say that 'you guys are just saying that,'" Dillan said.