Billy Porter talks being called a 'fashion icon' at 2019 Emmy Awards
The actor a dazzling suit on the red carpet.
Billy Porter turned heads on the red carpet at the 71st Primetime Emmy Awards in Los Angeles on Sunday night.
The actor, who is nominated in the outstanding lead actor in a drama series category for his role in FX's "Pose," wore a dazzling Michael Kors suit with a Stephen Jones Millinery hat and Rick Owens platform heels.
He's gained the reputation of being quite the fashion trailblazer in Hollywood, with his daring looks on and off the carpet.
"I have always loved fashion," Porter told E! on the red carpet. "I don't know that 'fashion icon' was in the lexicon, but if people are saying that about me -- that's fine with me."
"I'm grateful I've lived long enough to see the day where I can stand inside of my authenticity, and be who I am and have it be received this way. It's gorgeous and it's a gift and it's a blessing and I'm very thankful," he added.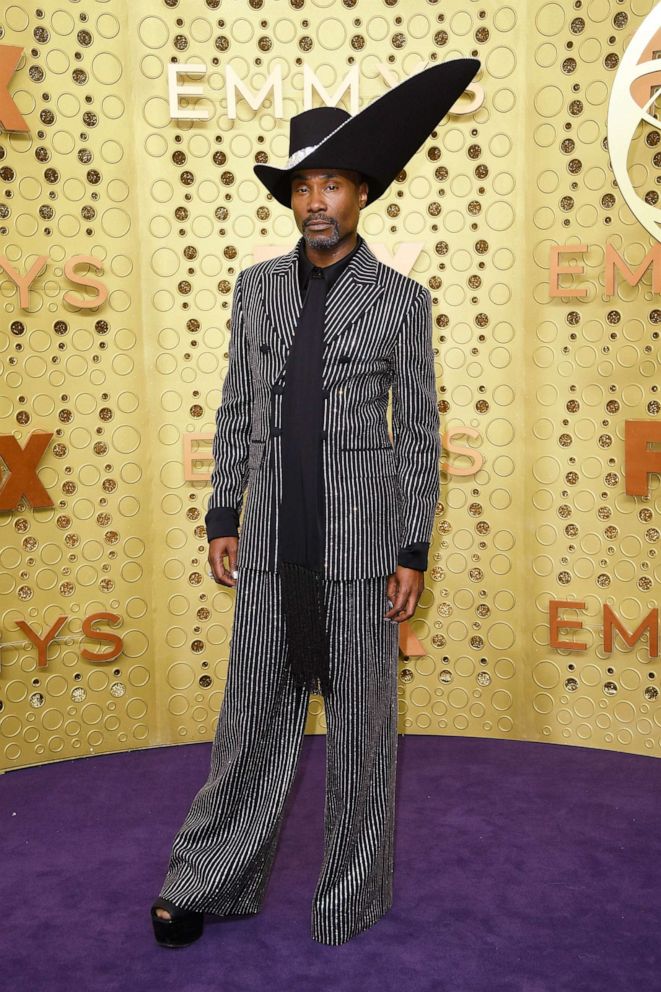 Porter's nomination Sunday night was groundbreaking, as he is the first openly gay black actor to be nominated in the lead actor in a drama series category at the Emmy Awards.
"It really opens up and creates a different kind of conversation in a different space," the actor told Deadline at the time of his nomination. "It's about representation. It's about all people's stories being told. It's about the art."
The ensemble at the Emmys was just another hit in a long line of praise-worthy looks from 2019, including a tuxedo gown he wore to the Oscars in February and the gold, winged outfit he wore to the Met Gala in May.