Blue Ivy makes adorable cameo for Beyoncé and Jay-Z's latest 'Date Night' Tiffany & Co. campaign
"Date Night" draws inspiration one of "Breakfast at Tiffany's" iconic scenes
Beyoncé and Jay-Z are back with another beautiful bonus film titled "Date Night" for their Tiffany & Co. "About Love" campaign.
Inspired by the famous cab scene from Audrey Hepburn's Breakfast at Tiffany's, the latest clip shows the power couple backseat riding together through Manhattan while the tunes of Paul Anka's "Put Your Head on My Shoulder" and Bert Kaempfert's "Three O'Clock In The Morning" play in the background.
About halfway through the short film, Blue Ivy is seen wearing glasses and a striped shirt as she's running behind the couple's car. She later gets in the vehicle with her parents as they all smile and also are joined by a fluffy brown dog.
During "Date Night," the Carters are wearing a variety of Tiffany & Co.'s most iconic jewels crafted by the late Jean Schlumberger.
Jay-Z wore the legendary Bird on a Rock brooch, which is one of the 21st century's most iconic designs. It features a platinum, 18k gold bird perched on a morganite gemstone of over 44 carats.
Beyoncé donned the luxury label's Ailsa diamond ring of over 10 carats as well as a pair of Ribbon Fan earrings featuring diamonds of over six total carats.
The French jewelry designer was best known for dressing high society's elite in the 1960s and '70s.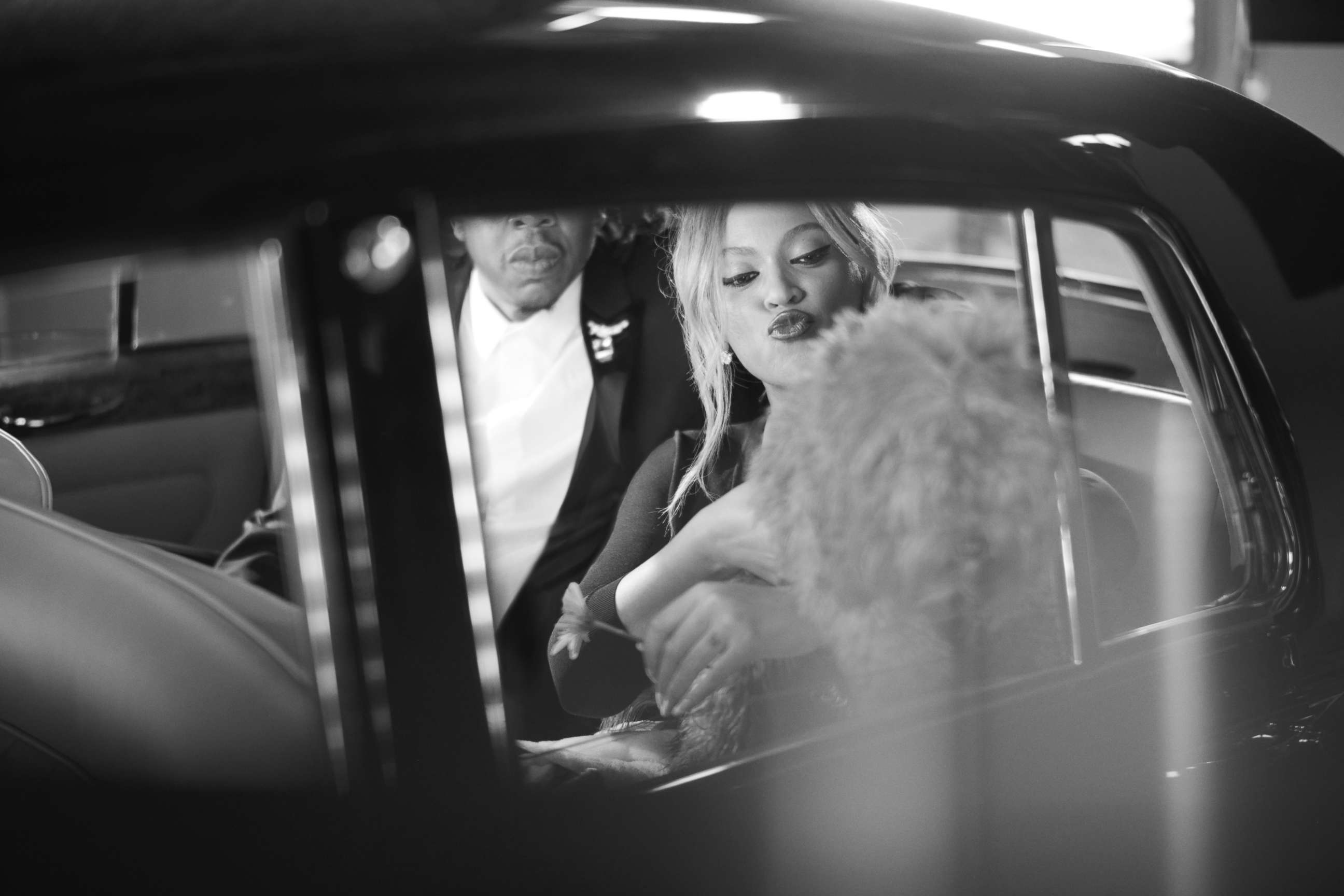 Throughout the film, Beyoncé and Jay-Z have several fun, flirty moments and there's one where we see the "Crazy in Love" singer picking petals off a flower as she says "he loves me, he loves me not." Toward the end of the footage, the "Empire State of Mind" rapper picks a petal off and says "he loves you."
In addition to Tiffany & Co.'s collaboration with the Carters, the company has partnered with BeyGOOD and the Shawn Carter Foundation to create a Tiffany & Co. About Love Scholarship Program. Through this initiative, Tiffany & Co. pledged $2 million dollars in scholarship funding for students in the arts and creative fields at Historically Black Colleges and Universities HBCUs.
To date, over 50 qualifying students at Lincoln University, Norfolk State University, Bennett College and more have already been awarded through the ongoing scholarship program.