There has been a much-needed boom when it comes to spreading body positivity, and now there's a new line of products called Love AnyBody fully advocating the thought of making the movement go mainstream.
Love AnyBody launched at the beginning of April, and one of the masterminds behind the four-piece skincare line is popular body-positive vlogger Loey Lane.
"Creating Love AnyBody felt like a natural next step for me since I've dedicated my life to spreading a positive message of self-love and to helping people understand that all bodies are beautiful," Lane said in a statement.
The Love AnyBody collection includes a stretch mark serum, stretch mark cream, anti-chafe stick and anti-chafe ointment all available for under $11 on the brand's website as well as at 500 Target stores.
It took roughly one year to finalize the collection, and Lane told "Good Morning America" she's been involved since the beginning. She wanted to make sure these products would be the answer to many of the questions and issues her followers on YouTube would mention.
"We had to make sure that the products were perfect, of course, but equally as important to us was having the conversation surrounding the lack of body-positive self-care products on shelves," Lane said.
The million-dollar question is what inspired a body-positive vlogger to put her name behind a stretch mark cream. Lane explains she was really excited about taking back the meaning of "stretch mark."
"So often we are taught that stretch marks are flaws that need to be erased from our bodies when in reality they're a totally normal, human thing that we all deal with on some level or another," says Lane.
She continued, "Love AnyBody believes stretch marks show a map of the journey your body has been on, and we want to honor that journey by nourishing and hydrating the skin in a time of stress, rather than zap it off of the body."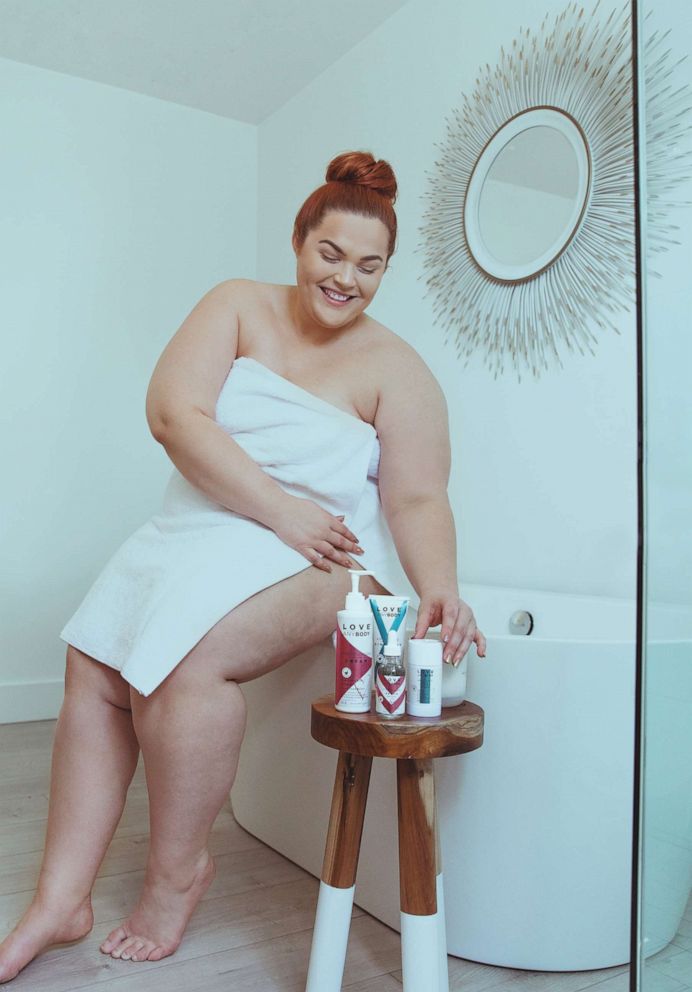 The Stretch Mark Cream is formulated with cocoa seed butter to soften and smooth the skin, while the Stretch Mark Serum contains Vitamin E and jojoba oil to calm irritation and hydrate dry stretch marks.
"This is the one body we have for the rest of our lives and it's so important to honor the skin that we're in," says Lane. "These products are made to love that skin -- not change it through a quick fix. I hope that anyone who uses these products, no matter their size, shape or gender, knows that they're perfect in the body they're in at this moment."
To further celebrate the launch of Love AnyBody, self-care -- and spread more body positive vibes -- Lane created a music video called "Curve" along with other diverse influencers such as Lala Milan to drive the message of feeling confident in your own skin like a true #BodyBoss.
Press play on the video below and enjoy Lane's motivating music and sultry dance moves. #SquadGoals