It was hard to miss actress Jessica Chastain on the red carpet Tuesday at the 2023 Drama Desk Awards in New York City.
The 46-year-old stunned in a neon green pantsuit that included an oversized blazer and flared trousers. Chastain accessorized the standout look with oversized sunglasses and wore her red hair in long loose curls.
Chastain, an Academy Award winner and 2023 Tony Award nominee, attended the event to receive the award for outstanding lead performance in a play for her role as Nora Helmer in the adaptation of Henrik Ibsen's 1879 play "A Doll's House," directed by Jamie Lloyd and adapted by playwright Amy Herzog.
"I can't tell you how much this means to me. I would never be able to express it in words, without getting way too emotional," Chastain said during her acceptance speech on Tuesday.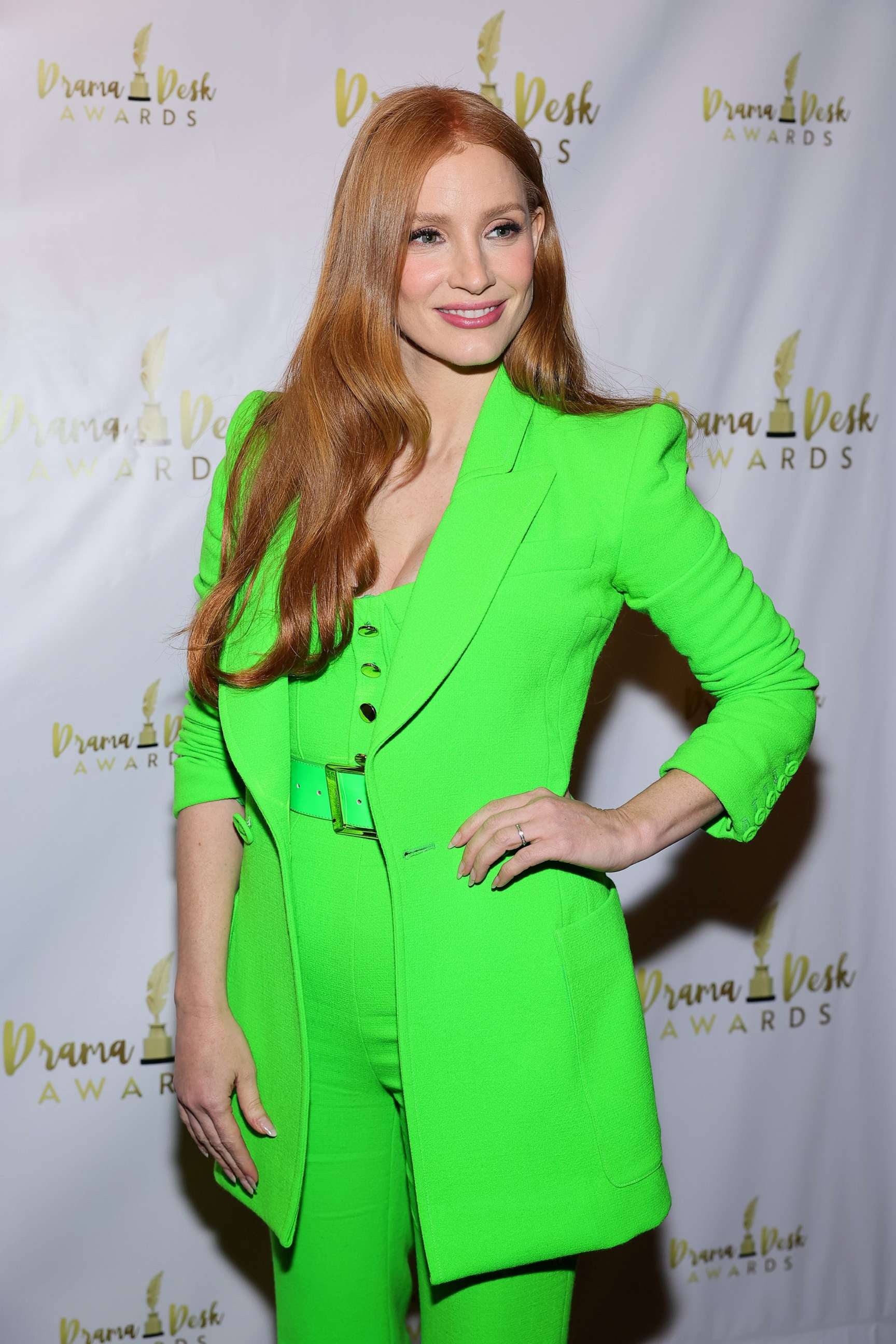 Chastain, who is largely known for her film roles in "The Eyes of Tammy Faye," "The Help," "Interstellar," "The Martian," "The Good Nurse" and "Zero Dark Thirty," among others, made her Broadway debut in 2012 in the revival of the 1947 play "The Heiress."
During her acceptance speech Tuesday, she thanked Lloyd and Herzog for bringing her back to the theater after over a decade away from the stage.
"My grandmother first took me to see live theater when I was 7 years old, and it was the first time in my life I felt seen and understood by a community of people…. And I dreamed of someday moving to New York, and being a part of this community," she said.
"A Doll's House" debuted on Broadway Feb. 13, and will run until June 10 at the Hudson Theatre in New York.
Chastain said that she's been grateful for her time in the production.
"This community changed my life for the better and I hold you all in deep admiration and gratitude," she said. "So thank you."