Leyna Bloom has made history as the first transgender model to grace the cover of Sports Illustrated's annual swimsuit issue.
The actor, model, dancer and activist was featured alongside tennis star Naomi Osaka and rapper Megan Thee Stallion, who also starred on their own covers.
Bloom was photographed by Yu Tsai while wearing a white swimsuit designed by Gil Rodriguez and SOKO rings and earrings.
She took to Instagram to share how "happy, honored and humbled" she is to be the first trans woman on the cover and thanked the team behind her debut.
In addition to being the first transgender model on the magazine's cover, the "Pose" actress is also the first transgender person of color to appear on the pages.
"This moment heals a lot of pain in the world," Bloom said in a post. "We deserve this moment; we have waited millions of years to show up as survivors and be seen as full humans filled with wonder."
Along with the team behind her, she also shared gratitude toward her family and father for their courage and sacrifices made to make sure she stands tall in every step taken.
"I have dreamt a million beautiful dreams, but for girls like me, most dreams are just fanciful hopes in a world that often erases and omits our history and even existence," Bloom said. "This moment is so powerful because it allows me to live forever even after my physical form is gone. Not a lot of people get to live in the future, so at this moment, I'm proudly choosing to live forever."
She continued by sharing that she is dedicating her cover to "ballroom femme queens past, present and future." "This historical moment is important to #girlslikeus because it allows us to live and be seen. Many girls like us don't have the chance to live our dreams, or to live long at all."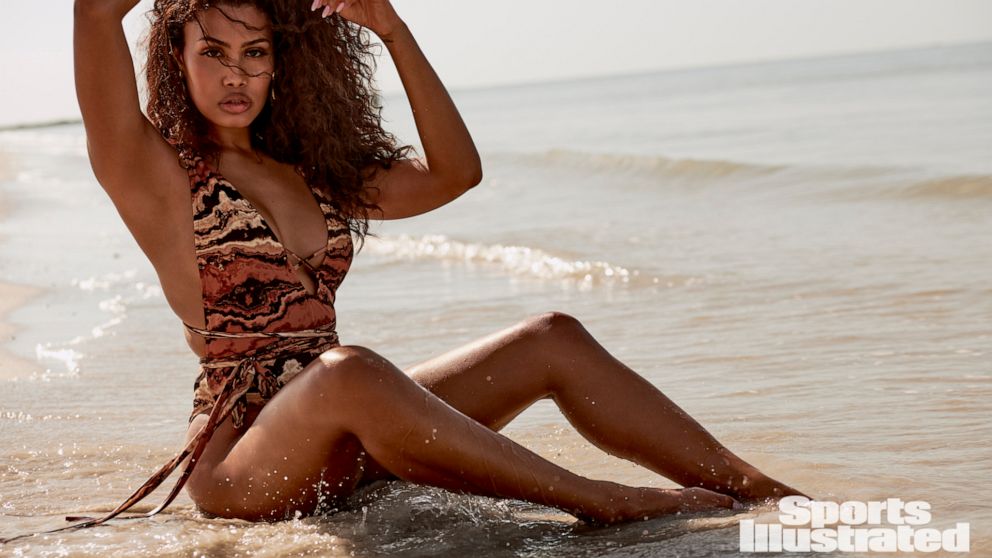 The theme of the 2021 Sports Illustrated swimsuit issue is "Opening Eyes, Speaking Truths and Changing Minds," and the magazine's editor-in-chief, MJ Day, said in a statement that it's "representing powerful community -- coming together during challenging times to make history."
"If there's one thing that our cover models have in common, it's that they don't have one thing in common," Day added. "They look different, have different upbringings, have different passions and inspirations."
"Leyna Bloom makes history as the first transgender cover model in Sports Illustrated Swimsuit's history, and the first trans person of color to appear on our pages, solidifying the fact that the more diverse and inclusive a community, the stronger it becomes," she said.
She added, "We celebrate Naomi for her passion, strength and power geared towards consistently breaking barriers when it comes to equality, social justice and mental health. As for Megan Thee Stallion, she is a magnetic powerhouse taking the world by storm. Together these women represent three of the most powerful voices of today."
Megan Thee Stallion also made history as the annual magazine's first rapper to be featured on the cover.
Last year, Sports Illustrated also received praise for featuring model Valentina Sampaio, who became the swimsuit issue's first openly transgender model to grace the pages of the annual issue.
"Being trans usually means facing closed doors to peoples' hearts and minds," Sampaio shared in a post. "We face snickers, insults, fearful reactions and physical violations just for existing. Our options for growing up in a loving and accepting family, having a fruitful experience at school or finding dignified work are unimaginably limited and challenging."