Oprah Winfrey has settled a defamation suit filed by a former headmistress of the talk show host's South African boarding school for young girls, lawyers for the two women said Tuesday.
Winfrey and Lerato Nomvuyo Mzamane met privately, "woman to woman" and resolved the dispute to "their mutual satisfaction," according to a statement released jointly by their attorneys.
"Ms. Winfrey testified in her deposition that she did not intend the implications placed on her words by the plaintiff. Ms. Mzamane testified in her deposition that she has no evidence that Ms. Winfrey knowingly made a false statement about her or entertained serious doubt about the truth of what she said. We are pleased both parties have reached a conclusion," the statement said.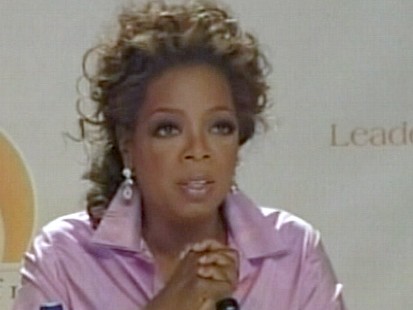 No monetary terms were mentioned in the statement.
The suit arose after students at the Oprah Winfrey Leadership Academy School accused one of the dorm matrons, Virginia Tiny Makgobo, of sexual abuse in 2007, according to court documents, prompting Winfrey and the school's executives to call in the authorities to investigate. Makgobo has pleaded not guilty, and her trial is ongoing in South Africa.
Following the allegations, Winfrey met with parents of the students, fired Mzamane as head of the school and held a press conference.
In her meeting with the parents, Winfrey is quoted in court documents as saying: "I'm going to find a new head of the academy for the school. ... Dorm parents are gone, [Mzamane] is gone."
Last week, U.S. District Judge Eduardo C. Robreno cleared the way for the suit, which was expected to begin March 29 in Philadelphia, saying Winfrey's statement suggested Mzamame had a role in the alleged mistreatment of the students, which would "clearly blacken plaintiff's reputation or injure her in her profession."
"Plaintiff submits that despite her unblemished record of professional employment, she was unable to obtain a position in the educational field from the time of Winfrey's public comments until August 2008. Furthermore, plaintiff asserts that she suffered personal humiliation and distress as a result of being wrongly associated with the misconduct at OWLAG due to Winfrey's comments," Robreno says.
Winfrey and Mzamane Settle Suit
In his 128-page opinion in the case, Robreno wrote that statements made by Winfrey at a November 2007 press conference were "capable of defamatory meaning."
The judge rejected arguments made by Winfrey's lawyers that the remarks were merely "expressions of opinion."
Winfrey was also quoted as saying she "lost confidence" in Mzamane's abilities as the school's headmistress, and that "any person" who had caused harm to any student would not be returning to the school.
"The average listener could interpret Winfrey's statement that she has 'lost confidence' in plaintiff's abilities, in conjunction with the preceding statement that 'any person that has caused harm' to the students would not be returning to OWLAG, to mean that plaintiff was not being retained due to the fact that she played some role in the 'harm' caused to the students," Robreno wrote.
Mzamane was seeking more than $250,000 in damages.
Click here to return to the "Good Morning America" Web site.