A traveler was reunited with his missing luggage recently thanks to an Apple AirTag he had inside the bag.
Jameel Reid told "Good Morning America" he had the small location tracking device "in my luggage because I just knew that I'd probably need it one day -- and luckily it finally came to good use."
His silver roller bag, which he said "had about $3,000 worth of stuff in here," never showed up at baggage claim after he flew standby from Los Angeles to Hartsfield-Jackson International Airport in Atlanta, Georgia.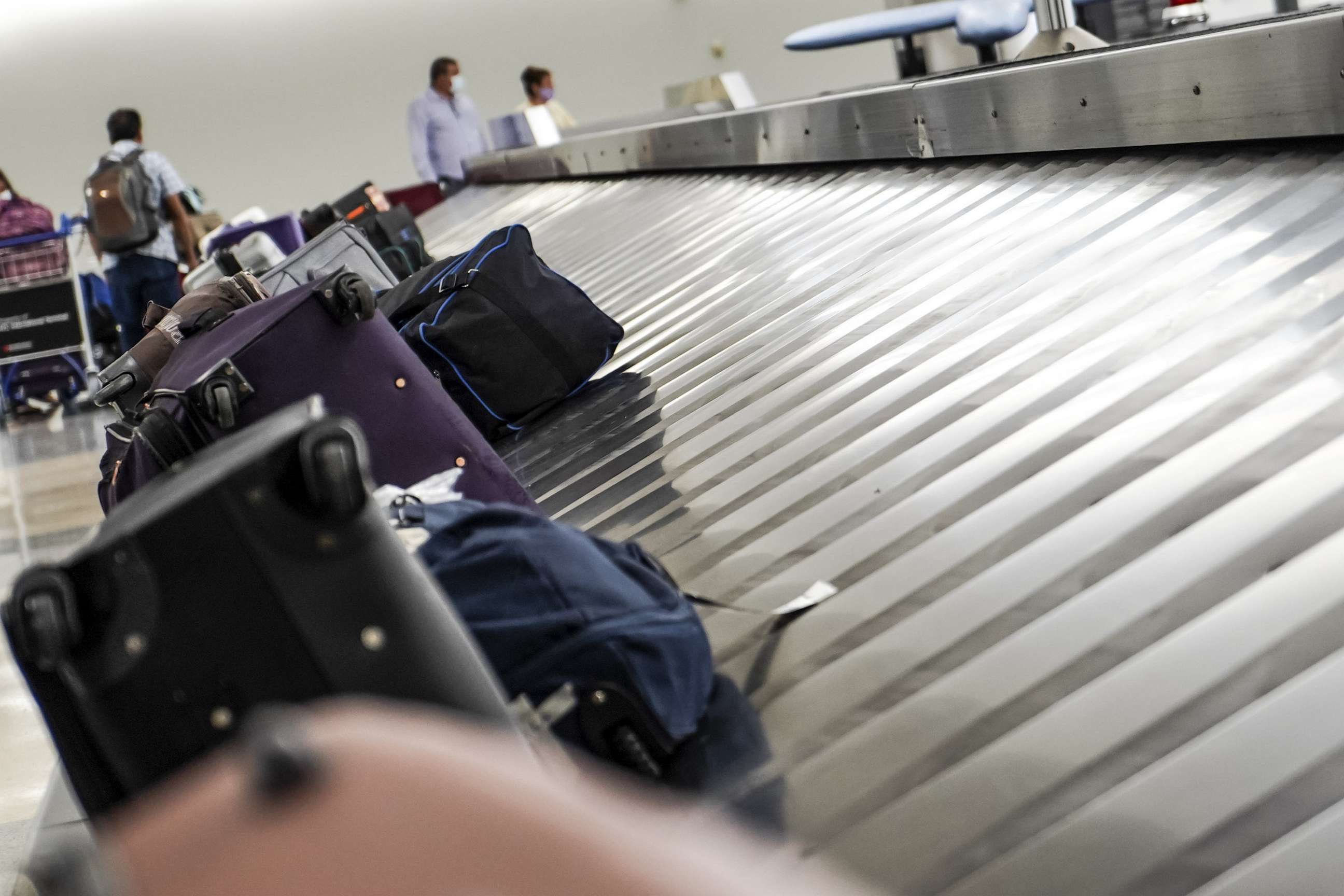 When Reid checked the location on his phone, he said he realized someone else had it.
"I pulled out my phone and it was showing that it was at Grady Memorial hospital," he recalled. "I was looking at [it] for a couple of minutes, and it's still saying, 'Grady.'"
A couple of days later as he kept tracking it, Reid saw the bag move near the airport.
Reid decided to report his luggage as lost to the police, according to a Feb. 20 police report obtained by ABC News.
He was able to pinpoint for police exactly where the missing bag was. When police arrived at the airport, the suspect who had allegedly taken the luggage was arrested.
The responding officers said the suspect allegedly had an additional suitcase and was wearing a pair of Reid's socks. The rest of Reid's belongings were safely returned, which included Jordan sneakers, a VR headset and other clothes.
In a statement to ABC News, a representative for the Atlanta-based airport said, "Hartsfield-Jackson works with its law enforcement, security, and airline partners to ensure a safe and secure environment for the more than 90 million passengers who travel through Atlanta every year. Processes and procedures at the Airport are constantly monitored and, if needed, modified to enhance security measures."
This isn't the first time people have retrieved their luggage thanks to the small Bluetooth-enabled trackers.
Matt Manes, who traveled to Europe with his family, put an AirTag in their luggage, which never made it to their destination.
"The airline wasn't able to track my bags," Manes told "GMA." "I was able to show them exactly where to look for the bags."
The small device, which is about the size of a quarter, uses Bluetooth to connect to the user's phone. If, for example, it stays behind in California while the owner is traveling to New York, Apple says it then uses signals from other iPhones around it to tell you where it can be found.
Brian Kelly, founder of The Points Guy, told "GMA" that when checking luggage, "if you're not putting an AirTag in it, you're putting yourself at huge risk."
Kelly said he puts a tracker on just about everything and added another tip to help travelers.
"Make sure you take a picture of your bag at check-ins, preferably with the tag on it," he said. "So if it goes missing, not only can you point to your AirTag and say, 'Oh, it's at this airport,' you can give them an exact picture of what the bag looks like. Having this will increase the chances of you getting your baggage back in a timely manner."