Fifteen months ago, best friends Rodney Cortes and JB Bolf decided to head over to Munich for Oktoberfest. They called a few of their close friends to come along, including JB's younger sister Stacy, and set their plans to travel overseas.
Little did Rodney or Stacy know they were about to connect with the love of each other's lives.
Cortes, 33, and Stacy Bolf, 30, were going to meet up at the Atlanta airport before the long flight. Cortes was coming from Fort Lauderdale, Fla., while Stacy Bolf was in Indianapolis, Ind. They called each other to make sure they knew where to meet. Cortes said from that first phone call he felt a spark.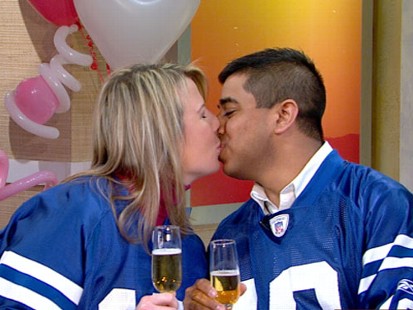 Quickly the two realized their seats were next to each other.
Love in the Air
"Rodney and I had a nice 9-hour flight together from Atlanta on over to Munich," said Stacy Bolf. "We didn't sleep an ounce on the plane. We were just gabbing the whole time. I kind of knew I was feeling a little something - but I was like man this is my brother's friend - this is kind of weird. I probably shouldn't do that."
"The timing of the flight started off with - they served us dinner after a few hours - the lights dimmed down of course," said Cortes. "They put the in-flight movies on - and throughout the whole dinner and the movies we were talking and just bonding and eventually several hours later they started serving breakfast and we realized we'd been talking for several hours. We both instantly felt a connection."
Throughout the trip both of their feelings grew, but while at Oktoberfest they tried to keep their feelings at bay. On the way home they intentionally sat next to one another and talked about if and how they could make a long-distance relationship work.
They parted ways at the Atlanta airport with the promise to call each other soon.
"I probably lasted about 10 minutes before I was already calling her from my seat on my plane," said Cortes.
But before the two went any further with their relationship, someone needed to talk to JB. He was after all Rodney's best friend and it was a rule of friendship Rodney didn't want to break without talking to him.
Cortes and JB Bolf went to a University of Miami football game and Cortes sprang the news on JB.
"He just said that he really enjoyed hanging out with my sister in Germany and if it was ok with me he would like to get to know her better," said JB Bolf.
Knowing She's the One
Nearly a year later Cortes knew Stacy Bolf was the one. She had decided to make the commitment to move to be closer to him in Florida, leaving most of her family and friends in Indiana.
"I took the plunge - took that leap of faith - took a little bit of flack from family and friends for not having the initial ring on the finger before I made my move but I know it's all going to work out in the end."
Around Christmas time, Cortes asked Stacy Bolf parents for their blessing. And then headed to the store to find the perfect ring.
The Proposal
After that there was only one thing left for him to do, get down on one knee and propose, but he wasn't sure how to do it until he heard about Good Morning America's Extreme Proposal Contest.
"That Sunday - the 24th of January was actually the deadline to the contest that happened to also be the playoff date for the Colts game which when they won they were going to the Super Bowl," he said. He sat at his computer and submitted his idea with just two minutes to spare before the deadline.
Here was the plan: Stacy Bolf is a huge Colts fan so he wanted to take her to a Super Bowl-related party, get turned away and then get on one knee and propose.
Click here to watch Rodney Cortes propose to Stacy Bolf.Click here to watch Rodney Cortes propose to Stacy Bolf.
And for our final surprise for them, tickets to see her beloved Colts play in the Super Bowl. The two had an amazing time and are looking forward to planning their next adventure together.