Washington is a city of never-ending farewells.
On Saturday, the nation's capital says goodbye to one of its most celebrated dignitaries. After four-and-a-half years of causing "panda-monium" at The Smithsonian National Zoo, Tai Shan, the zoo's youngest panda and star attraction, has been called "home" to China.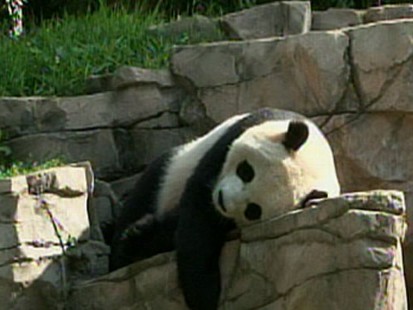 "I am sad. I got a little teared up, actually, watching him today," Tanya Hester of Los Angeles told ABC News after watching
Tai Shan
saunter around his pen, munching bamboo shoots in frigid sub-zero temperatures on Friday.
Some leave Washington in triumph. As he departed in 1989, President Reagan mused, "My friends, we did it. We weren't just marking time. We made a difference."
Others left in disgrace.
"Sure we've done some things wrong in this administration, and the top man always takes the responsibility, and I've never ducked it," Richard Nixon said in his farewell address at the White House after resigning over the Watergate scandal.
Some, like Tai Shan, get sent out to stud to save their species. And his species needs him. There are just 1,600 pandas left in the world.
"We're all very sad to see him go," said Brandie Smith, senior curator of the Smithsonian National Zoo. "But we're so excited he's going to China to be part of the breeding program and to fill the world with more pandas."
In his term in the District of Columbia, Tai Shan has been a media darling, seizing the cover of The Washington Post on Friday and drawing two million visitors out of a total of 2.4 million to the zoo in the past two years. Some skipped the pandas because the lines were too long.
The cub-turned-adolescent, whose tiny size once earned him the name "Butterstick," has a corporate sponsor. There's a display called the "Land O' Lakes Butterstick Stand" outside the zoo's Panda Store, named after the margarine company. He has a memorabilia line that preceded Obamabilia and a Pandacam that follows him 24 hours a day. A YouTube video of him sneezing as a cub has netted more than 51 million hits so far.
Tai Shan: A Native of Washington, Yet Heading 'Home' to China
It's an old story. Everyone wants to arrive in Washington. President Obama spent $740 million to get here in 2008. But before you can say capitol dome, they spurn us.
"It's always nice to get out of Washington," President Obama said to predictable applause during a stop in Tampa, Fla., on Thursday. "It is!"
President George W. Bush used to mispronounce the name when telling outside-the-Beltway voters, "It's good to get out of WAR-shington, D.C."
The British abandoned Washington at the end of the War of 1812, after burning the White House and a good share of everything else. The Washington Senators -- the city was in the name -- have hightailed it three times. But perhaps no departure stings as much as this one. After all, Tai Shan was a native.
Tai Shan was born here, so he is, by rights, a U.S. citizen. But he was born to Chinese parents, and although they're remaining here, he never really belonged to us. It's complicated but it's all there in an agreement between the United States and China, in black and white.
That two-year agreement was extended for another two-and-a half years. But when Washington appealed for more time with its native son, Beijing turned bearish.
Still, as Tai Shan prepares to head into the sunset on a FedEx plane with his picture on the side of it, unlike many who depart the nation's capital (here's to you, President Clinton), he leaves with no apparent regrets and a public that still wants more.