You may recognize a few famous faces in this Oscar edition of "Good Morning America Weekend's" "Your 3 Words." Everyone from Maggie Gyllenhaal, nominated for best supporting actress for "Crazy Heart," to Barney Burman, the makeup whiz behind "Star Trek," have something in common: They will get the chance to win gold at the Academy Awards.
For this year's Oscars, ABC wanted to promote the ceremony in a unique way and reached out to Oscar nominees to share their "three words" on what it means to be nominated. Whether they are in front of the camera or making magic happen behind the scenes, everyone appearing in this "Y3W" segment will be a part of the 82nd annual Academy Awards ceremony airing tonight on ABC.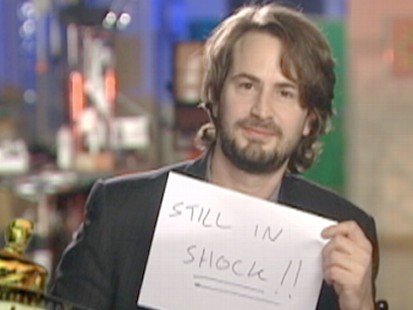 The Loom
, a
"Y3W"
favorite, will provide the music for this special edition, featuring
"All Your Famous Friends."
The Brooklyn, N.Y.-based sextet has appeared on earlier editions of "Y3W" and has been praised by countless indie rock blogs and magazines. The band has just completed its debut full-length album, "Teeth," and will promote it by kicking off a new tour starting at this year's South by Southwest festival.