At 5-foot-4 inches tall, Sister Rose Ann Fleming is a towering figure of inspiration and determination to Xavier University in Cincinnati, one of 65 schools that made this year's NCAA college basketball tournament, better known as March Madness.
Xavier's regular seson record this year was 24-8. But it pales next to Sister Fleming's record, 77-0. That's 77 college graduates in the 25 years that she's been academic adviser to the sports teams at the small Jesuit college. Seventy-seven is also her age.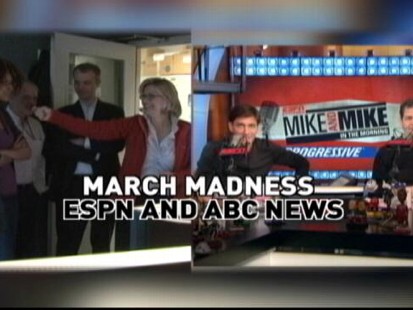 "If they have played for Xavier for four years, we have been successful in getting them through the degree program," Fleming says. "They deserve the credit for that. All I have done is, to some extent, guide them."
As athletic adviser, Fleming is known for her hands-on involvement in making sure the basketball players keep up with their studies. She knocks on dormitory room doors to make sure they get to class. She arranges tutoring if it's needed. She stays in touch with the players' teachers to know how they're doing academically.
According to a new study by the Institute for Diversity and Ethics in Sport at the University of Central Florida, which looked at the graduation rates for freshmen players entering college from 1999 to 2004, 89 percent of Xavier basketball players graduated.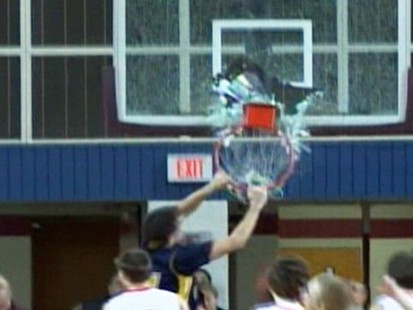 By comparison, perennial hoops powerhouse Kentucky saw 31 percent of its players graduate. The University of Maryland, which is in this year's tournament too, had the worst record, with only 8 percent of its players graduating from college.
"The students we recruit are very special," Fleming says. "They have extraordinary talent and they are also students. They have academic talent as well as athletic talent. My job is to make sure they don't waste their opportunities to also get their degree.
"You must fulfill all the academic requirements if you want to play ball," she says. "If you don't fulfill those requirements, we're not going to do any fudging. You are not going to play basketball."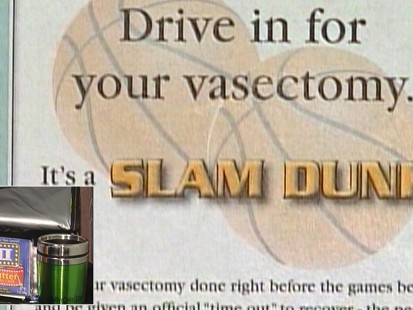 Twice a semester, Fleming sends the players' teachers a questionnaire asking for an assessment how they are doing. She freely admits her monitoring is "intrusive."
Education Secretary Slams NCAA Basketball Graduation Rates
Jason Love, a 6-foot-9 inch senior from Philadelphia who plays forward/center, says Sister Fleming plays a dual role.
"For us, she's tough at the same time as being a grandmotherly figure to us," he says. "She's tough in the sense that she's always on us about academics making sure we have our stuff together and things of that nature, and she's motherly in the fact that she really cares about where we go after basketball and how we're doing personally."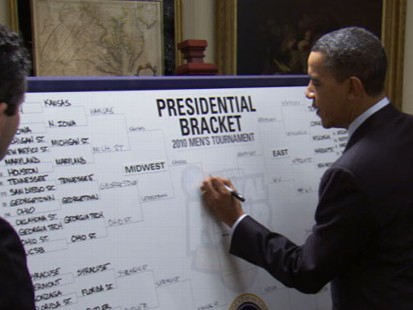 Terrell Holloway, a 6-foot guard from Hempstead, N.Y., says, "You know that she really cares for you and she wants us to be, outside of basketball, she wants us to have a future."
U.S. Secretary of Education Arnie Duncan recently criticized the low graduation rate among players at many of the colleges in this year's NCAA tournament. Forty-two percent of the teams had player graduation rates under 60 percent, according to the University of Central Florida study. Duncan singled out Xavier for praise.
"You look at a place like Xavier, they have an academic adviser, a nun who's been with the team for about two decades, and they've graduated 100 percent of their players [who play as seniors] for years, so this is not rocket science. This is about saying we value our students athletes as students first," said Duncan, a former college basketball star at Harvard.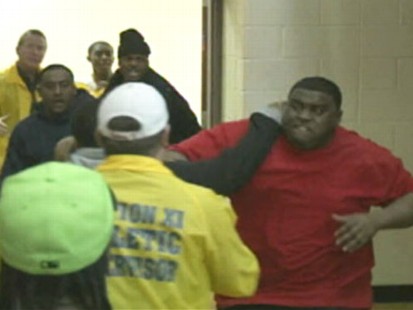 In an
interview with ABC News
, Duncan was especially critical of the disparity in graduation rates at many of the colleges in the NCAA tournament. The UCF study found that 100 percent of Kentucky's white players graduated, but only 18 percent of its African-American players.
Not a single black player at Maryland got his diploma in the period studied (Coach Gary Williams says the team's graduation record has since improved.) Xavier's 89 percent graduation rate is the same for its African-American players.
The fact that Xavier is one of the elite teams playing in this year's men's tournament is seen as proof that rigorous academic standards can co-exist with athletic excellence. Six colleges in the tournament, including Notre Dame and Wake Forest, graduated 100 percent of their players.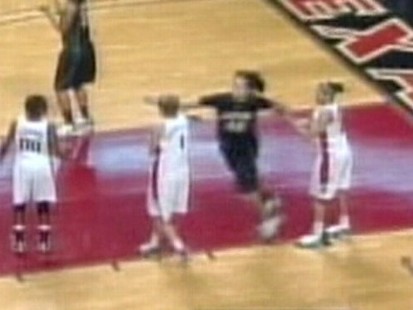 "We want out athletic program to be excellent," Fleming says. "At the same time, we keep an eye on the total demands of the university, we cannot ignore the role of academics in the life of a student-athlete."
In its first round game Friday, Xavier beat the University of Minnesota, 65-54. Xavier will take on the University of Pittsburgh in its second round match-up Sunday.