Doctor, nurses pack car with NICU equipment to save baby born at 24 weeks during Texas snowstorm
The baby was born at just 24 weeks at a local hospital in Marble Falls, Texas.
The life of a premature, 1-pound baby born during a catastrophic winter storm in Texas was saved thanks to the ingenuity of a team of doctors and nurses, including some who packed a truck with neo-natal intensive care unit equipment and drove through snow to help.
The baby, a girl named Zaylynn, was born at 24 weeks on Feb. 17, just as snow and ice dumped on central Texas, causing power outages and making roads impassable.
A baby born at 24 weeks has only a 50% to 60% chance of survival in the best of times, according to Dr. Curtis Copeland, a family medicine physician at Baylor Scott & White Medical Center in Marble Falls, Texas, the hospital where Zaylynn was born.
Zaylynn faced additional odds because Baylor Scott & White is a Level 1 hospital that does not offer the specialized neonatal care premature babies require. In normal circumstances, the expectant mom would be transferred to a larger facility ahead of delivery, or in the case of an emergency birth like Zaylynn's, the infant would be transferred immediately after birth.
Zaylynn's mom, Kimberly Arias, drove through snow and ice to get to Baylor Scott & White the morning of Feb. 17 after experiencing pain that turned out to be contractions. Less than two hours after she arrived, Arias gave birth to Zaylynn, who weighed just 1 pound, 6 ounces at birth and had to immediately be put on a ventilator to breathe, according to Meredith Schubert, the labor and delivery nurse on duty when Arias arrived.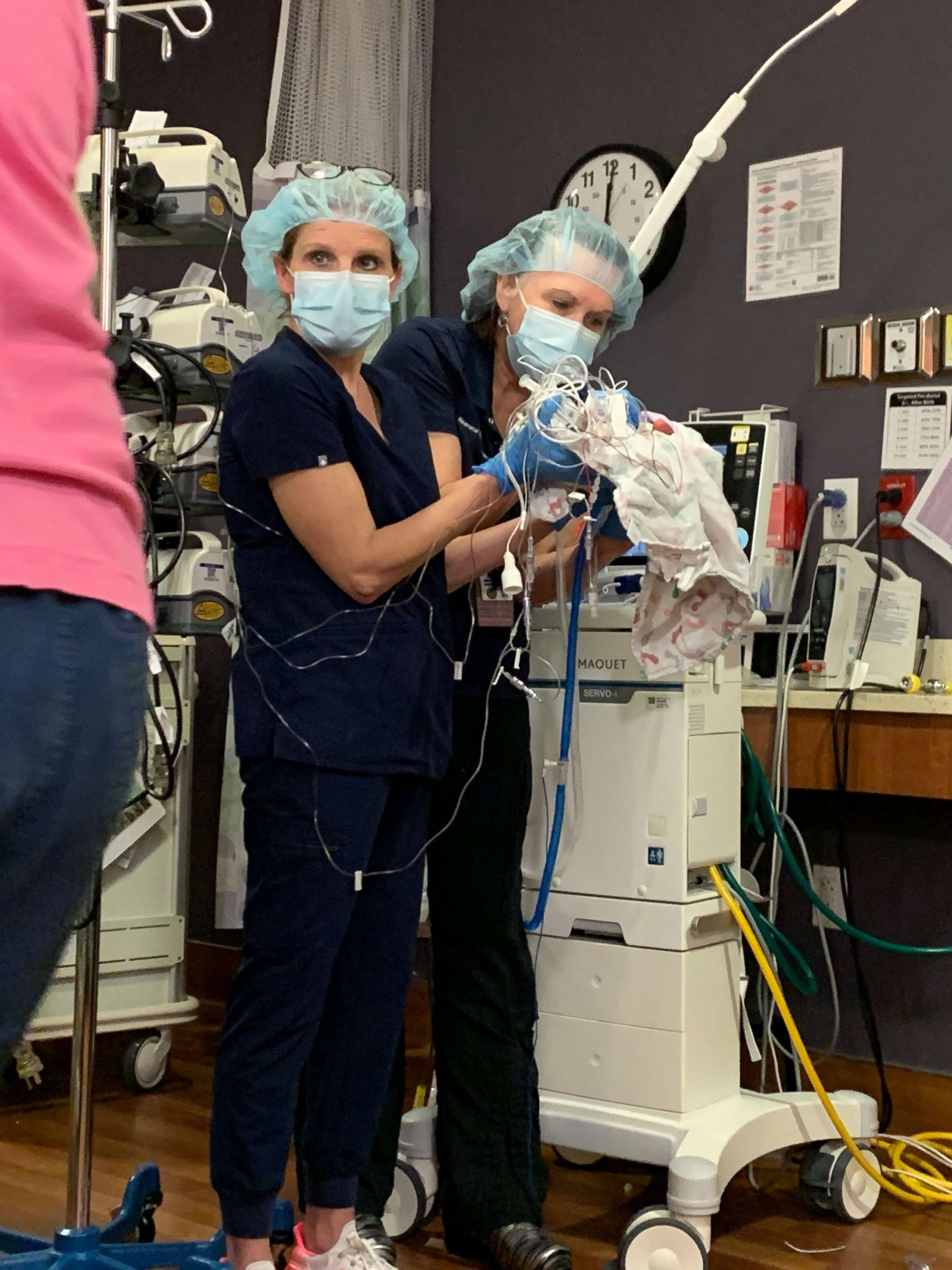 The entire time Schubert, Copeland and an "all hands on deck" team of nurses and doctors were helping Arias deliver and then stabilize Zaylynn, another team was trying to locate a medical transport team that could fly or drive through the snowstorm to transport Zaylynn to a NICU.
"We had five or six people out at the nurses' station calling hospital networks all over the state of Texas," said Schubert. "Nobody could answer our cry for help."
The team struggled for several hours until their call for help reached Dr. John Loyd, division neonatologist chief at Dell Children's Medical Center, part of Ascension, in Austin, Texas. Loyd said he was in the process of trying to arrange transport for another baby when he heard about Zaylynn.
"The Baylor Scott & White team had done an amazing job well out of their scope of their routine practice to get a breathing tube in, to provide IV glucose and to keep this baby warm," he said. "I knew that they needed help and more importantly the baby and the family needed help so I decided I was going to go."
"Having a sturdy, 7,500-pound, four-wheel drive [SUV] I just felt like I could get there and I wasn't OK with the notion of doing nothing," Loyd explained.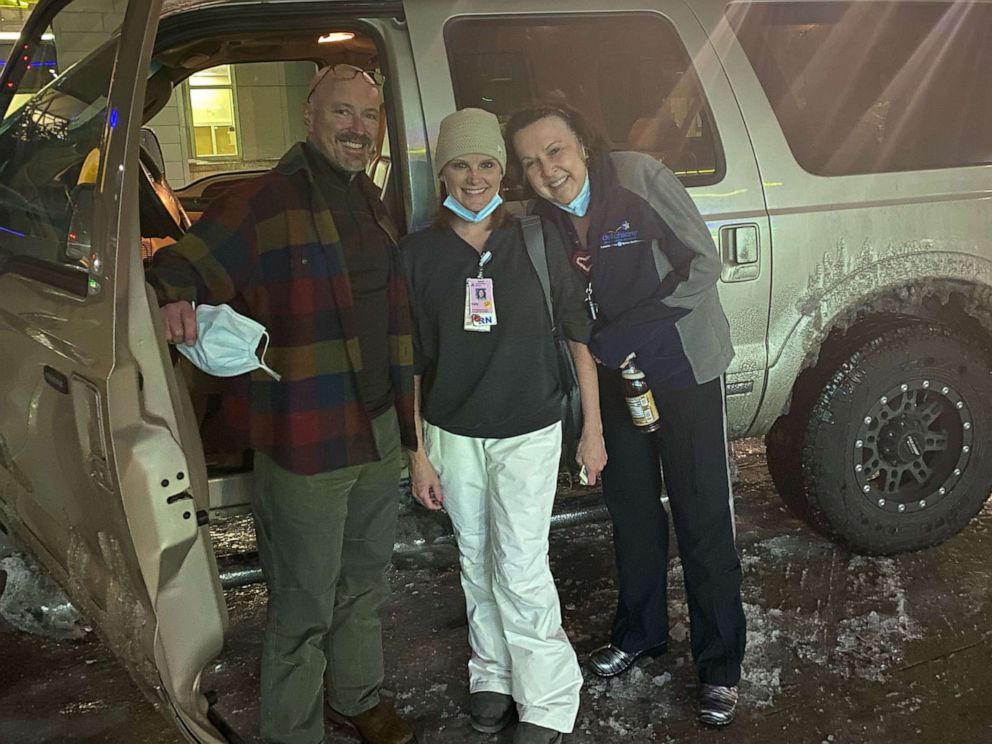 Around 5 p.m. on Feb. 17, after already having worked a full shift, Loyd packed his SUV with equipment, turning it into a makeshift NICU, and he and two NICU nurses from Dell Children's set out for Marble Falls, about 55 miles away.
What would normally be a one-hour drive took Loyd and the nurses about two hours as they drove in the night through ice and snow.
The trio arrived at the Marble Falls hospital around 8 p.m., where they were met with appreciation from Copeland, Schubert and others who had been working to keep Zaylnn alive. While they waited for Loyd, the Baylor Scott & White team, led by Copeland, had been FaceTiming with NICU teams at other hospital systems to make sure they were providing the correct treatment.
"I think my jaw was on the floor," Schubert said of her reaction to learning Loyd was driving himself to provide help. "I knew Dr. Loyd from previous employment and I knew what kind of guy he was and when I heard he was coming, it was just a huge feeling of relief."
The two teams, which work for competing hospital systems, worked together throughout the night to continuously monitor Zaylynn. Baylor Scott & White's cafeteria opened after hours when they learned Loyd and his team needed dinner, and the hospital provided beds so the doctors and nurses could continue working past their shifts.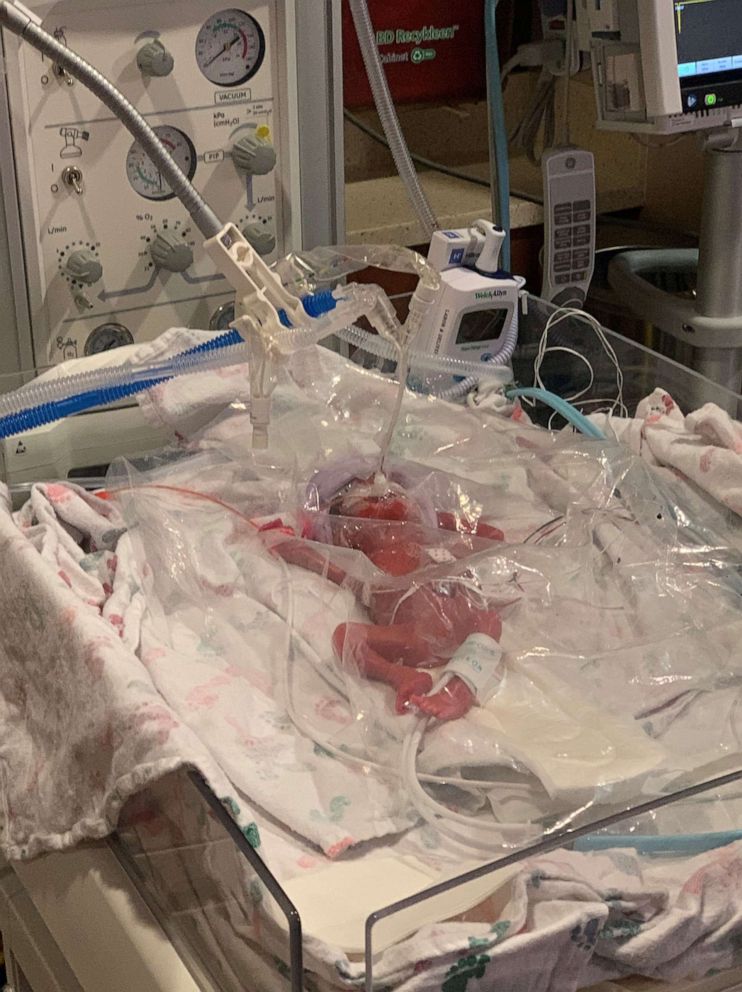 By the afternoon of Feb. 18, just over 24 hours after Zaylynn's birth, the weather cleared enough to allow for a helicopter from Dell Children's to safely land.
When doctors transferred Zaylynn into a specialized Isolette with a ventilator to allow her to travel, the baby's heart rate dropped dramatically, giving everyone a scare and demonstrating again her fragile condition, according to Schubert.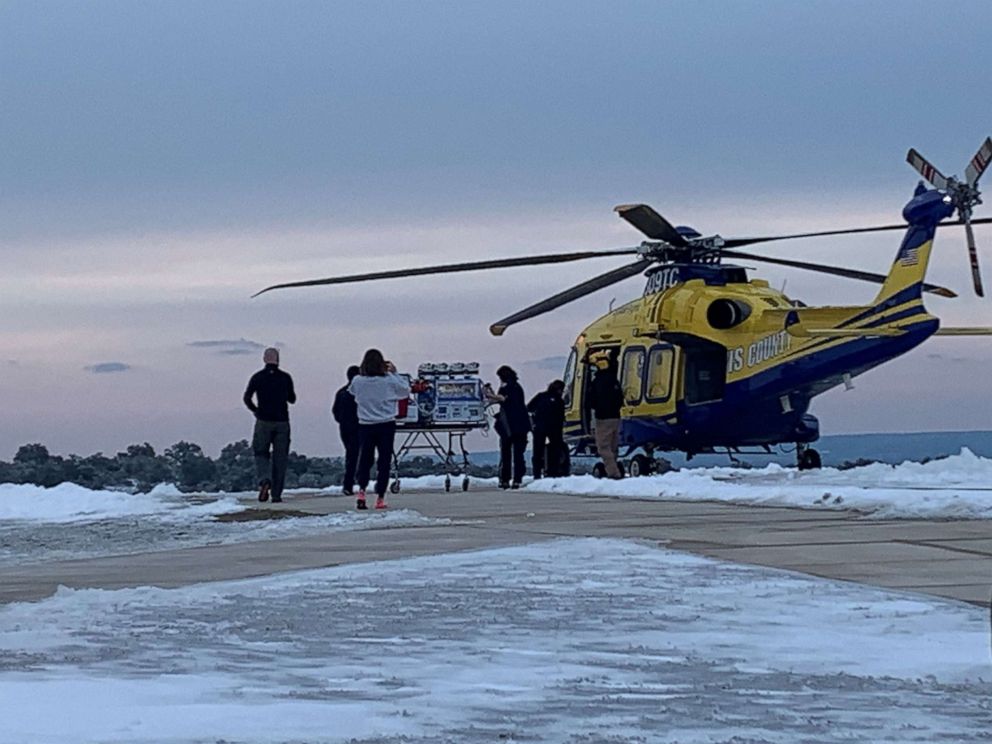 Just before 6 p.m. though, the helicopter took off with Zaylynn and less than one hour later, it landed safely at Dell Children's in Austin.
"It was incredible when the helicopter lifted off. There were tears from all of us," said Schubert. "It was a huge relief and sense of accomplishment and joy, that she was doing so well and getting to the place that she needed to be."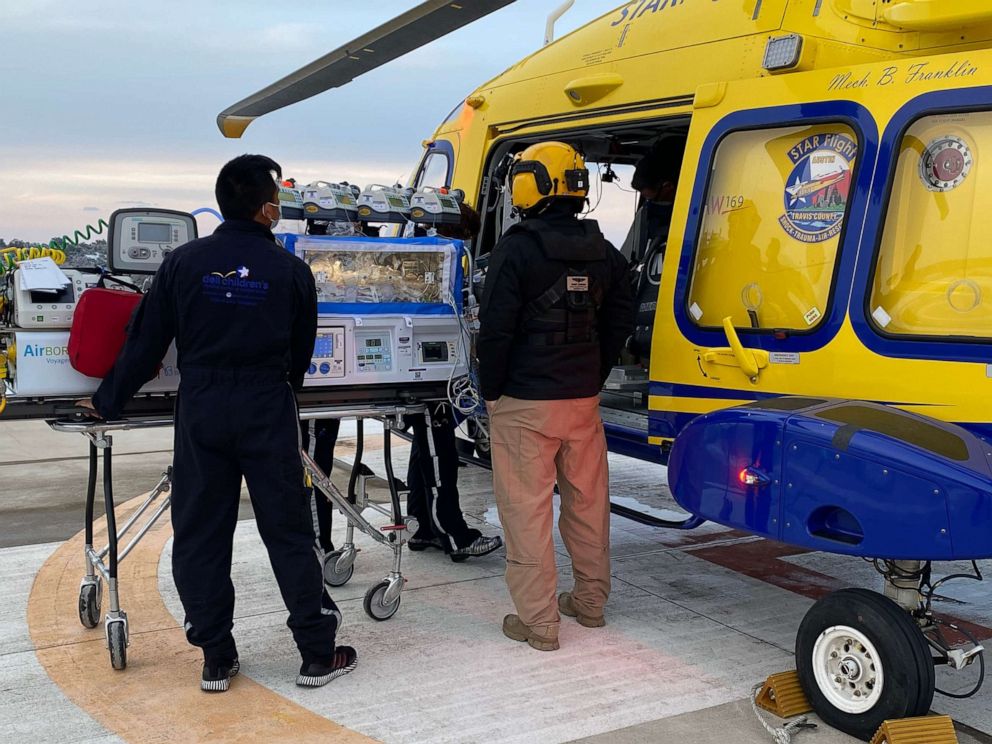 Zaylynn's mom, Arias, 21, was discharged from the hospital shortly after her daughter. She is staying in a Ronald McDonald House at Dell Children's, where Zaylynn is expected to stay hospitalized for several months, according to Loyd.
"If everything goes perfectly, they're usually in the NICU until their due date," he said of premature babies. "Zaylynn's chance of survival at this point is very good and her chance of her growing up and going to school and having friends and growing up and getting a job and all those things that we want our children to do, is very good."
Arias, who was not available for an interview, told local ABC station KVUE-TV that she is thankful for the doctors and nurses who worked together to save her daughter.
"They made me feel like my baby was really safe and in good hands," she said. "Honestly, I didn't get much sleep, but the few hours I got, I could be calm because I knew someone was there with my baby. She was [taken good care of] during that whole process and still is."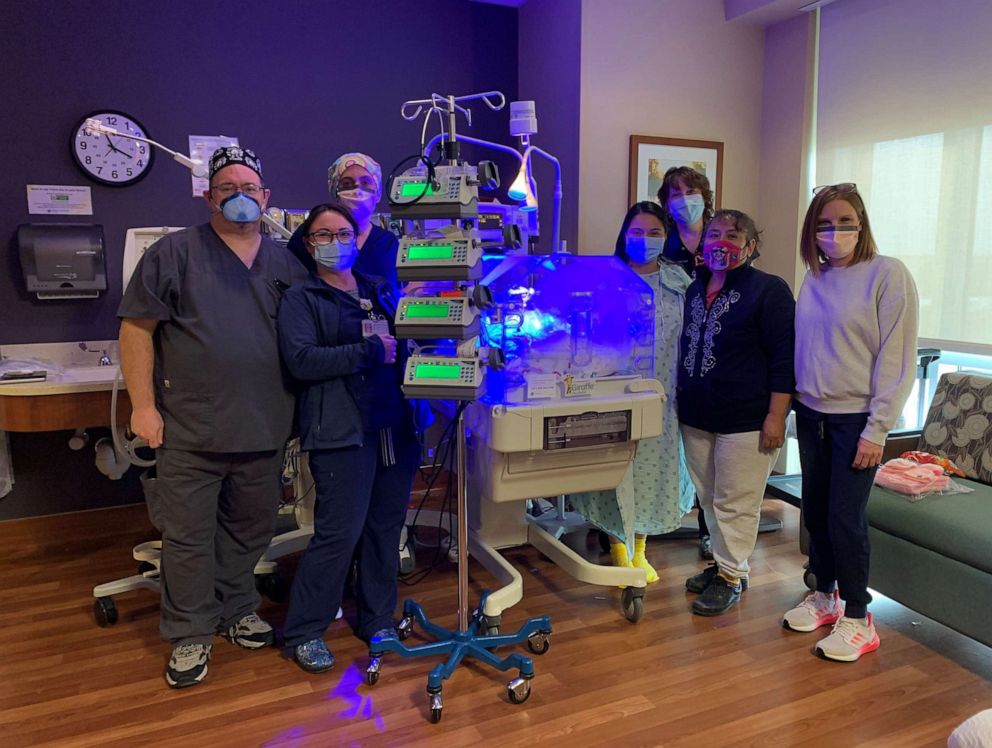 Loyd, Schubert and Copeland all praised the teamwork that it took to keep Zaylynn alive. Loyd described the baby as "probably the most vulnerable patient in the state of Texas" during the winter storm.
"The response to this was what health care really should be all about, which is, how can we go help?" he said. "I knew I certainly wouldn't be OK with not doing something when it was within my power to do something."
"Everyone else did the same thing," Loyd added. "They rallied. They colored outside the lines. They worked flexibly with each other, and because of that, little Zaylynn has a very reasonable chance of surviving and doing all the things we as parents want our children to do."