"Good Morning America" and Robin Roberts are celebrating National Walking Month in May! Join the Facebook group to walk together.
Step by step, twin brothers are raising awareness about foster care in all 50 states.
Davon and Tavon Woods of South Carolina are trekking 20 miles in every state to raise awareness for young people growing up in foster care. The duo have already crossed off more than 20 states and say they won't stop until their message reaches the entire country.
"Davon and Tavon [are] definitely working toward a goal. They want to reach the 50 states and they're almost there. They really are determined young boys to get their point across," Felicia Bradshaw, a friend of the brothers, told "Good Morning America."
Davon and Tavon Woods, founders of Foster Kids Matter, are walking 20 miles in each state to raise awareness about children in foster care.
Shaped by their own time in foster care, the twins say they're turning their experience into motivation. They founded Foster Kids Matter, an organization which raises support for foster children.
"We do it because growing up, we didn't know what love was. I never heard 'I love you.' Just so much hurt, so much anger," Davon told Robin Roberts on "Good Morning America." "So instead of allowing our past to defeat us, we allow it to motivate kids all around the world."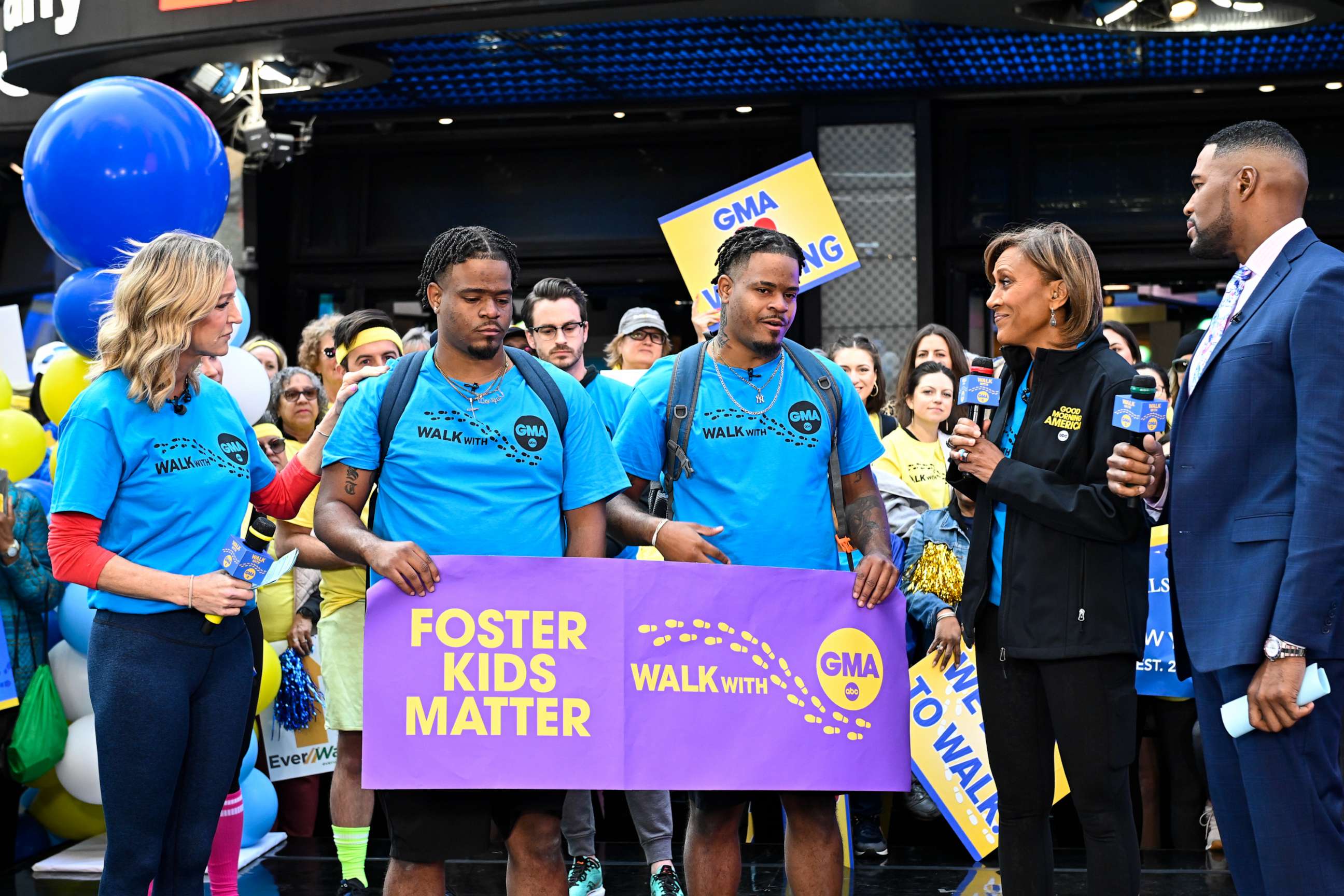 Colleen Kelly, their former teacher, said the men have used their pain for a purpose. "They're so resilient. Look at what they've taken with their pain," she said. "I just feel grateful for them, grateful that they have the opportunity to share their voice, their story."
Their ultimate goal is to open quality foster care facilities and create housing facilities for young people who are aging out of the foster care system.
"This last year I think we helped about seven to eight kids [who had aged out of the foster care system]. We gave them a place to stay when we didn't even have a place to stay. It's because we want these kids to know we love and care about them," Davon Woods said.
Another way they're making foster care children feel loved and supported is through their "Keeping It Fresh" program, which partners with foster care organizations to give new shoes to foster care children.
"Oftentimes kids in foster care are not able to get what they want, so we know that a fresh pair of sneakers ... we just want to boost their confidence," Tavon said.
On "GMA," Designer Brands surprised Davon and Tavon with a $10,000 donation to Foster Kids Matter to help them reach their goals.
"We are going to make sure this gets used and make sure these kids are blessed," Davon said.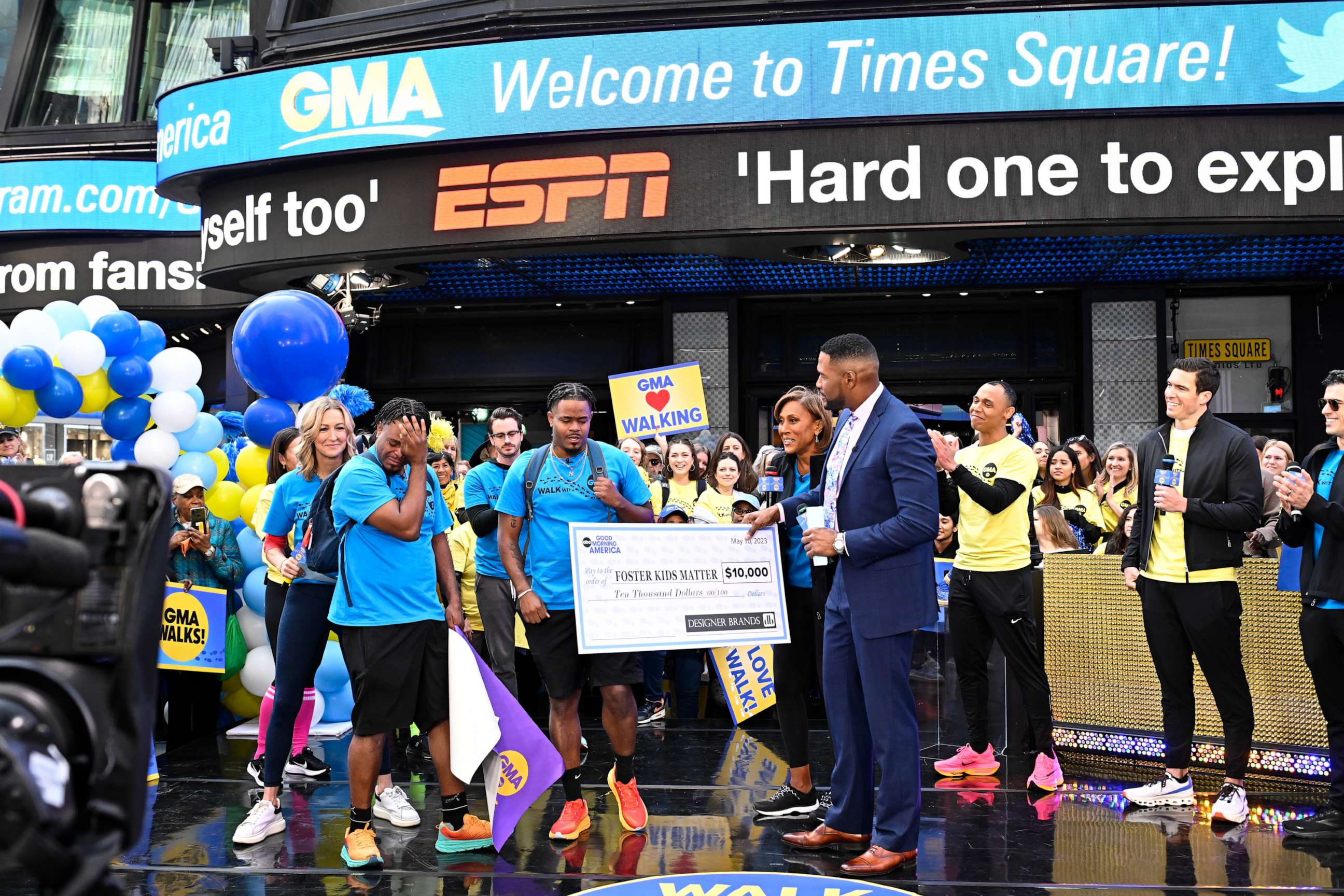 "We just want to let kids all around the world know that they can make it," he added.
ABC News' Becky Worley shares tips for finding walking partners and what you can do to stay motivated on your fitness journey.
How to start walking
Celebrate National Walking Month in May with "GMA" and Robin Roberts. Put on your walking shoes and walk a mile with "GMA!"
Learn more about these walking groups based in New York, Philadelphia, Houston, Atlanta and Chicago and join our Walk With GMA Facebook group to stay connected and walk together.
CITY GIRLS WHO WALK: City Girls Who Walk is a free walking social club in New York City where women of any age can gather and make friends.
GIRL TREK: GirlTrek is a walking group designed for Black women, which says it's focused on the power of walking for self-care, good health and healing.
EVERWALK: EverWalk was founded by swimming champion Diana Nyad and her expedition leader Bonnie Stoll with the goal of bringing people together by walking.
NYRR STRIDERS: NYRR Striders is a free walking and fitness program for older adults in New York City. Founded in 2011, it now has 600 participants across the five boroughs.
CITY WALKS HOUSTON: City Walks Houston is a walking group for active walkers to make connections and explore the city's parks and neighborhoods from a new point of view.
JUST WALK: Coach Carolyn Hartfield leads year-round "Walks for Wellness," in DeKalb County, Georgia, with options to join in person or virtually. The walks are open to all ages and levels of walkers.
WE WALK PHL: We Walk PHL, a partnership between Fairmount Park Conservancy and the City of Philadelphia, is a free walking group that meets several times per week at various public parks across Philadelphia. The program is all about promoting good health, exploring Philadelphia's park system, and creating a way to meet neighbors in the community.
WINDY CITY WALKERS CHICAGO: Windy City Walkers is a Chicago area walking club promoting "fun, fitness, and friendship through noncompetitive walking events." The Northern Illinois program is a member of the American Volkssport Association network of walking clubs in the U.S.