LeBron James will speak to Robin Roberts in an exclusive interview airing Friday on "Good Morning America," just hours after he finally answers the only question that's been on the lips of thousands of anxious sports fans across the country for weeks: where will the King play next year?
Tune in to "Good Morning America" on Friday at 7 a.m. ET to see the full interview.
Ever since he became a free agent, sports hubs from Miami to New York have been clamoring for James' services. Even celebrities like Betty White and New York Mayor Michael Bloomberg have made personal appeals to James, who is arguably the best player in the NBA.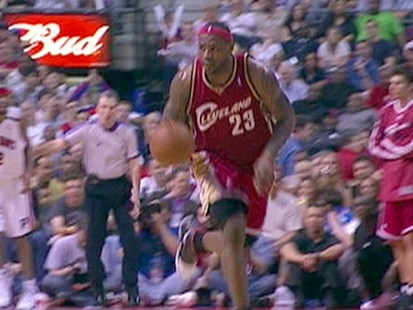 James will announce which team he has selected to join in a live special on ESPN tonight at 9 p.m. ET. It will be broadcast from the Boys and Girls Club of Greenwich, Conn., as a benefit for the charity.
Most recently, speculation has centered around three cities: Cleveland, which is James' current home, New York City and Miami.
Early Thursday morning, ESPN's Chris Broussard reported that James was "leaning" toward signing a contract with the Miami Heat but there was a caveat that that was "barring a late change of heart" and "it's possible James could alter his decision."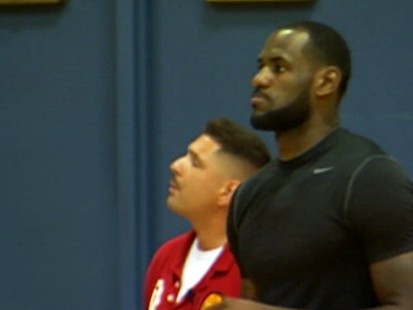 Sports writers said if the goal was to make all of America pay attention to the decision of one free agent, it is working.
"This is more than people have talked about LeBron James ever," said Will Leitch, founder of the sports web site Deadspin.com and a contributing editor for New York magazine. "There is no other athlete frankly in any sport that could conceivably have an hour show deciding where he was going to go on ESPN."
Leitch said Team LeBron has been "masterful" in figuring out how to "harness the hype" and maximize the publicity and attention in every possible way.
With announcement day finally here, and still no official word from his camp, there are a few clues that fans and journalists are poring over in an effort to determine where James is leaning.
LeBron James Theories Abound
James' inner circle is notoriously tight-lipped and tightly-knit, but credit Team LeBron for being able to keep the decision under wraps.
"There've been no leaks," Leitch said. "Every 'leak' has been contradicted by another 'leak' moments later."
That certainly has not stopped the guessing game.
The fact that he's making his announcement outside Ohio is a clear sign that he is not staying, LeBron watchers said on Wednesday. They figure that if he was staying in Cleveland he would break the news there and revel in the hometown love and adoration.
Greenwich is close to New York City – and both the Knicks and the New Jersey Nets are on the final list of James' suitors. Rapper Jay-Z is a part owner of the Nets and has a house in Greenwich. Does that mean anything?
Others say the entire event – live on television, designed for maximum dramatic effect – signals that he is staying put in Cleveland, because James would not go to such great lengths to publicly humiliate his home state and break its collective heart.
But on the other hand, if he's simply staying in Cleveland, why hype up the announcement so big?
And on and on and on it goes and it certainly will not stop until the words come out of James' mouth or he puts a team hat on his head.
"The bad part is this does have a definitive end," Leitch said. "He is going to make a decision and it's going to make some people mad."
With all the speculation, analysis, reading of tea leaves and countless claims of "insider" information, so far everyone remains equally out of the loop on James' final decision.
Robin Roberts said on "GMA" today she believes even James may not know just yet, and that he's waiting to do what he's done all his life -- make a "game day" decision.