Brooke Hundley, the woman at the center of the Steve Phillips sex scandal that made headlines around the world, said she is no stalker and her contact with the former baseball analyst's family was an attempt to draw attention to her affair with Phillips, which she felt pressured to stay quiet about.
"I did things I regret, obviously. People make mistakes at 22," Hundley told "Good Morning America" in an exclusive interview. "That's what I was trying not to do originally, was hurt anybody else or affect anybody else's lives negatively. But I did things and I thought about things just as an avenue to get people to pay attention, to start asking the right questions, to get me out of a bad situation.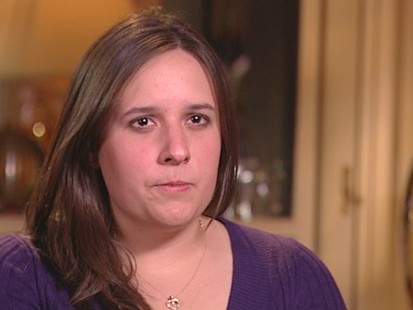 "I was in a situation where I felt like if I didn't do what was asked of me, then everything I had worked for, for the past six years, everything I had done to establish myself as a successful media professional, could be gone like that," she said.
In August, Hundley applied for a restraining order against Phillips -- which she withdrew -- saying he threatened her reputation and career if she didn't keep the affair a secret.
Hundley wrote Phillips' wife, Marni, a letter about the affair and contacted Phillips' son through Facebook -- actions that Phillips said were examples of Hundley's "obsessive and delusional" behavior.
Hundley said she and Phillips have resolved their issues, but she said she hopes "he would grow up and take responsibility for his own actions."
Hundley is speaking out now, she said, to help other women who might be in a situation similar to hers.
Hundley: 'I've Been Called Things ... No Woman Should Ever Be Called'
Phillips was the smooth-talking baseball analyst for ESPN, and the former general manager of the New York Mets.
Hundley said she was a hardworking 22-year-old production assistant who dreamed of a career in sports journalism.
But somewhere along the way, the casual relationship between Phillips and Hundley turned personal, and two lives would be altered forever.
After an affair between the two became public, salacious details emerged from police reports.
Brooke had gone to the Phillips' home uninvited and unannounced to deliver a letter to his wife.
"I'm the woman he's been seeing for a while now," she wrote. "I'm not just some random girl he had sex with in parking lots."
Phillips' wife called 911. Phillips told police he had extreme concerns about the health and safety of his wife, his kids and himself.
The story seemed to take on the feel of a Hollywood screenplay.
"I think people are so quick to make a judgment without ever ... I don't know if they want to know the details," Hundley said. "It's almost like, 'Here's a great story. Here's a great chance for me to destroy a person,' without any sense of really thinking about the fact that there's a human being behind those words.
"I've been called things by the public that no woman should ever be called," she said. "I couldn't go a day without getting, you know, 200 messages in my inbox from people that have never met me, just labeling, just calling me names. I've been called the 'C' word. I've been called a whore. I've been called a homewrecker."
The moment when she felt her life change forever, she said, was when her story appeared outside the pages of tabloids.
"When not only were tabloids covering it but legitimate news was covering it. When Jay Leno was using my looks as part of his opening monologue to get a cheap laugh," she said. "At that point, you know, a person has their breaking point. That was my breaking point. I had a friend who had to come stay with me because she was concerned that mentally I would not be able to take much more. "
She said she feels better emotionally now but wants to clear the record.
Hundley calls herself a good girl who worked hard and never wanted to be involved with a married man.
Phillips told police they had three sexual encounters.
But in August Hundley filed for an application for a restraining order against Phillips, saying he pursued her and "threatened me, stating that if I spoke a word of this to his wife that he would ruin more than just my reputation but could easily get me fired." Hundley later withdrew the application.
Hundley Denies Stalking Charges
Hundley said that she did not report the matter to human resources because she felt discouraged by others.
"I think when you go to people who you feel like are close to you and that you can trust and they're quick to just shut you down, to tell you that, you know, nobody wants to hear about it, then you don't really have the confidence to want to go above them. You almost feel a sense of defeat that 'What's the point?'" she said.
Hundley was ultimately fired from ESPN after the case became public.
Regarding Hundley's termination, ESPN told ABC News, "Our investigation determined that Hundley's characterization of the events was inconsistent."
ESPN also said it has a "clear and consistent policy against harassment in the workplace. We investigate all charges and take appropriate action."
Hundley said any fear Phillips' wife felt after receiving the letter was the "same fear [she] felt a month before."
"[It's] the same concern over what may happen to me, what someone might do to me, ironically," Hundley said.
Hundley flatly denied that she is a stalker.
"I didn't in any time working at ESPN follow anybody around, wanting any sort of relationship with anybody. I didn't harass anyone. I didn't want anything from anyone," she said.
Hundley Hopes Phillips Will 'Grow Up and Take Responsibility'
Hundley said that after all the unwanted public attention following the scandal, she can understand the pain Phillips' wife felt.
"I think the only thing I could really say to [Phillips' wife] is that as someone whose family has been ripped apart over this just as much as someone who has, you know, 500 phone calls, e-mails, letters, paparazzi outside my apartment, reporters wanting me to talk and to say something, that I understand her pain," Hundley said.
"I mean, I don't expect her to come running out to support me, to be on my side," she said. "Obviously, there's a lot of details that I can't talk about. But do I feel bad bringing her into a situation that I couldn't control that really wasn't about her? Absolutely.
"I would never have wanted anybody else to feel or to go through what I was going through," Hundley said. "I brought it on, but not intentionally. I simply wanted somebody to get upset enough to have an impact, to get me out of this horrific situation."
Phillips told police it was his "pulling back" from the relationship that made Brooke become "erratic" and "delusional." But Hundley said she was never in love with anyone at ESPN.
"Anything between me and Steve has been resolved. We've resolved our differences," Hundley said. "I take responsibility for my own actions, for anything that I may have incurred on somebody else. And I would hope that, at some point, he would grow up and take responsibility for his own actions, as well."
ESPN fired Steve Phillips in October. His agent told "GMA" he remains in rehab for sex addiction and that his wife has filed for divorce, but despite that, the couple is still working hard to save their marriage.
ESPN is owned by the Walt Disney Company, the parent company of ABC News.