Julie Andrews launched a career that brought decades of joy and music to many, but along with that brilliant voice there was always something a little wistful in her eyes.
Andrews sat down for an exclusive interview with Diane Sawyer to reflect on her new memoir, "Home Work: A Memoir of My Hollywood Years," and opened up about the space between home and work.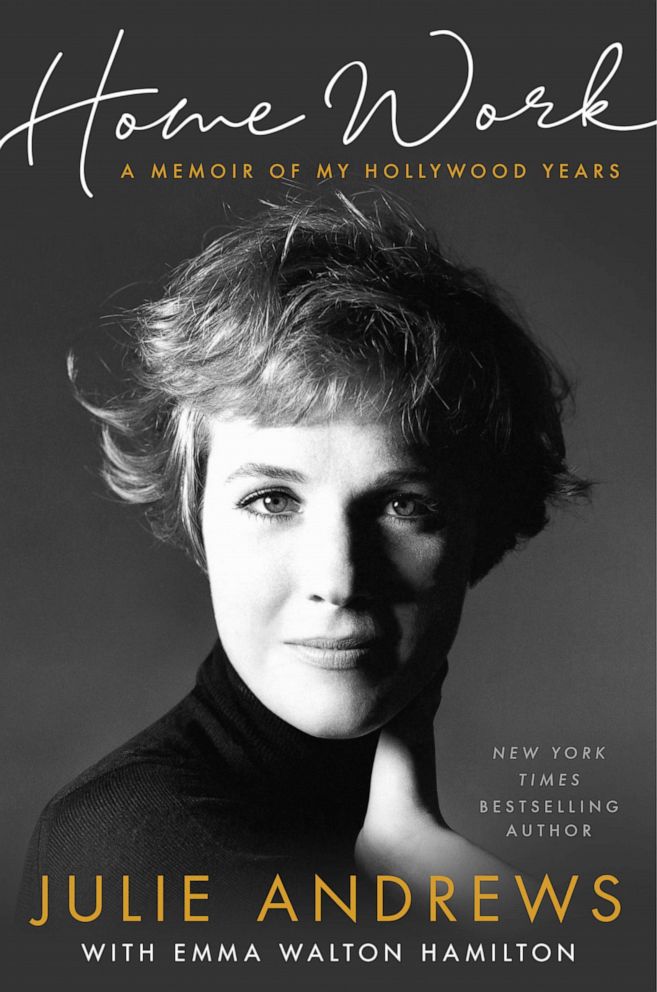 When the British actress and singer was in the midst of making "The Sound of Music," her marriage to childhood sweetheart, Tony Walton, was headed towards divorce.
Andrews recalled being incredibly naive and "terrified" when she had to do her first love scene in "The Americanization of Emily."
"I had no idea what -- one [was] supposed to do," she said, "with a kiss and all of that."
"James Garner, who was delicious, made it very easy for me," she said with a laugh. "I began to think, 'It's getting a little hot in here.' And when I got up, I kept thinking, 'I can manage this.' And I got up and my legs buckled, because it really had hit me rather hard."
She continued, "But he was lovely about it. And I think he -- he might have enjoyed it too."
Andrews admitted she "didn't" know a lot about men, but wrote about a fateful encounter with a man who pulled up next to her in a Rolls-Royce at a Hollywood intersection in 1966, that sounded like a meet-cute from a classic romance movie.
"I was trying very hard not to fall in love with him. And that was Blake Edwards," Andrews said of the director known for "Breakfast and Tiffany's" and "The Pink Panther" movies.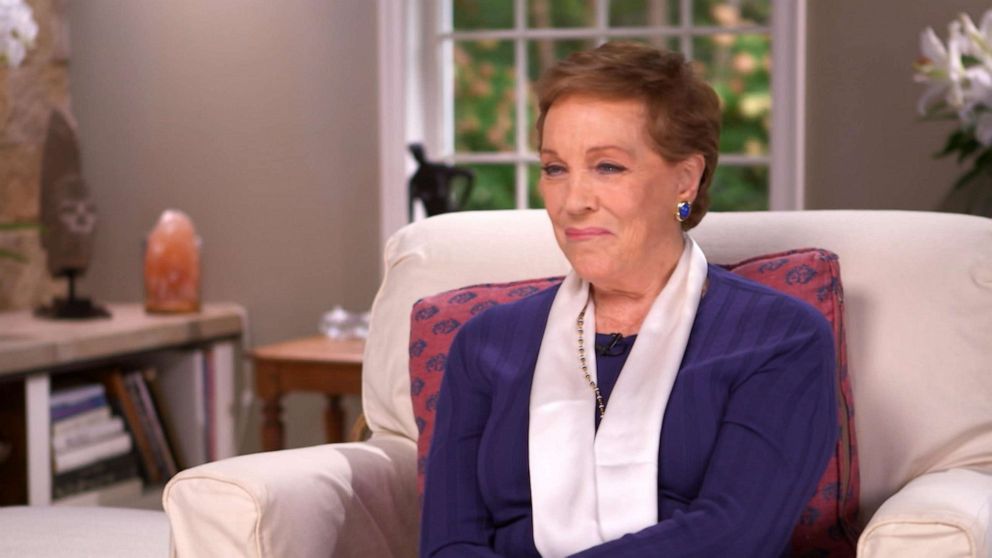 As Andrews wrote, Edwards was funny -- but there was something dangerous about him.
Andrews reflected on whether she had possibly been trying to save and fix Edwards, the actress said, "I think so."
"You have to remember, I was very used to that kind of thing, cause I was -- you know -- a very big codependent with my own family," she said. "And so I became that with Blake."
As a child with a supernatural singing voice, a part of Andrews' may have believed if she sang her heart out, she could somehow rescue her mother and stepfather from their alcoholism and disappointment.
After a marriage proposal from Edwards, it would be two years before she agreed to marry the Hollywood director in 1969.
Andrews wrote about "very stressful times" with Edwards' hypochondria and trying to pull him through volatile moods and sometimes suicidal anxiety.
"It was one of those monsters that got hold of him so strongly that he couldn't resist," Andrews said of his eventual self-medicating with Demerol and oxycodone.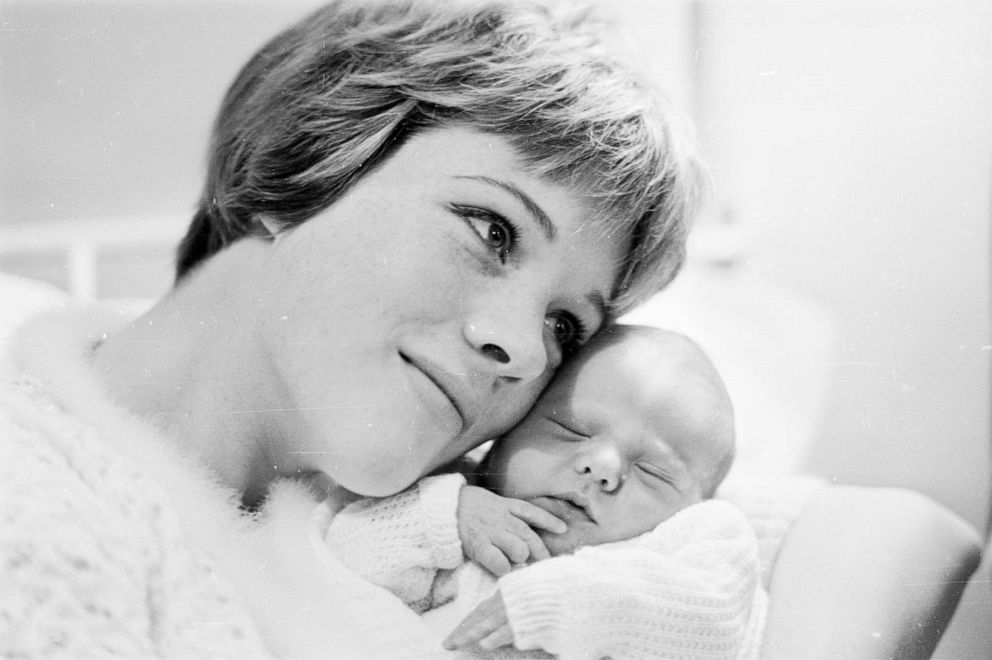 With her determination and stamina, Andrews kept up with a staggering schedule -- movies, concert tours, TV shows -- because she was worried about money due to Edwards' impulsive overspending and their large blended household.
Andrews said that even amidst the chaos of five children, three countries a bevy of pets and various Edwards ailments, she told herself "we will have harmony in this house," and carried on.
Andrews remained loyal by her husband's side for 41 years until his death in 2010. For their twentieth wedding anniversary, she wrote a poem for him that read in part, "When all is said and done, the lady's by your side for the wild fun, the fierce pain, the laughter in the ride."
Speaking to Sawyer, she recalled the end of the poem from memory, "And darling, when I show you this poem -- I know what you will say. 'What else?' You'll grin. 'What else, will you write of me today?'"
Today, the actress is still working -- movies, TV, books -- and takes care of a far-flung family of children, grandchildren and great-grandchildren.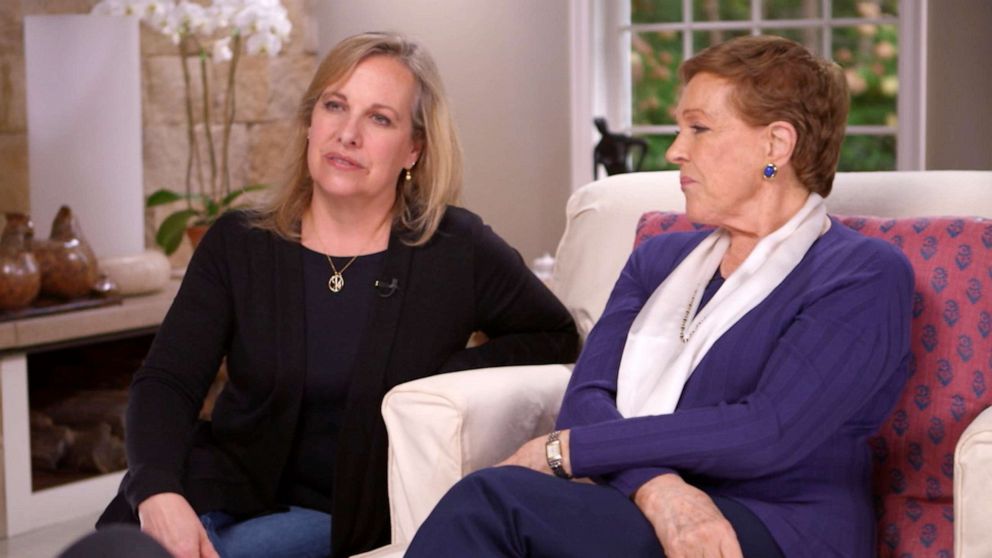 Andrews' daughter, Emma Walton Hamilton, recalled the moment when, as a child, she saw a "Mary Poppins" movie poster in a shopping center.
"I distinctly remember pointing at one of them and saying, 'There's Mommy,'" Hamilton said with a laugh. "And then suddenly being aware of these two women, these two mothers -- in the same center, going, 'Isn't that sweet? That little girl thinks her mother is Mary Poppins,'" she said.
Hamilton, 56, helped write her mother's new memoir, sharing memories about Andrews' radiant and valiant life.
"[I] don't know a more resilient person," she said of her mother.
Andrews is a champion of happy endings and shared the song lyrics she holds close to her heart.
"'My Ship' was a song that had the most beautiful lyrics," Andrews said. She quoted the lyrics, "Well, my ship has sails that are made of silk. And the decks are trimmed with gold, and of jam and spice, there's a paradise in the hold."
"And then the very, very end of it, the song sums up by saying, 'pearls and such, they won't mean much if there's missing just one thing.' And the song says, 'I don't care to have any of those unless I also have a true love.'"
"Home Work: A Memoir of My Hollywood Years" will be available where books are sold Oct. 15.