Actor Ernest Borgnine's storied Tinsletown career has included an Oscar for his role in "Marty," a television sitcom and a host of riveting performances. For more than five decades, Hollywood has recognized Borgnine as one of its most respected and talented stars.
Now the thespian has penned his life's story, called "Ernie: The Autobiography." From his childhood as the son of Italian immigrants to his rise to the ranks of A-list actors, the now 91-year-old gives readers the inside track on his life.
Read an excerpt of "Ernie: The Autobiography" below.
Preface
It's Sunday night, January 13, 2008. Much to my delight, I've been nominated for a Golden Globe Award for my work in the Hallmark TV movie "A Grandpa for Christmas."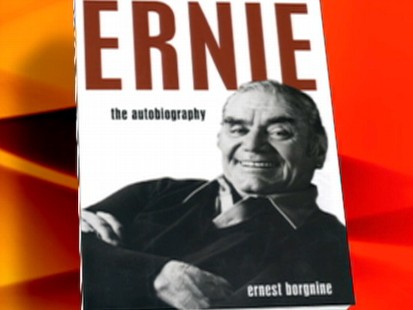 I always get a little dreamy and reflective during awards ceremonies. Nominees always say, "Winning is nice, but it's a thrill just to be nominated." And outsiders think, Yeah, yeah, sure. But you really want to win.
Of course we do. However, it really is a thrill just to be nominated. Especially when you're my age (ninety-one). And to be acting, still, after nearly sixty years—that's a rare privilege.
So I'm sitting in my Beverly Hills home, the one I bought in 1965, watching the Golden Globes, looking at all the fresh young faces (to my eyes, sixty is fresh and young!), and thinking, If I were starting out today, what kind of parts would I be playing?
Given my size—five-foot-nine and hefty—chances are good I'd be offered roles like that big guy, the Thing, Michael Chiklis played in Fantastic Four. Or maybe that part John Travolta had in Hairspray. It's been a long time since I played a role in a dress or a toga. Not that anyone has a Web page calling for more of Ernie Borgnine's legs.
That's what's going through my mind as I'm tuned in to the Golden Globes. At the time—January 2008—the writer's strike was on and, as a result, the Golden Globe Awards ceremony has been stripped down to an hour-long special where the winners are simply announced and clips are shown from all the nominated movies and shows. However, I look at the bright side—it saved me the trouble of having to dry-clean my tux.
The presenters applaud as winners are announced, and my mind continues to drift. Please don't think I'm rude; I have to admit I don't know a lot of the winners or the shows and movies for which they're nominated. It's tough to keep up with all the channels, movies, and DVDs that are out there. When I started out there were three TV networks, no such thing as home video, and just a few studios making far fewer movies.
A reporter asked me earlier in the day, "Mr. Borgnine, do you have any plans to retire?"
I answered, "Retire to what? To work in the garden? Drive my beloved wife Tova crazy? (Or should that be 'crazier'?) Heck, no!"
A lot of what keeps me going is that old-fashioned work ethic I had pounded into me by my first-generation immigrant parents, bless them, when I was growing up in Connecticut.
Besides, I am an actor by profession and I love what I do.
Which brings me to this memoir. For years people have been telling me I should write my life story. I always respond, "I'm just a working stiff—who'd want to read about me?" That was my attitude for years. When I became the oldest living actor to be nominated for a Golden Globe (not to mention being the oldest living actor to have won an Oscar), I had a change of heart. All modesty aside, why shouldn't I write my life story?
I've had quite a run. And since I can still remember most of it, I want to share some of my favorite stories and memories, and maybe give some tips to actors who are just starting out. See, I've made some great pictures, some good pictures, some not-so-good pictures, and a few out-and-out stinkers. (I have the distinction of appearing in more of the 100 Most Enjoyably Awful Movies of All Time as listed in Razzie Award–founder John Wilson's book The Official Razzie Movie Guide than any other actor—The Adventurers (1970), The Legend of Lylah Clare (1968), and The Oscar (1966), among them.
Well, they can't all be gems. But what fun they all were, and every one of them was a learning experience.
I've died onscreen almost thirty times. I've been shot, stabbed, kicked, punched through barroom doors by Spencer Tracy and Gary Cooper; pushed in front of moving subway trains, devoured by rats and a giant mutated fish; blown up in spaceships, melted down into a Technicolor puddle, jumped into a snake pit, and I perished from thirst in the Sahara Desert. I bounced around a capsized ocean liner, beat Frank Sinatra to death, impaled Lee Marvin with a pitchfork, and had my way with Raquel Welch.
Any one of those would've been worth the journey.
I've acted in westerns, comedies, war pictures, crime dramas, horror, science fiction, disaster films, and Biblical epics. I once played the head of a Viking clan. I've been bad guys, good guys, cops, crooks, murderers, mob bosses, western villains, and an Amish farmer. I've portrayed Asians, Jews, Italians (not much of a stretch), Irishmen, Swedes, and Mexicans.
Hell, I even played Satan once, in "The Devil's Rain." It wasn't hard— I just channeled some of the agents I've had over the years.
I've sustained countless injuries over the years and even survived a plane crash. I've traveled all over the world for my work; stayed in five-star hotels in Europe and in bug-infested huts in South America. I've been blessed to have worked with some of the greatest writers and directors in film history and almost four generations of stars from Clark Gable and Joan Crawford and Bette Davis to Bart Simpson and Sponge Bob SquarePants. I've seen this business change technologically from the fuzzy photography of live TV to entire movies produced on computers.
I remember when a corned-beef sandwich at Nate 'n Al Delicatessen in Beverly Hills cost 85 cents. (I don't know how much they are now— corned beef is on my look-but-don't-touch list.) When I first came out here in 1952, a house in Beverly Hills went for $30,000; today that same house would go for $5 million. Movie admission was 35 cents; today it's $10 or even $11; a bag of popcorn was a dime. Today it's $5. Once the town made westerns like Shane and The Searchers and The Magnificent Seven and had larger-than-life leading men like Gable and Cooper, Bogart and Cagney, and the tall cowboy everyone called the Duke. Today, I see our so-called movie stars in People magazine and most of them look like they belong on the FBI's Most Wanted List wall at the post office, all tattoos and body piercings.
I started working at a time when a movie cost less than half a million dollars to produce. Now a movie that costs $50 million is considered low budget.
In these pages I'll show you what Hollywood was like more than half a century ago and how it's changed, sometimes for the better, sometimes for the worse.
So grazie infinite for stopping by. Divertiti.
Chapter One
In the Beginning . . .
One day in October 1950, while going from audition to audition, trying unsuccessfully to find a job, I was walking along Tenth Avenue grumbling to myself, "Dummy, why did you ever get into this business? You only work once a month, at best, because according to agents, 'People don't want to see your particular mug too much.'"
Well, I did not believe that. Movies were more than just pretty boys and leading men. Jimmy Cagney was not pretty. Neither was Eddie Robinson.
But I had a family and I needed work badly. If I couldn't find it in movies or on the stage, I'd have to find it somewhere else. As the horns of boats on the Hudson River reached my ears, I imagined myself working on a tug or loading cargo or just fishing for our dinner.
Suddenly I smelled hot chestnuts. Some vendor on the corner was selling them. It reminded me of my mother. When I was a youngster, she'd cut chestnuts, put them in a pan on top of the stove, and let them roast. The whole house would become permeated with that smell. It was wonderful. So I walked a little closer, not to buy any, because I didn't have any money, but just to smell.
Well, as fate would have it—and trust me, luck plays a big part in the life of any successful person—I saw a sign on that vendor's cart that became my philosophy. The sign read, "I don't want to set the world on fire, I just want to keep my nuts warm."
In other words, don't plan big. Go from step to step to step—forward. If you've got talent and perseverance, and fate is willing to lend an occasional hand, the rest will take care of itself.
Copyright © 2008 Ernest Borgnine
All rights reserved. No part of this book may be reproduced in any form or by any means without the prior written consent of the publisher, excepting brief quotes used in reviews.
All Kensington titles, imprints, and distributed lines are available at special quantity discounts for bulk purchases for sales promotions, premiums, fund-raising, educational, or institutional use. Special book excerpts or customized printings can also be created to fit specific needs. For details, write or phone the office of the Kensington special sales manager: Kensington Publishing Corp., 850 Third Avenue, New York, NY 10022, attn: Special Sales Department; phone: 1-800-221-2647.
CITADEL PRESS and the Citadel logo are Reg. U.S. Pat. & TM Off.