In 1989 Cher's "If I Could Turn Back Time" ruled the music charts, shoulder pads in women's clothes were on their way out and a legal drama called "L.A. Law" was the No. 1 show on television.
At the same time Diane Sawyer, then a "60 Minutes" correspondent, left the popular CBS News show and headed to ABC News to head up a new show called "Primetime Live."
Roone Arledge hired the veteran journalist, who was the first woman to appear on "60 Minutes," to co-anchor the TV magazine alongside Sam Donaldson.
It was a bold move that would help shape her career.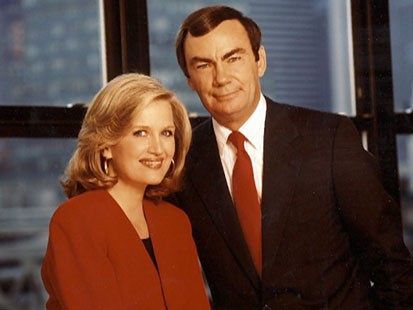 "Diane and I really enjoyed the opportunity to work together and I was looking forward to it," Donaldson said.
But putting "Primetime" atop the ratings was not a simple or easy task.
"We didn't really know what we were going to do so we were kind of winging it," said former "Primetime Live" executive producer Rick Kaplan.
In the beginning, the show had some mishaps including going live to a tree in Texas.
"Tried to interview the tree. The tree said nothing," Donaldson said.
Then there was the instance when Sawyer's earring fell off as she was anchoring.
"Her earring fell off and kind of bounced on the desk and she didn't drop a stitch. I mean she kept right on," Donaldson said.
The mistakes made the show a target for late-night sketch comedy show "Saturday Night Live," which spoofed "Primetime."
"It's like when you see a really, really, really bad movie. And you think, 'Why did they do this?'" Sawyer said of the show's early difficulties.
But it taught her a lesson: Sometimes when you're at the end of your rope, all you can do is tie a knot and laugh.
"We went to huge lengths to try and keep people's spirits up," said Kaplan, who used to bet on the ratings with Sawyer.
"I bet a personal article of my clothing against Diane's bra," he said.
The show's less than stellar start allowed it to refocus and reboot, offering a second lesson -- stop and steer by the stars that used to guide you.
Kaplan said they decided to go back to "aggressive investigative journalism."
"We had a rebirth, which was to become what we cared about," Sawyer said.
The formula worked. Donaldson unleashed on special interests in Washington and Chris Wallace confronted a repairman who was breaking a part on the back so that he could say it had to be taken out to be fixed.
The team of passionate journalists tackled subjects like the disgrace of Veterans Administration hospitals, day-care dangers and Nazis never brought to justice.
"Diane's investigative work on this program is the stuff that journalism history will be retelling for a long time," Kaplan said.
When it was all over, the little show that could bested the nighttime drama and drove "L.A. Law" off the air.
"We were No. 1 for at least three to four years in our time slot," Donaldson said.
And for Sawyer, what looked like one of her most awful years, ended up becoming one of her best.
"I think the thing that you learn is that your mistakes are there to teach you something, that they are a way of moving you forward," she said.