As the 2009 hurricane season begins, people around the U.S. will be bracing themselves once again for nature's wrath, but residents of Galveston County, an area destroyed twice by hurricanes, are still working to rebuild after Ike's destruction last year.
In the early morning of September 13, 2008, Hurricane Ike made landfall near Galveston County, Texas. The category 2 storm brought winds of 110 mph and widespread floods to the coastal town. Causing an estimated $21 billion in damages, the National Oceanic and Atmospheric Administration considers Ike the third costliest natural disaster in the United States after Hurricanes Katrina and Andrew.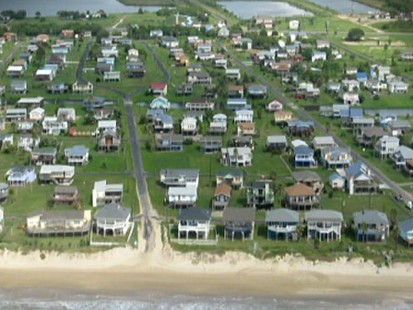 More than eight months later, the people living in Galveston are still cleaning up the mess.
Galveston mayor Lyda Ann Thomas confirms the city's commitment to rebuilding, but acknowledges the process might not be as swift as some might hope.
"People are helping with cleanup, building fences, putting the businesses back," Thomas said. "People in Galveston have come together and we are determined to recover. It's going to be a one to five-year process."
Rebuilding a city nearly destroyed by storms and so vulnerable to future ones might seem futile, but for many Galveston residents, staying and rebuilding their community is the only option.
Although they thought about leaving Galveston, Craig and Angela Brown felt reopening their coffee shop was a way to reunite the people in their community.
"This is my home," Craig Brown said. "Our friends are here. That tie to home is so important to individuals. Feeling that you are part of something and helping develop something: that's why decided to stay."
But it's not enough to restore the city to its original state. A new approach is required for rebuilding.
The Road to Rebirth: Building Smarter
It has been argued that to reconstruct homes and businesses along Galveston's vulnerable shoreline is irresponsible. Jerry Patterson, head of the Texas General Land Office, a government agency responsible for protecting the coast, has spent nearly $60 million in a cleanup effort and knows that any plan to rebuild will need to be coupled with smarter solutions.
"Some of that debris would not have been debris if we had built right," Patterson said. "We want them to build back and we want them to come back in a smart way."
And one home was a testament to this smarter construction strategy. When Hurricane Ike struck Texas' Bolivar Peninsula, Pam and Warren Adams' newly constructed home was the sole residence standing in an area that saw the destruction of over 3,000 other homes.
Warren Adams, echoing the Texas Land Office sentiments, noted, "Each storm, I guess we learn something new and so we try to put what we learn into practice and try to build a better home."
For his wife, Pam Warren, it was difficult to own the only surviving home amid all that devastation. "You see people picking things up, trying to find things left from their lives," Pam said. "For our house to be standing there, it tore at me."
Regardless of the state of their own home, the Warrens, like many of their Galveston neighbors, are dedicated to rebuilding their community.
"It doesn't matter whether they build, whether they're in campers or tents. I could care less, just as long as they come home."
'Ike' High School Students Tell Stories of the Storm
A group of Galveston high school students calling themselves the hurricane story tellers, is determined to rebuild the community's spirit by documenting its struggle. In the new documentary, "Ike," victims of the hurricane tell their stories to the young filmmakers.
In "Ike," one survivor, Miranda Smith, describes weathering the storm. Smith tells of the moment she was reunited with her father.
"I turned around and it was daddy and I thought he was dead. We just ran towards each other and sobbed. It was homecoming like I never thought before," Smith said.
Melnikia Smith, a student profiled in the documentary, talks about staying in tent city after the storm. Just three days after Ike hit, Melnikia's mother gave birth to a baby girl, naming her Jon-Bernet Survivor Richardson.
Another student who worked on and appeared in the film, Natalie Martin, rode out the storm in the local courthouse with her family. Prayer and song sustained her family through the night and Martin captured the experience on her camcorder.
Faith is a theme that appears throughout the film. It, like the documentary, has helped the community stay strong and connected. Nearly 1,500 residents came to see their story premier at Galveston's Grand Opera House on May 21.
Robert Weiss, the technology teacher who oversaw the project, explained the impact the documentary has had on his students and Galveston County. "The intention behind this piece has been nothing but good willed and natural and selfless," Weiss said. "And so, the realizations that these students are gonna bring from this will just continue to grow for years to come. And that's one thing, you know, I go to sleep feeling really good about is that they really have made a difference for this community."
For more information on the documentary, head to ikedocumentary.com.