As the temperature rises, millions of American children look forward to trips to the pool, lake or ocean. But every year, thousands make a very different trip -- a terrified one to the emergency room.
During the summer months there is an 89 percent increase in the number of drownings over the annual monthly average, according to the Centers for Disease Control.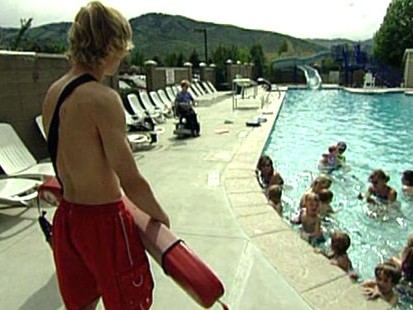 To protect their kids, some parents are teaching them to learn how to survive in the water at a very young age at swimming classes for infants.
Swimming classes at such a young age -- some of the children are less than a year old -- may seem extreme to some, but the classes are just one way parents can help prevent the unthinkable from happening.
"Good Morning America" special contributor, mother and former Olympic swimmer Summer Sanders said there are a few precautions parents can take before their kids hit the water to help ensure that everyone comes home safe.
Check out her tips on the next page and learn more about the infant swimming classes at InfantSwim.com.
Also, get more summer safety tips from the Red Cross by clicking here.
Tip 1: Keep the Kids Within Eyesight
First things first, make sure you keep an eye on your kids, especially at the beach.
"Don't let them wander away from you because as soon as you let them wander away, they'll be pulled out and none of us can run fast enough to catch a toddler that's already being pulled out to sea," Lt. Scott Diedrich of the Laguna Beach Marine Safety said.
Even when they're swimming in the pool right in front of you, make sure you can see them. Children have died right in front of their parents, hidden by the edge of the pool.
Tip 2: Know Where Help Is
If something were to happen, what would you do?
Make sure you know your environment. Know where to go for help. If you do not have a cell phone, know where you can find the nearest phone.
Tip 3: Always Use Life Vests on a Boat
Even if you don't plan on your kids getting in the water, it's important to make sure they wear life vests on the boat just in case.
Tip 4: Know the Color of Your Children's Bathing Suits
Finding your child in a pool or ocean full of children is challenge enough. In a desperate situation, those lost moments could have dire consequences.
You can give yourself an advantage by memorizing what color bathing suit your child is wearing. That way you can quickly scan for children wearing that color.
Tip 5: Thunder? Lightning? Get Out of the Water
If you hear thunder or see lightning, get your kids out of the water and wait for at least half an hour.