There's a new airline that has no security lines, no middle seats and flight attendants who even take customers for a walk before they fly. The only catch? You've got to be a dog or a cat -- no humans allowed.
Pet Airways will get the fur flying next week when it begins service as the country's first pet-only airline.
The airline's launch is the culmination of an idea from pet owner Alysa Binder and her husband, Dan Wiesel, after they took their aging Jack Russell, Jack, on a cross-country flight. Like other pets, Jack had to fly in the cargo bay.
"We were totally stressed out," Wiesel said. "We didn't know if she was on the flight, didn't know how she was doing."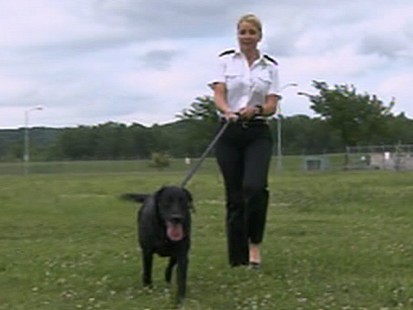 To avoid that stress in the future, the couple leased a plane, hired veterinary technicians to monitor the animals in flight and started advertising their new airline. Starting at $149, pet owners can send their furry friends on flights that provide a preboarding walk and bathroom break.
Pet Airways will initially fetch animals from five cities -- New York, Baltimore, Chicago, Denver and Los Angeles.
The planes have no seats and no overhead compartments, and are all designed for creature comfort.
"Our priority is the pets," Binder said. "It's about the pets."
While Pet Airways may be the newest dog on the block, they face competition with major carriers such as Continental, which moves an average of 500 pets every day.
"We've got dedicated personnel, constant monitoring 24 hours a day, tracking all animals," Continental employee Lisa Schoppa said.
Furry Frequent-Flier Miles
Even famous dogs take to the cargo bay when they fly.
Westminster Dog Show champion spaniel Stump has racked up half a million Continental frequent flier miles so far.
Pet Airways plans to offer a similar program. But for now it'll be busy enough. The airline is booked solid for the next two months as pet owners like Amanda Hickey latch on to the idea of fine flying for her pets.
"I would be a wreck if I had to wait in baggage claim for them to come out at the end," Hickey said.