Tiger Woods' wife and mother were "brutal" on him after numerous women claimed to have had affairs with him, a sex scandal the rocked the sports world and his marriage, and led him to take a hiatus from the game he ruled, the golfer said today in an interview with ESPN.
"They both have been brutal," Woods, who announced last week that he is returning to golf at the Masters next month, said of his wife, former model Elin Nordegren, and his mother, Kultida Woods.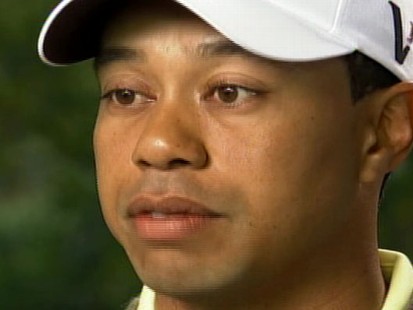 "They've both been very tough. Because I hurt them the most. Those are the two people in my life who I'm closest to and to say the things that I've done, truthfully to them, is ... honestly ... was ... very painful," Woods said.
"I had gotten away from my core values as I said earlier. I'd gotten away from my Buddhism. And I quit meditating, I quit doing all the things that my Mom and Dad had taught me. And as I said earlier in my statement, I felt entitled, and that is not how I was raised," he said.
Woods did not say what exactly he spent 45 days in treatment for, saying only it was "a private matter," but he said he had more outpatient treatment ahead, and felt stronger than before.
"I was living a life of a lie, I really was. And I was doing a lot of things, like I said, that hurt a lot of people. And stripping away denial and rationalization you start coming to the truth of who you really are and that can be very ugly. But then again, when you face it and you start conquering it and you start living up to it, the strength that I feel now ... I've never felt that type of strength.
"I can't believe I actually did that to the people I loved," he said.
After a nearly five-month self-imposed hiatus from the sport following the shocking infidelity scandal, Woods announced Tuesday he would make his return at golf's most prestigious event, the Masters in Augusta, Ga., on April 8.
Tiger Woods Says He Is Bit Nervous About Fans' Reaction
"I'm excited to get back and play, I'm excited to get to see the guys again. I really miss a lot of my friends out there. I miss competing," Woods said. But still, I still have a lot more treatment to do, and just because I'm playing, doesn't mean I'm gonna stop going to treatment."
Woods said he was a little nervous about the reception from fans.
"It would be nice to hear a couple claps here and there. But also hope they clap for birdies too," he said.
"It's his re-entry back into this world and the softest possible landing," ESPN's Mike Tirico told "Good Morning America" after his announcement about his return last week. "It's about that re-entry, not necessarily going back to the top of the golf world at this time."
It's also a logical choice, Tirico said, for the amount of control the Masters provides versus other major events.
"It's the most controlled setting," Tirico said. "The only people inside the ropes at the Masters are the contestants, the caddies, the rules officials and a couple of the cameras that throw the TV pictures. By and large, compared to a regular PGA Tour event, it's a more pristine environment. Less distractions."
While public relations experts called the return one of the most significant moments in Woods' storied career, it's also a major moment for the sport.
"It's awesome to have your stud back, our star," said fellow professional golfer Kenny Perry. "He carried our tour."
TV ratings for golf dropped as much as 50 percent during Woods' absence.
Woods has been reportedly practicing with swing coach Hank Naney, but it's not the technical performance that Turico said could be the problem.
"The mentality is the $1 million question here," Tirico said. "We don't have those answers. We don't know how Tiger is approaching golf, if it's with the same zeal and zest and single-mindedness that he's known before when he gets to the first tee. Many haven't seen him and nobody knows how he's going to play."
Tiger Woods' Scandal Shocks Nation
Tiger's tale of tribulations started in late November, when he plowed his SUV into a fire hydrant and then a tree near his home in Isleworth, Fla.
In the days that followed an alleged relationship between Woods and a New York City nightclub hostess sparked a deluge of allegations of additional affairs. Before long, Woods was rumored to have been involved with more than a dozen women, including a porn star.
On Dec. 11, Woods announced he would take an indefinite leave of golf in an attempt to save his marriage. It is not known if Woods' wife, former model Elin Nordegren, will be by his side when he returns to the course.
Today he said they were working on reconciliation.
"I loved Elin with everything I have. And that's something that makes me feel even worse. That I did this to someone I loved that much," he said.
While Woods may be on the road towards rehabilitating his reputation, it remains to be seen whether the public will forgive him.
"I've made my mistakes," Woods said. "I've hurt so many people, and so many people I have to make an amends to, and that's living a life of amends."
ABC News' Lee Ferran contributed to this report.