— -- A 10-year-old New York boy named Carter who beat cancer got to meet another cancer survivor named Carter, former President Jimmy Carter.
The meeting between Carter Beckhard-Suozzi of Glen Cove, New York, and the nation's 39th president opened with a giant hug Monday at The Carter Center in Atlanta.
Carter extended his arms as soon as he saw the former president, who gave him a "warm" hug, called him a "handsome little man" and asked him how he was feeling.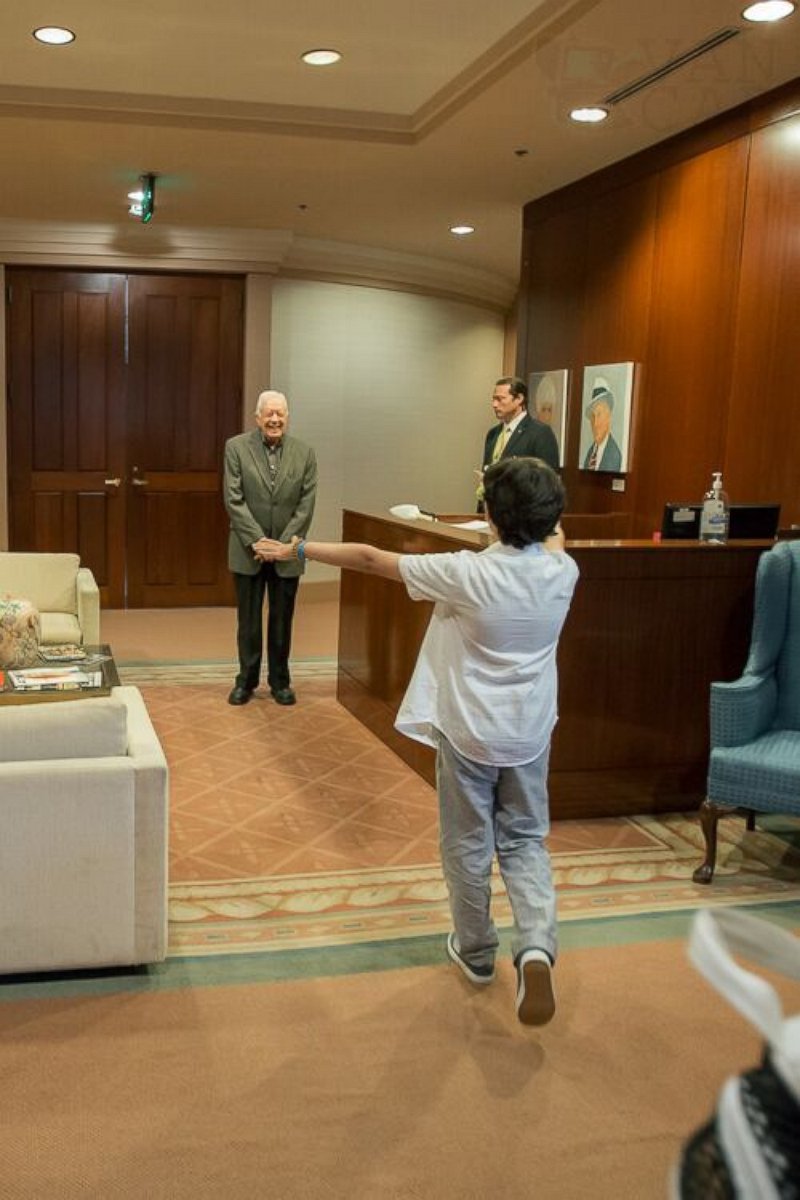 "I said, 'Good,' and he said, 'Me, too,'" the boy told ABC News. "The hug definitely made me feel I was supposed to not be nervous."
Carter was diagnosed with Burkitt's lymphoma in May 2015. He underwent five months of grueling chemotherapy and surgeries before being told by doctors he had beaten the cancer, according to his mom, Jane Beckhard-Suozzi.
While Carter was in the hospital, he was visited by officials from the Make-A-Wish Foundation. Months later, out of the blue, he told his mom what he wanted his wish to be.
"He said, 'Mom, I figured it out. I want to meet President Jimmy Carter,'" Beckhard-Suozzi recalled. "When I asked why, he said, 'We have three things in common. We have the same name. We both have survived cancer and we both love helping people.'"
Carter added today, "A fourth reason is that he was president of the United States and I was co-president of my school."
The former president, 91, announced in August 2015 that he was battling metastatic melanoma. Just months later, in March of this year, Carter announced that after undergoing surgery, radiation and immunotherapy, his doctors had said he no longer needs cancer treatment.
When the two Carters met Monday, the former president told Carter he had researched Burkitt's lymphoma online to find out more about what Carter went through, according to Beckhard-Suozzi. The two spent around 30 minutes discussing their personal journeys with cancer but also about the former president's experiences both in the White House and his extensive service work after.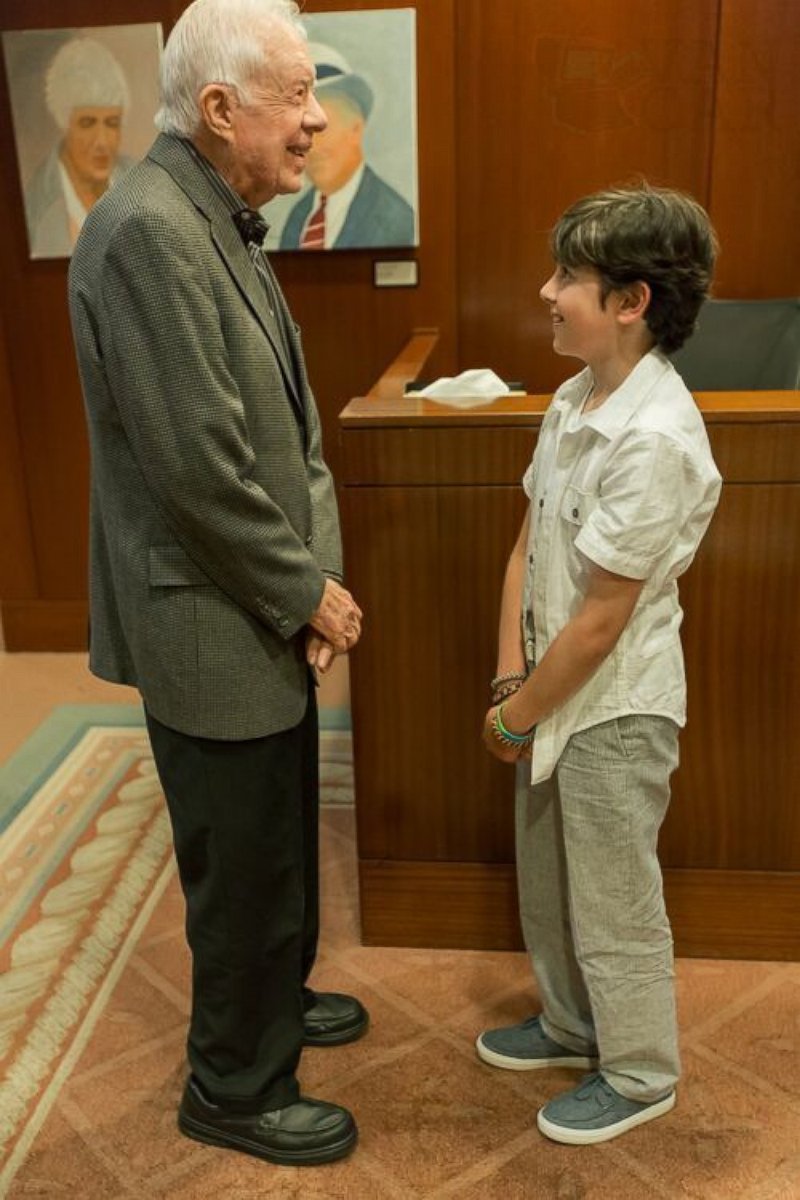 "It was more me asking him and he had stories behind each question, which was really cool to hear because it's not like you get to hear something like that every day," Carter said. "He fought segregation and wanted to make peace so he never fired a gun while he was in office and also he wanted to help civil rights."
Carter, who donates time and money with his family to organizations like the Ronald McDonald House Charities and food banks, said the president even delayed an "important meeting" to keep talking.
"I was looking at the door when I was talking to him and they came in and said it's time and he said, 'Give me five more minutes,'" Carter recalled.
The elementary school student also took a selfie with former President Carter and received a signed book and signed baseballs, among other memorabilia. Carter gave the former president one of his bracelets that reads, "Carter Crushed Cancer With Power, Strength, Love."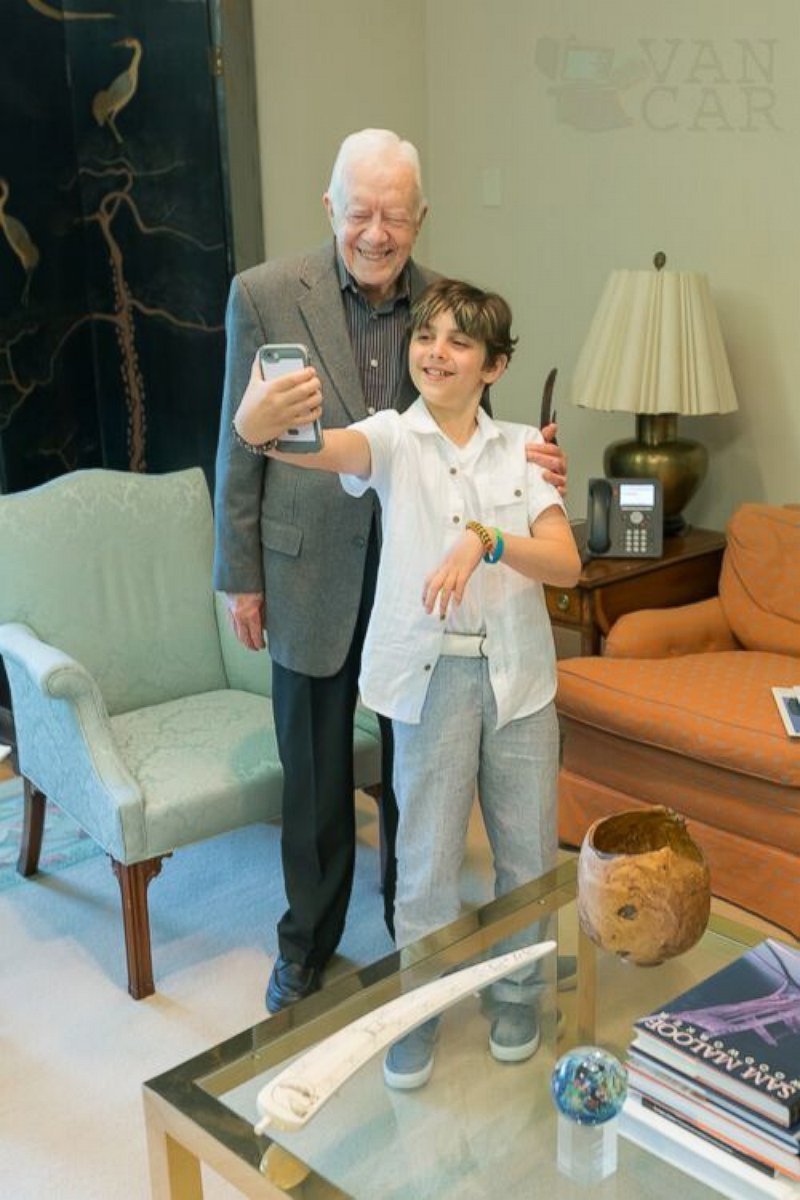 The Carter Center did not reply to a request from ABC News. In a statement released by the Make-A-Wish Foundation, the former president called the visit "wonderful."
"He is a fine young man, and we share much more than a name in common, especially our success in overcoming cancer," Carter said in the statement. "I know Carter will grow up to do great things."
Beckhard-Suozzi, who attended the meeting with Carter's dad, Ralph Suozzi, and brother, Alex, and cousin, Kimberly Ravener, said her son declared the visit "the best wish ever."
"It's just been incredibly uplifting to be able to experience a trip like this and be free from everything Carter has been going through," his mom said. "And to meet President Carter and everything he's done for this world, we were just in awe and the more we learned, we were more in awe."