11-Year-Old Boy Gets Yoga Certification After Mom's Cancer Battle
Tabay Atkins teaches yoga three days per week to people of all ages.
January 24, 2017, 1:07 PM
— -- Tabay Atkins is a typical sixth-grade boy. He loves building Legos and counts math, social studies and English as his favorite subjects in school.
The 11-year-old from San Clemente, California, also happens to be an in-demand yoga instructor who teaches classes three days per week.
"I care about people and a lot of people really like taking my classes," Tabay told ABC News. "I think I'm inspiring and a lot of people just like my story."
"And I don't judge people," he added of his appeal as an instructor.
Tabay's yoga journey began when he was just 6 years old. His mother, Sahel Anvarinejad, took a yoga teacher training program to help herself recover from non-Hodgkin lymphoma.
"By accident I got into yoga after I ended chemotherapy treatments," Anvarinejad, 37, told ABC News. "Tabay was with me every step of the way."
"He went to the trainings and he saw how it changed me," she said. "I was lighter. I didn't have the heaviness that cancer brings."
When Tabay graduated from fifth grade last spring, Anvarinejad gave her son the choice between a trip to Europe or the chance to undergo a 200-hour yoga teacher training program himself.
"He chose training without hesitation," Anvarinejad, now cancer free and the owner of her own yoga studio, said of her son. "He said, 'Mom I want to do this too. I want to teach people so yoga can help them the way that yoga helped you.'"
Tabay began an intensive instructor program that consisted of nearly 12 hours of instruction every day from Los Angeles-based YOGAthletica trainer Shana Meyerson.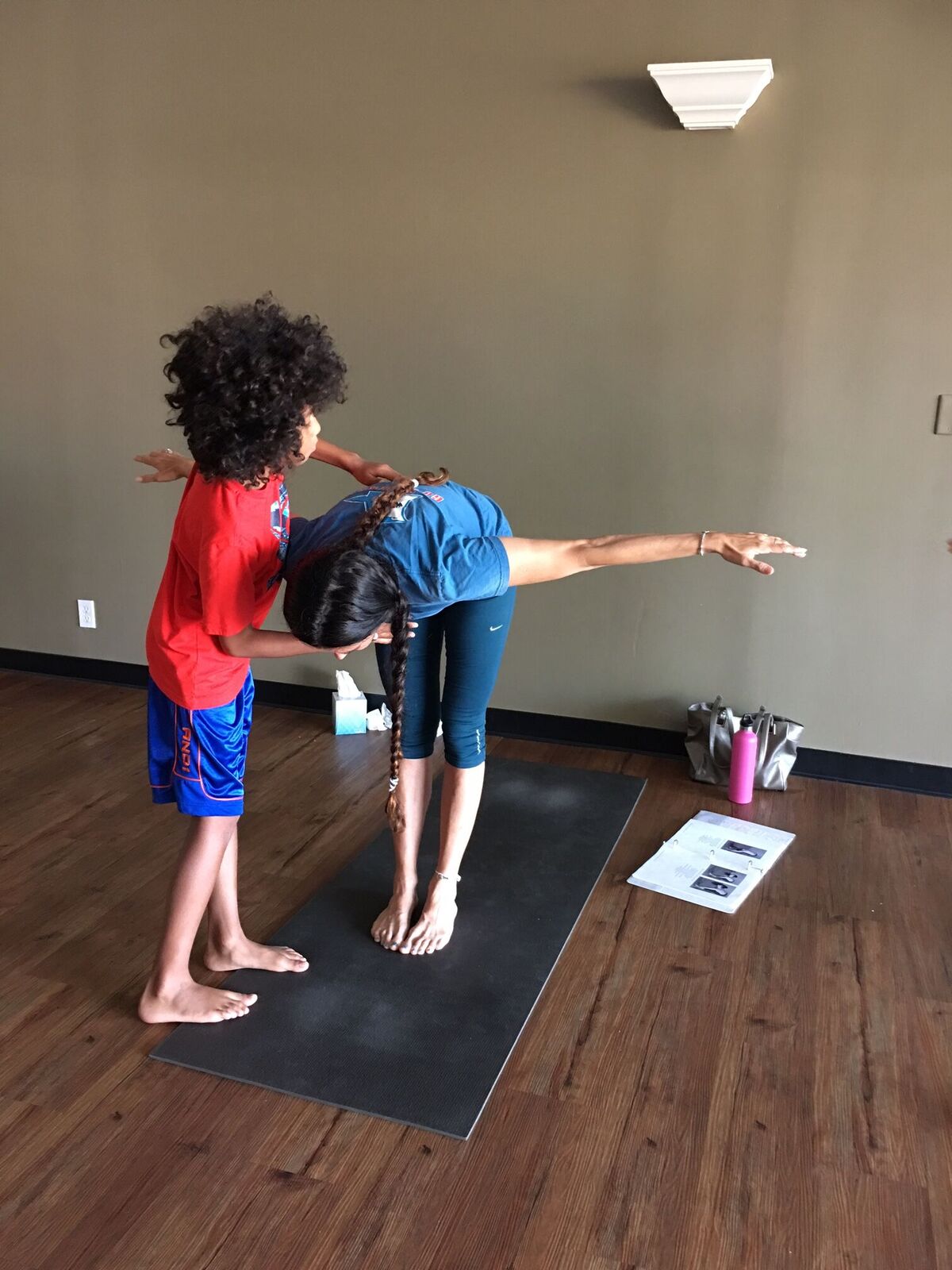 "Tabay was nothing short of extraordinary," Meyerson told ABC News. "He took in all the information, and regularly exhibited a deep and fundamental understanding of the material."
She added, "Even my toughest questions—that no one else could answer—were consistently and correctly answered by Tabay."
Tabay was the youngest person ever to complete Meyerson's 200-hour YOGAthletica Teacher Training, with the closest in age being 24, according to Meyerson.
"The adults in the training, all women, treated him with a unique combination of maternalism and peer respect," she said. "Somehow he managed to immerse himself in this very grown up world and never lose his childlike innocence and sense of wonder, and fun."
Tabay now teaches classes two days per week after school and on Saturdays at his mom's studio. Often by his side in his yoga classes are his mom and dad, former NFL player Larry Atkins.
"Before he started yoga with me he wasn't flexible because he didn't do yoga when he played football," Tabay said. "And after doing yoga with me a lot he's becoming a lot more flexible and he's a lot happier."
Tabay's classes are donation-only and he gives the proceeds to charities supporting children with cancer, the family said. Their studio, Care4Yoga, also waives the normal $30 per class drop-in fee for all cancer patients and their family members.
"People leave in tears because they're that touched," Anvarinejad said of her son's classes. "There's just a connection he has with everybody on every level, it's just something else."
Tabay has taught yoga classes around the world and also teaches his classmates at school.
"It's really awesome," he said. "Some of the boys at first when I tell them that they should try yoga, they say no because they think it's for girls but yoga was actually created by men, for men."
As he gets older, Tabay plans to keep expanding his yoga outreach.
"I want to try to open up as many studios as I can and spread the yoga word," he said. "Yoga helps in a lot of ways...I want to teach yoga to anyone and everyone I can."