Expectant parents dream of looking into their baby's eyes once their bundle of joy has arrived. But for new parents Bridget and Mike Wildschuetz of Kyle, Texas, that day will have to wait.
"We just felt that our faith in God and his plan and purpose for her was what was going to carry us through this," Bridget Wildschuetz, 31, said. "So at that point, we said, 'We're going to name her Faith.'"
Faith, or "Super Baby Faith," as she is known by her family and friends, was diagnosed with severe bilateral microphthalmia, a rare congenital disorder that results in little to no eye development, usually during the first trimester.
Geneticists believe that only one in every 10,000 births will have some form of the condition, which could leave patients with no structure, or globe, in either eye, depending on its severity.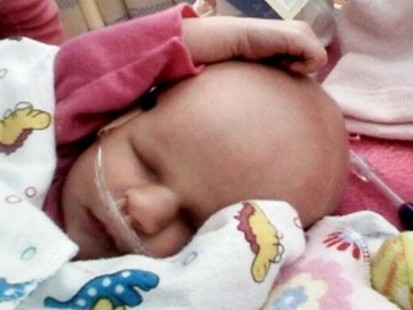 "She's 100 percent totally blind," Mike Wildschuetz, 34, said of his daughter. "She's never going to be able to see anything. It's just basically an empty socket."
Although her parents say they are up for the challenge, there is still the issue of finances. Mike Wildschuetz, a mining engineer, was laid off from his supervisor job in October 2008 and left work permanently to help take care of 2-month-old Faith. His wife works as a physical education teacher at a local elementary school.
But with Faith's medical bills starting to trickle in, along with other standard payments, Mike and Bridget said they can't help but feel overwhelmed.
"Every day we get bills in the mail," Bridget said. "It's never ending."
Church Pitches in for Baby Faith
The Wildschuetzes say they have only been able to move forward thanks to the support of family and friends and their faith in God. To help alleviate some of the costs, members of their church, The Connection Church, have donated to a benefit fund created for Baby Faith.
If you are interested in donating to the Wildschuetzes please CLICK HERE.
Since the fund started in late September, $1,447 has been deposited, with family pastor Nic Burleson hoping to raise more by selling rubber bracelets with Faith's name on them.
'We're Not Going to Let Them Go Through This Alone'
"Our church's motto is to connect to God, connect to others, and then connect others to God," Burleson said. "We want to be sure that we do everything we can to keep [the Wildschuetzes] connected and let them know that we care about them, that we love them, that we support them, and that we're not going to let them go through this alone."
Parishioners also assisted the family while Faith was still in the hospital by mowing their lawn and bringing them food as they waited. Families bring the Wildschuetzes a meal a day to help curb costs, Burleson said. A couple even started a Web site, Superbabyfaith.com, to keep supporters up to date with her ongoing condition.
"It was just basically a question of how could we reach more people," said Rafael Marquez, who started the site. "We knew that outside of our church community and church family, there were other people out there that would be willing and able to help."
After Faith was born, he added, the site peaked at about 2,900 page views a day and has since averaged about 300 daily views.
"We just thank God every day for our baby girl and for all those people that He has put into our lives to just help us through this, because it's tough, it's really tough," Bridget Wildschuetz said.
Emotional Roller Coaster
The couple found out New Year's Eve they were going to have their first child. Although they were hundreds of miles away from their immediate families in St. Louis, the Wildschuetzes said they were ready to start their new lives with their new baby.
"It's kind of that range, I think, of happiness to, 'all right, are we ready for this,'" Mike Wildschuetz said of the transition. "It's kind of a little bit of everything, a little shock, a little awe -- overall, a good feeling."
Although his wife experienced some complications, such as spotting and cramping, she said things were going pretty smoothly up until April 14.
Twenty weeks into the pregnancy, a routine ultrasound check alarmed her doctor. She returned to his office immediately, where he informed her of Faith's condition.
"I think initially you go through a grieving period," she said. "I tried to stay strong as long as I could just to find out, OK, what's our best case, what's our worst case scenarios here, because at that point, we had no idea if it was just her eyes or if it was much more going on."
Despite being fully aware of Faith's visual impairment, she said, nothing could have prepared the couple for the emotional roller coaster that ensued after she was born Sept. 10.
Doctors admitted Faith into the neonatal intensive care unit to help regulate her breathing and facilitate her feeding. With the Wildschuetzes in and out of the hospital, the uncertainty of Faith's future took its toll.
Baby Faith Born Without Eyes
"It's just hard," Bridget said. "It's like sometimes we would take one step forward and instead of taking two steps back, sometimes it was like 20 steps back."
After nearly a month in the hospital, Faith was able to go home Oct. 7, allowing the Wildschuetzes to finally care for their newborn.
"It's great to be home," Mike said. "People are finally getting to come by and see her. I'd much rather be here than anywhere else."
While there is still no definitive cause for microphthalmia, researchers have linked the eye condition to chromosomal disorders and single-gene disorders, as well as certain environmental causes, such as exposure to rubella, retinoic acid or alcohol.
Chromosomal disorders occur when an individual has extra, missing, or rearranged chromosomes, the strands of DNA in every cell that carry our genetic information. With single-gene disorders, a mutation in one of the genes may lead to various birth defects.
The International Children's Anophthalmia and Microphthalmia Network reports that nearly 15 percent of all bilateral microphthalmia cases can be attributed to the mutation of one particular gene, the SOX2 gene.
"Even though something is genetic, it doesn't mean it's inherent," said Tanya Bardakjian, genetic counselor and coordinator of a clinical research program at the Albert Einstein Medical Center in Philadelphia, Pa. "In most cases, it's sporadic, and it just happened for the first time in that child."
In Faith's case, there is no history of microphthalmia in either parent's family. So, the Wildschuetzes have decided to take part in Bardakjian's research project, with the goal to find the true underlining cause for the particular eye disorder.
Baby Faith will join more than 350 other cases that are clinically registered, 125 of which have already submitted DNA samples for testing. So far, Bardakjian said, they have been able to determine the underlining cause in 25 percent of the cases.
"I hope to be able to give new families a better understanding of what might come and how to advocate for their child and how to take care of them well without the 'what ifs' and unknowns," Bardakjian said.
But, many questions still remain, such as the likelihood that microphthalmia may occur in subsequent pregnancies, which Bardakjian said could range anywhere from zero to 50 percent.
Because the ocular tissue is an extension of the brain tissue, about 50 percent of individuals who have bilateral microphthalmia will also have other developmental delays, such as cognitive delays or even learning disabilities.
Microphthamia is rarely determined prenatally, Bardakjian said, with Bridget Wildschuetz serving as one of the few exceptions. Through the use of more ultrasounds and, possibly, MRIs, the hope is that doctors will be able to detect the condition early on, Bardakjian said.
'To Know That She Can Hear Us Every Day ... It Was Just Awesome'
A month after Faith was released from the hospital, the Wildschuetzes said they are finally getting the true parental experience, such as learning their child's baby cues and trying to get by on very little sleep.
And then there are the added responsibilities, such as setting up early childhood intervention, pediatric ophthalmology appointments and conducting research on a condition they never even knew existed.
"There are just a lot of things and we're trying to make sure that we're following through and making sure that she has the best start," Bridget said. "Just getting all that organized is, you know, another job on top of trying to be new parents."
First on their list was a trip to the audiologist because doctors believed Faith may have also been deaf because of the condition. The Wildschuetzes learned that their daughter only has a mild hearing loss, which, they said, was great news.
"To actually hear the audiologist tell us that she can hear us, and just to know that she can hear us every day when we tell her that we love her, it was just awesome," she said.
They have also paid a visit to an ocularist, or a specialist who creates ocular prostheses. Faith, like most toddlers with microphthalmia, will need conformers to help with the development of her face.
These artificial stimuli, which are made of a curved piece of acrylic, essentially tell the tissues and bones to grow. Depending on the parents, ocularists will usually replace the conformers with a sclera shell prosthesis, which is a large kind of contact lens that encompasses existing space within the socket. It is usually inserted within six months to a year of the initial visit.
"We give the parents the option, because it's a lot for the parents to deal with," said Craig Pataky, an ocularist in Austin, Texas. "They have to know how to deal with it, and clean it -- it's a lot of responsibility on their part."
Although the Wildschuetzes said they would love to have another child at some point, their main focus for now is caring for Faith and making sure she lives her life to the fullest.
"I think sometimes, as parents, we have to change our vision and how we see things," Bridget Wildschuetz said. "I truly believe that my daughter is going to grow up and she's going to be an incredible girl, because she already is."
ABCNews.com contributor Xorje Olivares is a member of the University of Texas ABC News on Campus bureau in Austin.