Americans often weigh more than people in Europe, and we've been accused of being louder and ruder. New research finds there is at least one more difference between Americans and Europeans.
Americans are often sleepier.
Nearly one in five Americans suffers from chronic "excessive sleepiness," according to a study presented today at the annual American Academy of Sleep Medicine meeting.
Researchers from Stanford University interviewed more than 8,000 adults about their sleeping habits, alertness, health and mental disorders. Of those, 19.5 percent fit the criteria for "moderate excessive sleepiness" and 17 percent of responders reported they had trouble staying awake and alert on the job, in meetings and in conversations.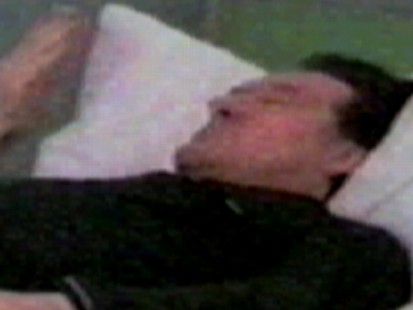 "We have a problem in America with sleep," said Dr. Maurice Ohayon, principle investigator of the study and director of the Stanford University Sleep Epidemiology Research Center.
In 2002, Ohayon used the same techniques to study the general population in the United Kingdom, Germany, Italy, Portugal and Spain.
While nearly 20 percent of American responders suffered excessive sleepiness, only 15 percent of people in the five European countries studied suffered from the same degree of chronic exhaustion.
The pharmaceutical company Cephalon, which makes Provigil and Nuvigil for excessive sleepiness and narcolepsy, funded the study.
Although the survey responders were all in Texas, New York and California, Ohayon said the researchers were careful to survey people who were representative of the general population in the United States.
"Our study is not only about three states, the study is about all Americans," Ohayon said. "We've have seen the phenomenon getting worse and worse.
"Americans are sleepier and we know there's a reason: The American population is sleeping less than the European population," he said.
But some sleep specialists point out that it's difficult for doctors to quantify something as transitory as "sleepiness." In surveys, often there are biases between those who respond and those who don't. The greater the number of people who decline to respond, the less researchers know about the subject.
"Sleep apnea is a very common disease," said Dr. Atul Malhotra, medical director of the sleep program at Brigham and Women's Hospital in Boston. "But that having been said, the other most common cause of sleepiness is just being sleep deprived. Most people don't go see their doctor to say they're sleep deprived."
Still, roughly 80 percent of people telephoned responded to Ohayon's Europe and American surveys.
Dr. Phyllis Zee, director of the Sleep Disorders Center at Northwestern University, said she wasn't surprised by the results of the survey.
"It [the U.S.] is generally a population that's sleepy. There's been other data to suggest that it's pretty close to 20 percent," said Zee, a professor of neurology at Northwestern.
Exactly who was sleepy, and why, according to the survey, also reflected previous research, she said. The new survey in the United States found sleeping six hours or less habitually, having insomnia, having clinical depression or anxiety all played a role in the daytime sleepiness.
"There are so many causes of sleepiness, and one of the primary causes of sleepiness in the general population is just sleep deprivation," said Zee, who said previous research has shown "60 percent of Americans are getting less than six hours of sleep."
Women, young adults and older adults are also more likely to suffer from excessive sleepiness, according to Zee. The new survey reflected those tendencies.
The study also showed being obese, which is a risk factor for sleep apnea, was a risk factor for excessive daytime sleepiness.
"Obesity is a big risk factor for sleep apnea. And a significant proportion of the population is obese," said Malhotra, though the differences between the United States and Europe "may be in part because there's less obesity and less sleep apnea. People tend to be thinner over there."
Sleep specialists say it is also difficult quantifying how sleepy a population is, because people may be unaware of how sleepy they truly are.
"The last thing a truck driver remembers before falling asleep on the road is being wide awake," said Dr. Mark Eric Dyken, director of the Sleep Disorders Center in Iowa City and associate professor at the University of Iowa.
"Some of the people in my clinic say, 'Oh, I'm not tired,' and then they conk out. It's because they don't know what it's like to have good sleep in our society," he said.