The U.S. Food and Drug Administration (FDA) reportedly plans to sharply restrict the sale of most flavored electronic-cigarettes (e-cigarettes) in retail stores and gas stations in an effort to decrease the prevalence of vaping.
The agency's plans, expected to be announced next week, are part of an effort to reduce the use of flavored e-cigarettes among teenagers. There are also plans to require age-verification measures for online sales to make sure minors are not able to buy them, according to reports this week in the New York Times and the Washington Post, which cite an unnamed senior FDA official describing the plans.
The agency has been raising red flags about e-cigarette use among teens for years.
"All Americans need to know that e-cigarettes are dangerous to youth and young adults," then-U.S. Surgeon General Dr. Vivek Murthy said in 2016.
"Any tobacco use, including e-cigarettes, is a health threat, particularly to young people."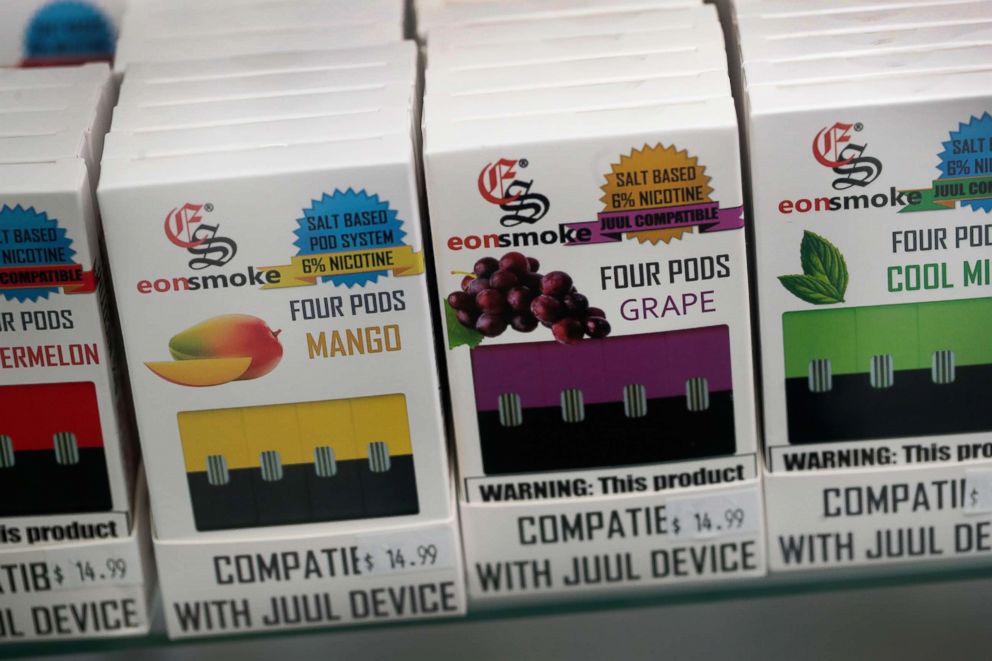 Tobacco companies have fought efforts to cut e-cigarette flavors, stating they are not aimed at youth, but at adults, as an option to help transition from tobacco cigarettes. However, health advocates have pointed out that the advertising appeals to youth, featuring flavors including "unicorn milk" and "rocket popsicle."
Public officials are trying to strike a balance between the use of e-cigarettes to help adult tobacco cigarette smokers quit, while also not hooking a new generation on nicotine through e-cigarettes.
The FDA has also warned 1,100 retailers to stop selling the devices to minors and has issued fines to some of them that have continued to sell them. Because the overwhelming majority of e-cigarette sales are through retail shops, the FDA's planned restrictions would have a huge negative impact on business.
What are e-cigarettes?
E-cigarettes are noncombustible tobacco products. They fall under the category or electronic nicotine delivery systems (ENDS). Other terms used to describe ENDS are vapes, vape pens, vaporizers, hookah pens, and e-pipes. These products use an "e-liquid" that may contain nicotine and may have different flavorings, vegetable glycerin, propylene glycol and other ingredients. This liquid is then heated, creating an aerosol that is inhaled by the user.
How prevalent is the use of e-cigarettes?
According to the FDA, in 2017 more than two million middle and high school students were users of e-cigarettes, which is the most commonly-used tobacco product in this population. This represents 11.7 percent of high school students and 3.3 percent of middle school students. Usage among these students is on the rise –- in 2011, only 1.5 percent of all high school and middle school students used e-cigarettes.
Are e-cigarettes safer than tobacco cigarettes?
More research is needed to answer this question. Researchers from Duke and Yale found that the flavoring compounds used in e-cigarettes combined with the e-liquid solvent can form a new compound that is often not reported as an ingredient in e-cigarettes but may lead to lung irritation.
What restrictions are already in place?
The Family Smoking Prevention and Tobacco Control Act (Tobacco Control Act), signed into law in June, 2009 by Congress and the president, gives the FDA authority to regulate manufacturing, distribution, and marketing of tobacco products in an effort to protect public health. This Act originally regulated tobacco cigarettes, smokeless tobacco, and roll-your-own tobacco.
Then in Aug. 2016, the FDA finalized a rule that extends its regulatory authority to all tobacco products, including e-cigarettes, cigars, and hookah and pipe tobacco.
What are the planned restrictions?
The planned restrictions would ban the sale of most flavored e-cigarettes in retail stores and gas stations. However, the FDA does not plan to include the menthol and mint flavors in the restrictions, because there is concern that some users would switch to traditional menthol-tobacco cigarettes. The FDA plans to require age-verification for online sales, which would prohibit minors from buying them online.
Are the planned restrictions likely to take effect right away?
It's unclear exactly when these restrictions will take place. The planned restrictions are likely to draw legal action. The Tobacco Control Act, as described above, gives the FDA authority to regulate manufacture, distribution, and marketing of tobacco products including e-cigarettes, but it "cannot ban face-to-face sales in a particular category of retail outlets."
Johanna Kreafle, M.D. is an emergency medicine physician at the Carolinas Medical Center in Charlotte, North Carolina, and a member of the ABC News Medical Unit.