— -- About 30 students get ready for dance class every Sunday at the Westside School of Ballet in Santa Monica, California.
But, technically, the studio isn't open for its usual classes. Instead the doors are open for the students of the Free 2 Be Me dance troupe.
Started by Colleen Perry, the program allows children (and a few adults) with Down syndrome to try out dancing. Some students are talkative and others don't say a word. For those who are not willing to move on their own, dance volunteers will help them through the moves.
Perry, 49, started the program after reading an article about a choreographer who created a program allowing children with Down syndrome to work with a Boston ballet troupe. Perry instantly knew what she wanted to do.
"A voice said, 'Colleen this is what you're supposed to be doing with your life,'" she recalled.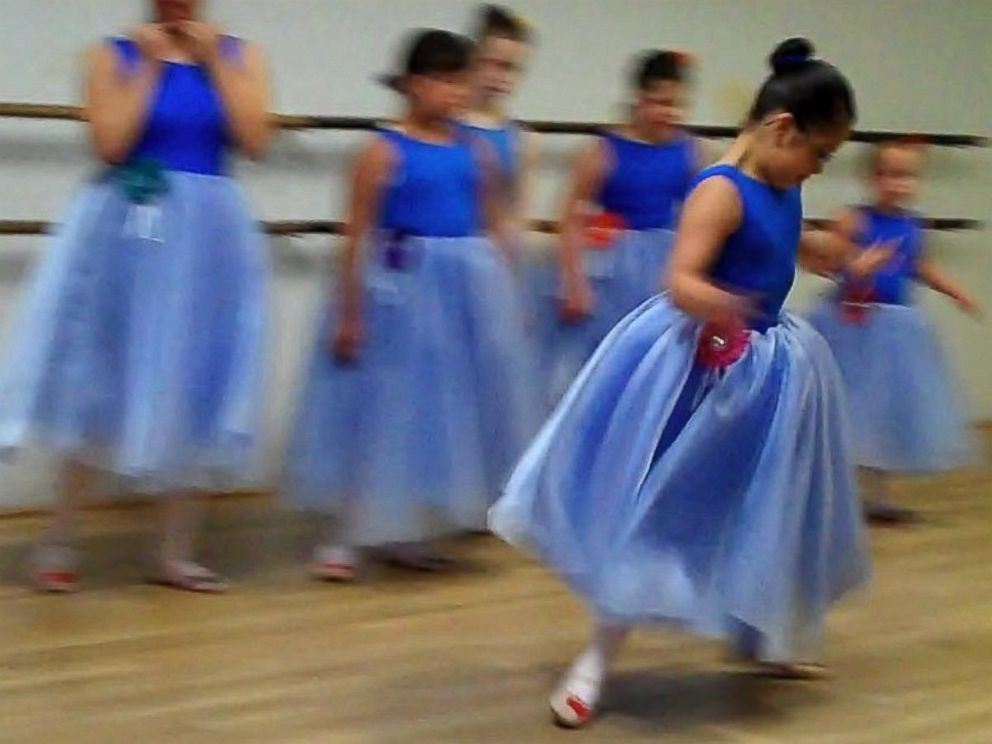 Perry spent her childhood and early adult years in ballet, but had spent more than two decades as a family therapist. She had been looking for a way to get back into dance when she read the article.
Without any experience in teaching, Perry started preparing a dance class aimed mainly at children with Down syndrome, within six months she had space in a dance studio and a curriculum.
Rather than the rigorous perfectionism Perry chased when she danced in a ballet company, she now focuses on having fun with the kids and getting them to simply express themselves through their dancing.
Perry said many of the children are nonverbal and that movement and dance can be an alternate way they can show emotion and personality.
"Any kind of embodied movement is a beautiful way for people to express themselves," Perry said.
Children who are nonverbal can be more vulnerable for certain mental health problems including anxiety, hyperactivity and social isolation, according to the National Down Syndrome Society.
Perry said she hopes the class can help nonverbal children be more social and expressive of their emotions. She said it can take months before a nonverbal child feels ready to step away from the sidelines and join in with the others.
"The child, who wants to sit in front of the mirror for three sessions, then she just leaps up and begins to dance like no bodies business," she said. "Then we're all crying."
Perry and her Free 2 Be Me Dance Troupe are now the subject of a short documentary by Jeanette Godoy. Godoy followed the dancers for six months as they prepared for their big dance recital.
Godoy found out about the unique dancers when she went to see her daughter at a local ballet recital.
"I absolutely fell in love," Godoy said. "When I saw them perform and saw the joy they felt out there on the audience on stage, I could absolutely relate to that joy."
Godoy said she would get particularly moved at the end of class when students had a chance to perform their own solo. Some children moved across the whole floor and others weren't ready to be the center of attention.
But Godoy said there was one girl who really epitomized the whole class. Named Daisy, Godoy said, the 14-year-old didn't talk much and relied on a volunteer to help her through movements. During one solo session, Daisy finally decided to take the floor.
"Little Daisy shuffled to the center of the room, her movement was a little bit of a fist pump," Godoy said. You "saw a little smile creep across her face."
"It was the first time I had seen her move on her own in all my weeks of shooting," Godoy said.
The short documentary, also titled "Free 2 Be Me," is available online.