July 7, 2014— -- Helene Neville won't let four bouts of cancer slow her down.
The 53-year-old grandma just finished the third leg of her 10,000-mile run around the perimeter of the lower continental 48 states.
"I love that you never know what's around the next corner because every single day in my route is different," Neville told ABC News. "It reveals all these layers of life, people, experiences that you may not have even fathomed. People out there have great spirit and you won't see them or find them unless you look for them."
Runner, 8.5 Months Pregnant, Completes 800-Meter Race
Team Hoyt Runs Last Boston Marathon
Canadian Runs North Korean Marathon and Instagrams the Adventure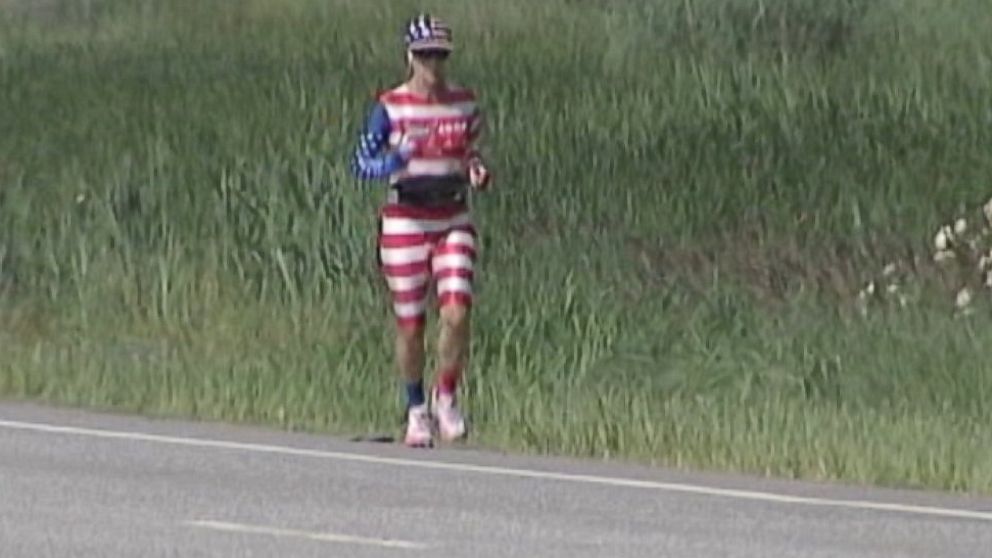 Neville began the third leg of her run 68 days ago in Marathon, Florida, roughly 2,000 miles from where she finished in Portland, Maine. She said it was her most difficult journey yet because it was so hilly, but she continued even when she felt tired.
"I realize the run is not about me," Neville said. "I stay true to the mission, which is trying to touch as many people as possible, trying to get them focus and be interested in their own health and become a leader by example."
Neville, who has been a nurse for 29 years, said she began running marathons after she was diagnosed with Hodgkin's lymphoma in the 1990s. During that time, she said she underwent three brain surgeries to treat abscesses.
"When they said I wasn't going to get better, my immune system was shot, I went home and signed up for the Chicago Marathon," she said.
Though her family was on hand with an ambulance, she finished the 26.2-mile race in about four hours and 20 minutes.
She began realizing her goal to run the perimeter of the United States in 2010, with a 93-day jog from California to Florida.
But in 2012, she was diagnosed with T-cell lymphoma, so she didn't start the second leg of the voyage – from Canada to Mexico -- until 2013, she said.
Now in remission, Neville just has one leg to go, which she plans to complete in 2015.
"I just wanted to go out and inspire originally nurses – I'm a nurse – to be better ambassadors for healthy living to inspire health in their patients," Neville told ABC affiliate WMTW in Maine. "And it's just so much bigger. I stop and talk to school children, just the general public. I just try to get everyone to think about health and inspire the next person."