The novel coronavirus pandemic has killed at least 11,200 people worldwide, mostly in Italy and China.
The respiratory virus, known officially as COVID-19, has reached every continent except Antarctica, including every European country since emerging in the Chinese city of Wuhan in December.
There are more than 272,000 diagnosed cases globally, according to data compiled by the Center for Systems Science and Engineering at Johns Hopkins University.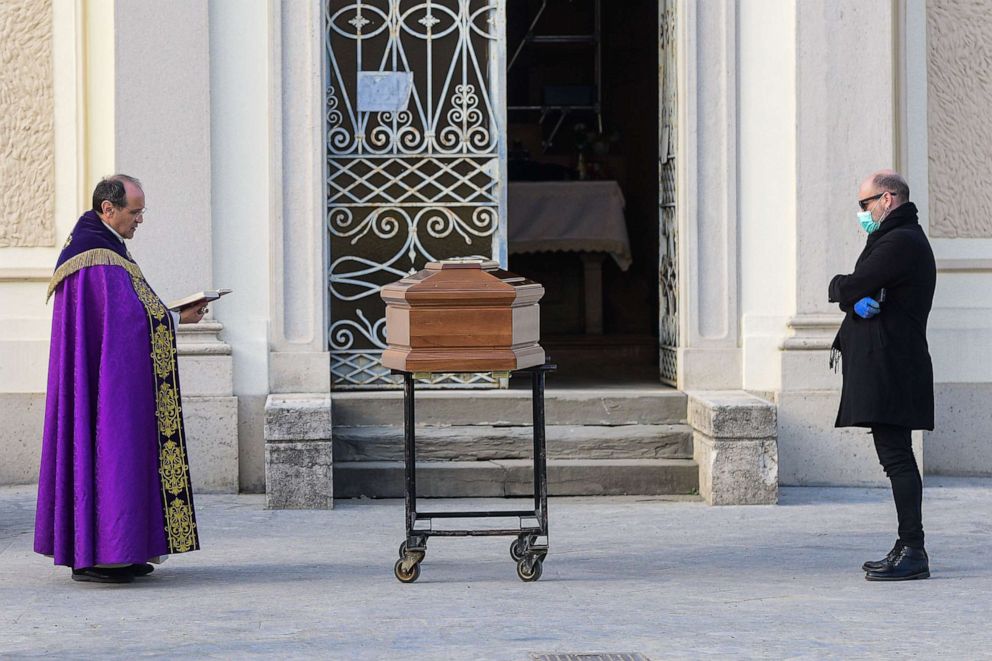 There are over 19,200 diagnosed cases in the U.S., spanning all 50 states, Washington, D.C., and Puerto Rico, and at least 258 of those people have died, according to ABC News' count.
Today's biggest developments:
Italy's death toll skyrockets
100% of New York 'non-essential' workforce must stay home
Coronavirus appears to be twice as deadly for men
Tax Day pushed back to July 15
Here's how the news is unfolding today. All times Eastern. Please refresh for updates.
11:01 p.m.: No deal on final stimulus package yet
After 12 hours of bipartisan negotiations, senators broke for the day without a final deal on the $1 trillion stimulus bill to deal with the economic fallout from coronavirus.
The group of senior lawmakers -- along with Treasury Secretary Steven Mnuchin, Director of the National Economic Council Larry Kudlow, Labor Secretary Eugene Scalia and others -- who were all present for Friday's marathon sessions, will be back at it Saturday at 10:30 a.m.
A vote is still expected on Monday.
10:16 p.m.: United reduces international flights by 95%
United had drastically reduced its international schedule in the wake of coronavirus fears cutting down on travel, but the company cut it even further on Friday night.
After initially saying they would cut the April international travel schedule by 85%, they have now said they will up that to 95%.
The company will only operate occasional flights to Mexico and some to Guam during April.