COVID hospitalizations increase for 6th consecutive week but still at historic lows
Hospitalizations rose 18.8% during the week ending Aug.19 to 15,067.
COVID hospitalizations are continuing to increase in the United States, according to data updated Monday from the Centers for Disease Control and Prevention.
Hospitalizations rose for the sixth consecutive week, this time by 18.8% during the week ending Aug.19 to 15,067 -- similar to levels seen in April of this year.
However, COVID metrics remain at historic lows, public health experts have said. Hospitalization numbers this week are about 2.5 times lower compared to the same time last year and about 5.5 times lower compared to this week in 2021.
Additionally, hospitalizations during the peak of the omicron wave in winter 2021-22 stood at more than 150,000.
Deaths slightly increased, with about 1.7% of all deaths being due to COVID last week, according to CDC data. However, COVID fatalities are similarly at record lows. Experts have warned that because deaths are a lagging indicator, cases could rise in the next few weeks.
Dr. John Segreti, an epidemiologist and the medical director of infection control and prevention at Rush University Medical Center in Chicago, told ABC News that a percentage increase may seem frightening, but the absolute numbers are rather small.
"Looking at that graph [of] hospitalizations, even though it's on an upward trend, that's still lower than it was last year at this time," he said. "The fact that the numbers are going up fairly slowly, I think is a good sign."
CDC data shows that all the circulating subvariants are related to XBB, an offshoot of the omicron variant. EG.5 currently makes up a plurality of cases in the U.S. at 20.6%, data shows.
There is a newer variant circulating known as BA.2.86. A total of 13 cases have been identified globally, including three in the U.S., according to the open global genome sequencing database GISAID.
Experts have previously told ABC News that it may be more transmissible, but there are no indications that it causes more severe disease, something echoed in a CDC risk assessment issued last week.
It comes as several institutions say they are reinstating mask mandates, at least temporarily, amid rising cases and hospitalizations.
Morris Brown College, a historically Black college and university in Atlanta, said masks would be required for at least 14 days in a letter written to faculty, staff and students by President Dr. Kevin James last week.
Additionally, Lionsgate, the entertainment company, told ABC News in a statement last weekend that certain employees at headquarters were being required to wear masks again by the LA County Department of Public Health "due to a cluster of COVID cases."
Segreti said his hospital and others in the Chicago area are starting to discuss whether or when they will reinstitute mask mandates, but he's unaware of any that have so far.
"We're struggling to figure out what metric to use to determine if and when to resume masking, and there's no perfect metric for that, especially since the end of the public health emergency declaration, the data we're getting isn't nearly as complete as it was before that," he said.
Rather than a metric, the hospital is considering using a time frame, such as between November and March, to require masking, but no decisions have been made yet.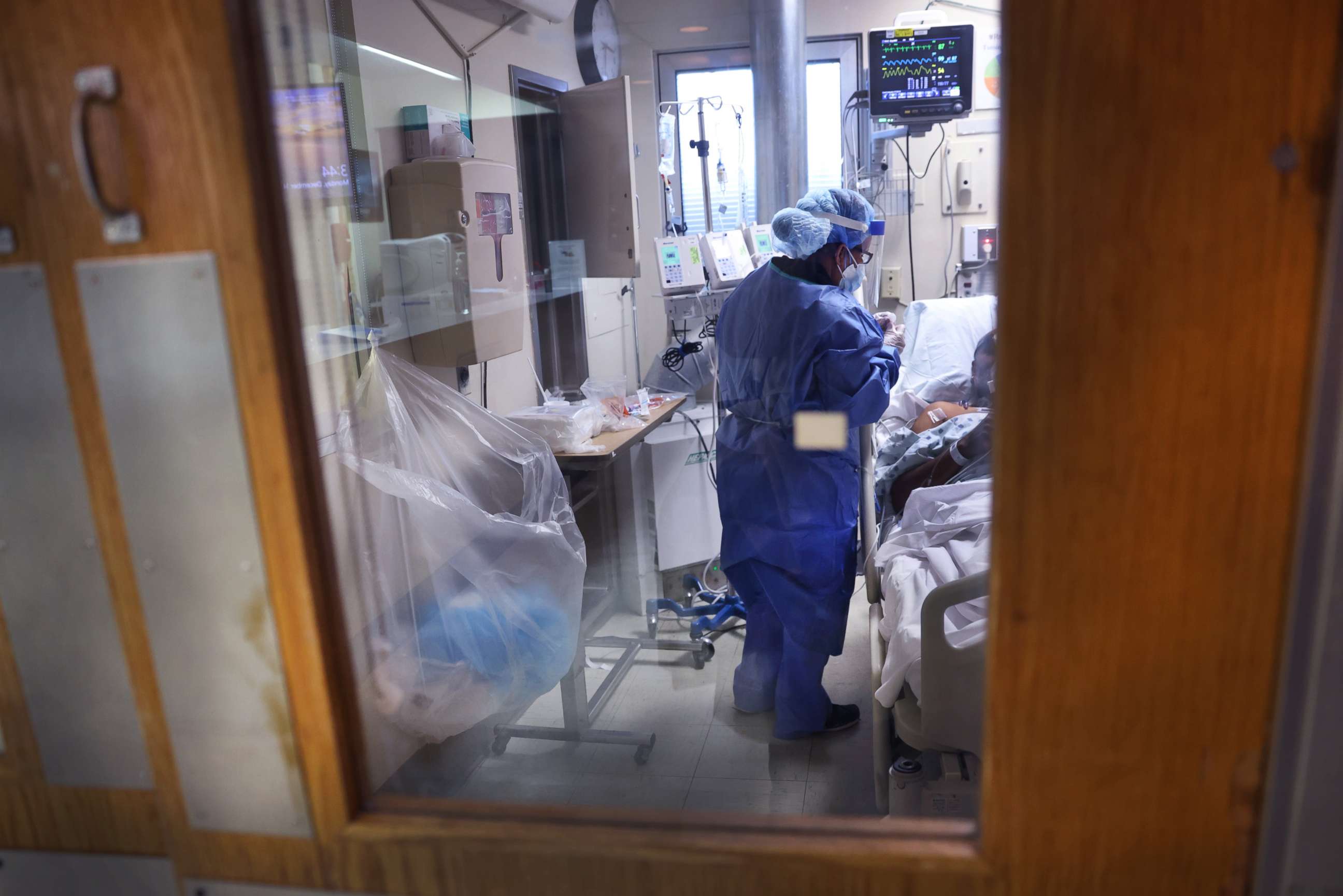 He said hospitalizations could continue to increase but the fact that enough Americans have immunity through previous infection, vaccination and boosters, means fewer people who contract COVID will be hospitalized.
"The question is, where will the peak be? Are we at the peak?" Segreti said. "It doesn't seem like we're at the peak right now, but the slope of the of the line is not like it was with omicron. So, if it happens, it's going to happen fairly slowly."
Meanwhile, pharmaceutical companies are targeting newer variants ahead of a possible uptick in numbers during fall and winter.
The CDC's advisory committee is expected to meet on Sept. 12 to discuss new boosters targeting new COVID subvariants, making them likely to be available by mid-to-late September.
In an interview with Start Here, Dr. Deborah Birx -- an advisor to former President Donald Trump during the pandemic -- said she believes next month's vaccine booster is coming weeks too late and that seasonal booster shots should be made available more quickly.
"This is the booster that would have been appropriate for the summer wave," Birx said, adding that she predicts that by the time the shot is distributed, we may be primed for a variant that has already passed us.
ABC News' Brad Mielke contributed to this report.