Dr. Craig Spencer Leaves New York Hospital Ebola-Free
Dr. Craig Spencer discharged after 20 days in isolation with Ebola at Bellevue.
November 11, 2014, 10:35 AM
— -- The New York doctor who contracted Ebola treating patients in West Africa has been discharged from the hospital Ebola-free and hailed as a hero.
New York City Mayor Bill de Blasio applauded the city's response to its one and only Ebola case: Dr. Craig Spencer.
"On behalf of all 8.4 million New Yorkers, I would like to welcome Craig Spencer back to his normal life," de Blasio said, before inviting his wife to give Spencer the first hug.
"And now, the official mayoral hug," he said, pulling Spencer into an embrace. "It is a good feeling to hug a hero, and we have a hero in our midst -- someone who served others no matter how much danger. He has been an inspiration throughout the challenges he's faced."
Spencer, 33, who treated Ebola patients in Guinea for Doctors Without Borders, spent 20 days in isolation at Bellevue Hospital in Manhattan after testing positive for Ebola there on Oct. 23.
Today, outside the hospital, Spencer thanked health care workers who treated him and reflected on his five weeks treating Ebola patients in Guinea.
"During this time, I cried as I held children who were not strong enough to survive the virus," he said, adding that he also felt "immense joy" to see other patients go home Ebola-free. "Within a week of my diagnosis, many of these patients called my personal phone from Guinea to wish me well."
Spencer urged the public to return its focus to Ebola in West Africa and called volunteer health workers there "true heroes." He and other officials also tried to dissuade the public from stigmatizing health workers or other travelers from Ebola-affected regions.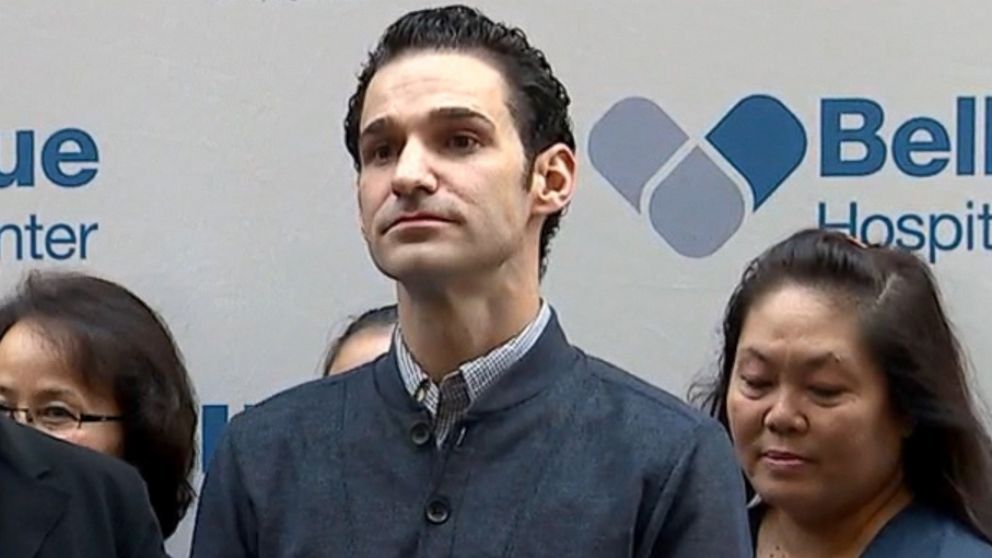 Spencer had returned to the United States via John F. Kennedy International Airport on Oct. 17 and spent a week in New York City -- riding the subway, running and bowling -- before developing a fever on the morning of Oct. 23. By the end of the night, he had tested positive for Ebola, but officials assured New Yorkers that they were unlikely to contract the deadly virus.
De Blasio thanked the hospital staff and said Spencer did everything right by following protocol once he developed a fever. De Blasio and other officials emphasized that New York welcomed volunteer workers returning from West Africa, including Spencer, repeatedly calling them "heroes."
"We applaud you, we thank you and, most importantly, we've got your back," said Dr. Ram Raju, president of NYC Health and Hospitals Corporation.
Spencer's fiance, Morgan Dixon, was taken off quarantine today but will be monitored through the end of the week, when her 21-day incubation period ends. No one associated with Spencer remains under quarantine, health officials told ABC News.
Spencer is the fourth person to be diagnosed with Ebola in the United States and the ninth Ebola patient to be treated here. Only Thomas Eric Duncan, the Liberian national who was diagnosed in Dallas, Texas, in late September, has died of the virus in the United States.
ABC News' Aaron Katersky contributed to this report.