Trump, FDA tout COVID-19 convalescent plasma treatment, but some express concerns
"We're encouraged by the early promising data," the FDA commissioner says.
The Food and Drug Administration announced Sunday it was issuing an emergency authorization for convalescent plasma treatment in hospitalized COVID-19 patients -- but some researchers on the front lines of the pandemic say the move will make their work more difficult.
President Donald Trump touted the promise of plasma at Sunday evening's White House briefing.
"This is a powerful therapy that transfuses very, very strong antibodies from the blood of recovered patients to help treat patients battling a current infection," Trump said. "It's had an incredible rate of success."
FDA Commissioner Dr. Stephen Hahn said that the expedited approval was the result of the administration's work to "cut back red tape."
The announcement comes amid the high-pressure push to pinpoint an effective treatment for COVID-19. Blood plasma treatment, which has some data to support it, has been eyed with high hopes, although officials say that clinical data from randomized controlled trials is still being collected.
The FDA has the authorization to license promising therapies under emergency situations if they are proven safe and seem promising -- which plasma has.
But some medical experts on the front lines of the pandemic pushed back against Sunday's announcement, saying that the emergency authorization could make it more difficult to perform the very trials necessary to study the treatment.
"If patients have already gotten this treatment before they enroll, then we can't enroll that patient," Dr. Hollis O'Neal, whose team at LSU Health Sciences Center in Baton Rouge, Louisiana, has joined a newly announced clinical trial through Vanderbilt University, told ABC News.
"If we do enroll them, the clinician could potentially give it afterward, creating a huge confounder, violating the integrity of the trial." O'Neal said. "We could still do the study, but it would create selection bias -- or we would need another mechanism to control for potential use of plasma as standard care."
Randomized clinical trials -- in which a percentage of patients only receive a placebo -- are already struggling to recruit volunteers, researchers say.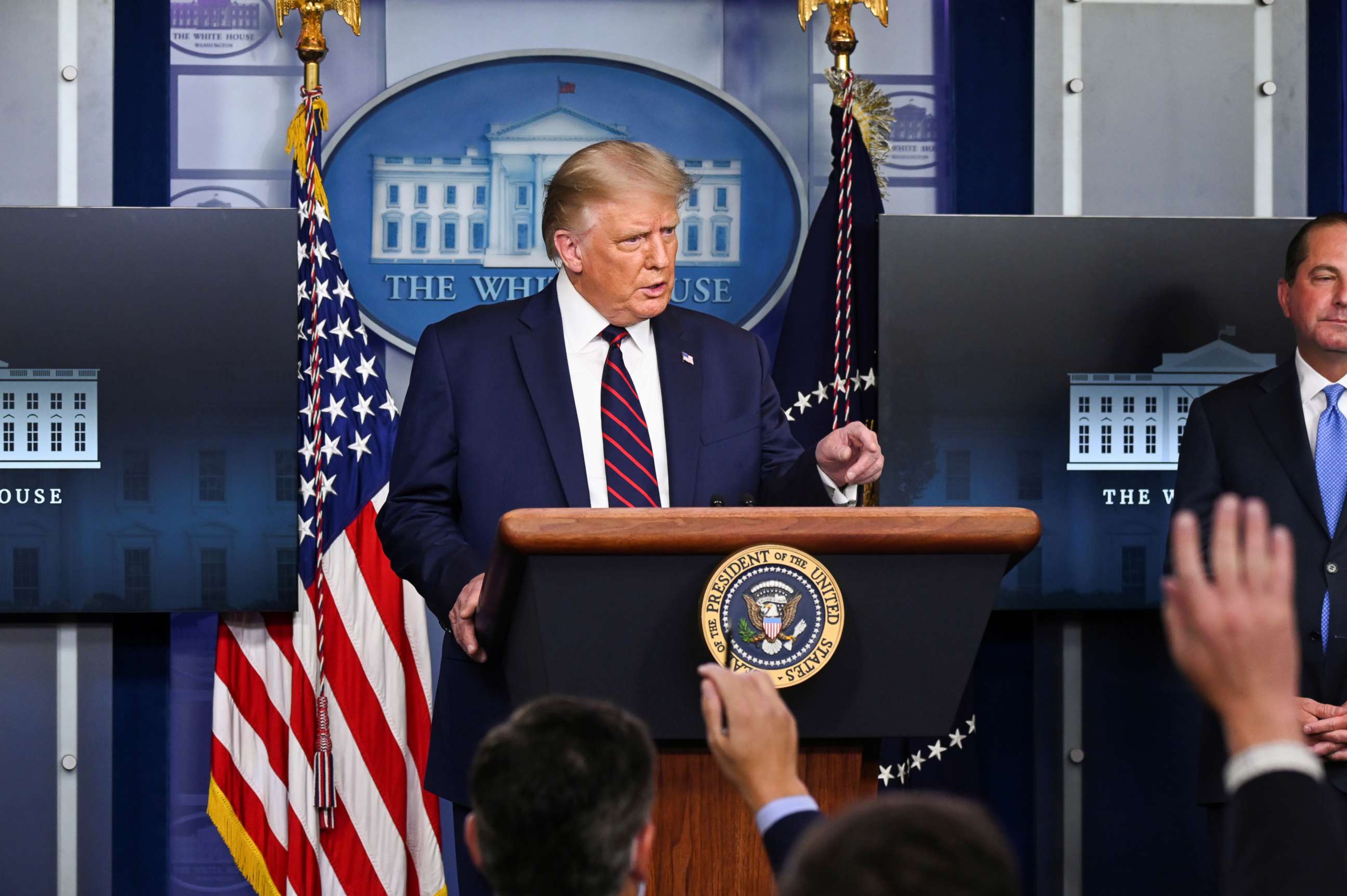 "The @US_FDA's emergency use authorization just makes it harder to conduct placebo-controlled, randomized clinical trials to figure out if it works," Dr. Céline Gounder, infectious diseases specialist at NYU Langone Health, tweeted in response to Sunday's announcement.
Asked whether the emergency authorization might inhibit researchers' ability to conduct clear, clean, clinical trials, Hahn told ABC News on a press call Sunday that they view this new green light as an opportunity, and he expressed hope that it would in fact encourage more people to participate in trials.
"We all can use this as an opportunity to encourage people to participate in clinical trials for all therapeutic and vaccine agents in this time of crisis because it's so important and it does a service to everyone," Hahn said.
The FDA said that Sunday's authorization "is not intended to replace randomized clinical trials," which it called "critically important."
In a statement, the American Society for Biochemistry and Molecular Biology (ASBMB) also blasted the president for pushing what they characterize as an unproven treatment that dangerously risks lives.
"President Trump is once again putting his political goals ahead of the health and well-being of the American public with his push for the Food and Drug Administration to issue an emergency use authorization for convalescent blood plasma treatment for COVID-19 patients," the ASBMB said.
Convalescent plasma, the yellow liquid separated from the blood of recovered COVID-19 patients, may help some coronavirus patients fight off or recover from the disease. Antibodies found in that plasma are harvested and deployed to treat the newly sick.
Alongside the president's praise of plasma, the FDA was far more measured in their language, saying they had "determined it is reasonable to believe" that plasma treatment "may be effective" in mitigating COVID-19's severity and grip strength on patients' systems, and that the "known and potential benefits ... outweigh the known and potential risks."
Earlier this week, some scientists at the National Institutes of Health appeared to ask the FDA to pump the brakes on emergency authorization for plasma treatment, though it was widely thought imminent. On Thursday the director of the NIH said there were "promising results ... now being further assessed."
Dr. H. Clifford Lane of the National Institute of Allergy and Infectious Diseases told the New York Times that it's extremely important to have "robust data through randomized control trials."
"A pandemic does not change that," he said.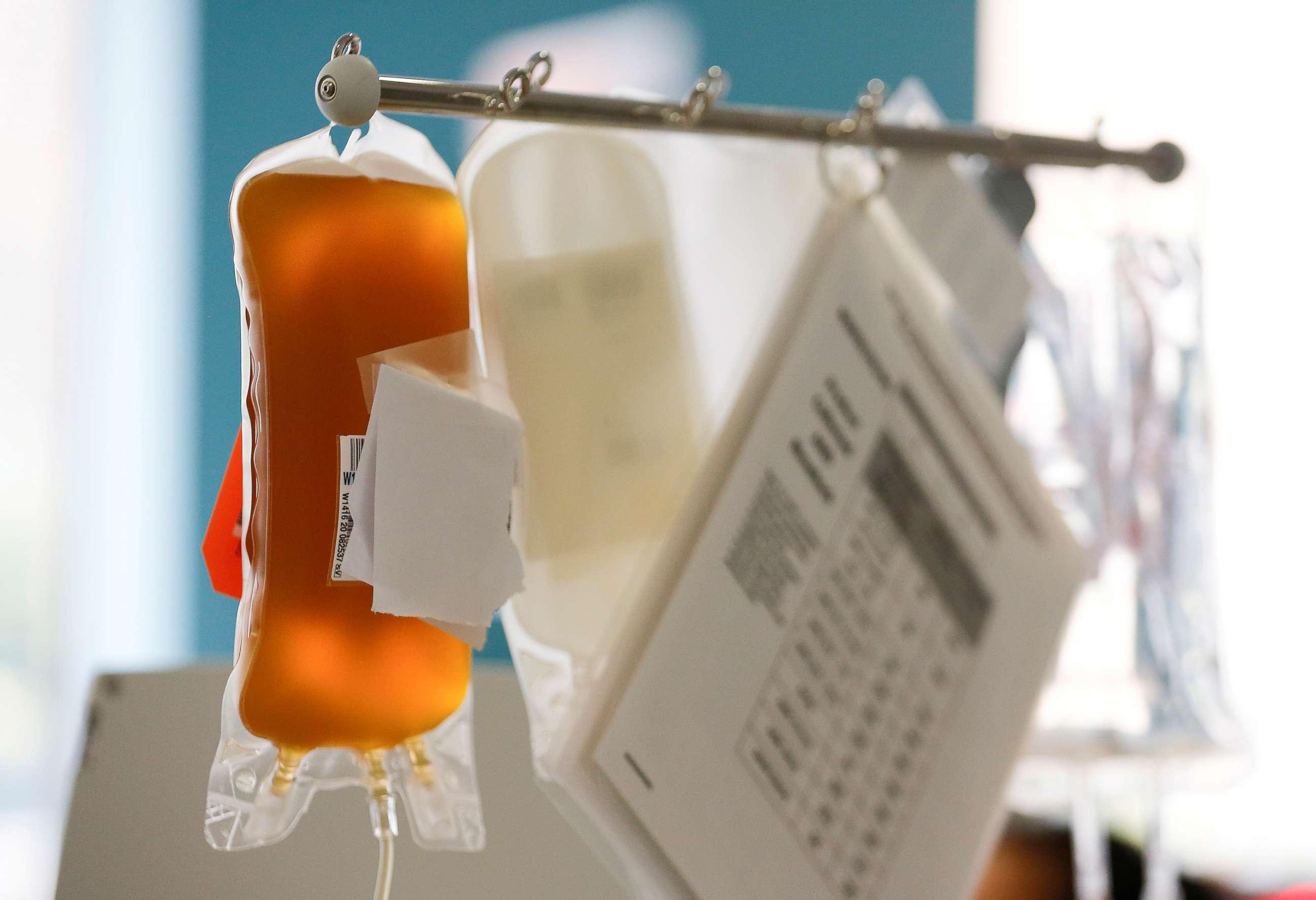 In a statement Sunday to ABC News, the FDA affirmed their continued collaboration with the NIH, and explicitly noted that the FDA's decision-making process is separate, and a process in which the NIH is "not involved."
"There's always dialogue, and part of that dialogue that goes on between agencies -- it's something that's very good," Hahn told ABC Sunday as the FDA prepared to announce the authorization.
"It's very good for us to be challenged as scientists, to look at the data carefully by those who challenge it, and that may have been some of that noise may have been what you were hearing in the press," Hahn said. "But at the end of the day we're very confident at FDA that this action meets the regulatory standard."
"It's a strength that this was done in the real world," director of the FDA Center for Biologics Evaluation and Research Dr. Peter Marks said in a call with reporters prior to the Trump's briefing Sunday. "It is a weakness that we don't have a plain placebo with no plasma there at all."
Although Trump described this announcement as "historic," convalescent plasma has already been put to wide use through the expanded access program, and has been shown to work over decades for other illnesses.
Regardless of the debate about the extent of the potential benefit, Trump echoed the FDA's recurrent plea that all Americans who have recovered from COVID-19 should go to coronavirus.gov and sign up to donate plasma. Experts generally agree more donations are needed, both for potential treatments and ongoing research.
"We believe that there will be enough people that will benefit from this, potentially, this being a potentially lifesaving treatment that it's worthwhile doing," director of the FDA Center for Biologics Evaluation and Research Dr. Peter Marks said in a call with reporters prior to the Trump's briefing. "Again, we don't know for sure -- that's why it's an EUA."
The late Sunday news comes on the eve of the Republican National Convention, but Hahn dismissed any connection between the two.
"The president did not speak to me about the timing," Hahn said. "This has been in the works for several weeks ... We issued the EUA when we concluded the risk-benefit ratio was appropriate."
On Saturday, the president accused the "deep state" within the FDA of deliberately holding up vaccines until after the election -- and on Sunday, with the head of the FDA by his side, he doubled down on that claim.
"I think there were people in the FDA and actually in your larger department that can see things being held up and wouldn't mind so much; it's my opinion, very strong opinion, and that's for political reasons," Trump said. "This has nothing to do with politics. This has to do with life and death."
The ASBMB also criticized the president for his attacks on the FDA, saying, "For some time now, the president has pushed a narrative that scientists are slow-walking treatments for COVID-19 until after the November election in an effort to hurt his reelection chances. These accusations are baseless and dangerously politicize science."
ABC News' Eric Strauss and Sony Salzman contributed to this report.