If you and your family are vaccinated against COVID-19, White House chief medical adviser Dr. Anthony Fauci on Monday gave the thumbs up on gathering for the holidays.
"If you get vaccinated and your family's vaccinated, you can feel good about enjoying a typical Thanksgiving, Christmas with your family and close friends," Fauci, who is also director of the National Institute of Allergy and Infectious Diseases, said in an interview on Monday hosted by the Bipartisan Policy Center.
Fauci warned that cases are still high, so people should wear masks when they're out and about in the community and around groups of people in indoor settings.
"But when you're with your family at home, goodness, enjoy it with your parents, your children, your grandparents. There's no reason not to do that," Fauci said.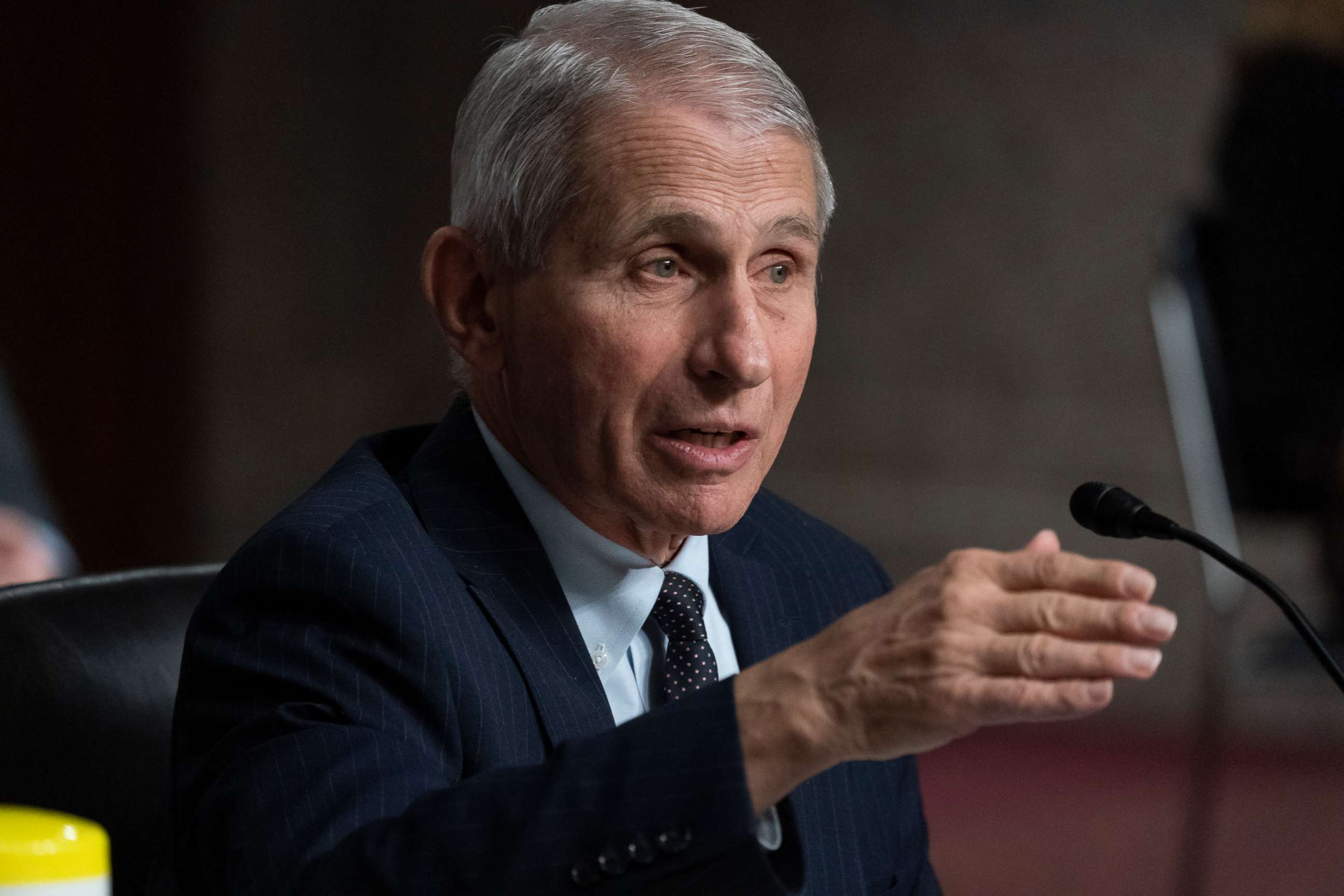 Nearly 69% of people in the U.S. have gotten one dose of the vaccine. Recently, another 28 million children ages 5-11 also became eligible for vaccines.
But since late October, the U.S. has increased to 78,500 new cases a day, up by about 23% in the last two and a half weeks, data from the Centers for Disease Control and Prevention and Department of Human Health Services show. The increase has put a shroud of stress around holiday travel and planning.
Other experts who spoke at the Bipartisan Policy Center event on Monday similarly approved of gathering for the holidays, but laid out more nuances.
Dr. Leana Wen, former Baltimore health commissioner and a public health professor at George Washington University, said people with children too young to be vaccinated or family members with underlying conditions could take precautions like celebrating outdoors, where the risk of transmission is far lower, or having everyone get rapid-tests the day of.
"Every household is going to have a different way of assessing their own risk and managing their own risk. But I think at this point in the pandemic, we have to recognize that there is no clear cut one size fits all answer, that we're all going to be making decisions that are best for ourselves," Wen said.
Wen said her family would be gathering indoors with multiple other families, including young children, so they were asking everybody to be extra cautious in the 3-5 days before Thanksgiving and then take a rapid-test the morning of the holiday.
Dr. Jerome Adams, U.S. Surgeon General under former President Donald Trump, said he felt "thankful" that this year widespread vaccines will make it a much more normal holiday season, but that there were also some inherent challenges ahead.
"We need to balance [more tools] against the fact that we know the virus likes when people come together, especially from all across the country. We know the virus likes cold weather, which forces individuals next door indoors. We know that cases are leveling off and or increasing in certain parts of the country," Adams said during Monday's event.
"So we really are going into a headwind and we should be prepared for that. We know that we've got challenges, we know we have tools, we need to utilize those tools."
Adams recommended asking family members to check two boxes: get vaccinated and stay home if you have cold symptoms.
Twenty-one states -- many of them with colder temperatures -- have seen an uptick in daily cases of 10% or more in the last two weeks.
Hospitalizations also grew last week -- the first national increase in total hospitalizations in nearly 10 weeks.
For now, deaths are finally coming down from the 1,800 a day reported about two months ago, when cases and hospitalizations were spiking from the delta surge. The country is seeing about 1,000 new deaths a day. But the death toll is the most lagging statistic, often following rising cases and then increases in hospitalizations.
All three public health experts, Adams, Wen and Fauci, were all hopeful that the country would continue to increase vaccination rates and that the virus will eventually become "endemic," which means it's here to stay but has a much less disruptive effect on daily life.
"This will end, we are not going to be going through this indefinitely," Fauci said. "How quickly we get to the end depends on us, how well we vaccinate, how well we get boosted and how well we do the kinds of things to protect ourselves. So that's my message to the general public."
Fauci urged everyone eligible to get a booster shot, which he said could "go a long way to make 2022 much more of a normal year than what we've seen in 2021."
Wen predicted the spring could bring more progress.
"I do think that, ending on a hopeful note, that we will get to a point ideally, even as soon as the spring, where we're really able to learn to live with the pandemic so that it is not this existential crisis all the time in our lives," she said at the end of the event.
ABC News' Arielle Mitropoulos contributed to this report.