— -- The prices of some common generic drugs have skyrocketed in recent years, but the reasons remain murky, lawmakers said.
The hearing of the Senate subcommittee on primary health and aging on Thursday was called after Vermont Sen. Bernie Sanders and Maryland Rep. Elijah Cummings announced they were investigating why some generic drug prices have risen hundreds to thousands of percent -- putting a severe strain on the pocketbooks of many people who rely on generics to reduce costs compared to brand-name drugs.
To combat the rising prices, Sanders said he was introducing a bill that would require generic drug makers to pay a rebate to Medicaid if the cost increases faster than inflation.
The prices of more than 1,200 generic medications increased an average of 448 percent between July 2013 and July 2014, Sanders said during the hearing, citing federal records.
Among the drugs cited by Sanders and Cummings was a popular asthma medication, albuterol sulfate, which increased in price over 40 fold for two tablets, from $11 to $434, between October 2013 and April 2014, according to data from the Healthcare Supply Chain Association, a trade association representing multi-hospital systems, health care provider alliances and purchasing groups, among others.
Another drug, an antibiotic called doxycycline hyclate, rose in price from an average of $20 to $1,849 per bottle between October 2013 and April 2014 -- a more-than 90-fold increase -- according to data from the association.
Other medications for blood pressure, high cholesterol and heart attacks increased in price between three-fold and 40-fold, association data showed.
Sanders and Cummings sent letters in October to various pharmaceutical companies asking for comment about price increases and invited officials from three companies to testify at Thursday's hearing, but none of them agreed to attend, Sanders said.
But in a statement, the CEO of Generic Pharmaceutical Association called the proposed legislation "misguided."
CEO Ralph Neas said the findings were too narrowly focused on just 10 drugs "in a marketplace of more than 12,000 safe, affordable generic medicines."
"In actuality, generic drugs continue to be a resounding success in lowering health care costs and benefiting patients," wrote Neas, who also noted that generic drugs saved consumers $239 billion in 2013 over brand-name drugs, an increase of 14 percent from 2012.
Neas suggested a more competitive marketplace and a more timely review of drug applications by the U.S. Food and Drug Administration could help lower prices.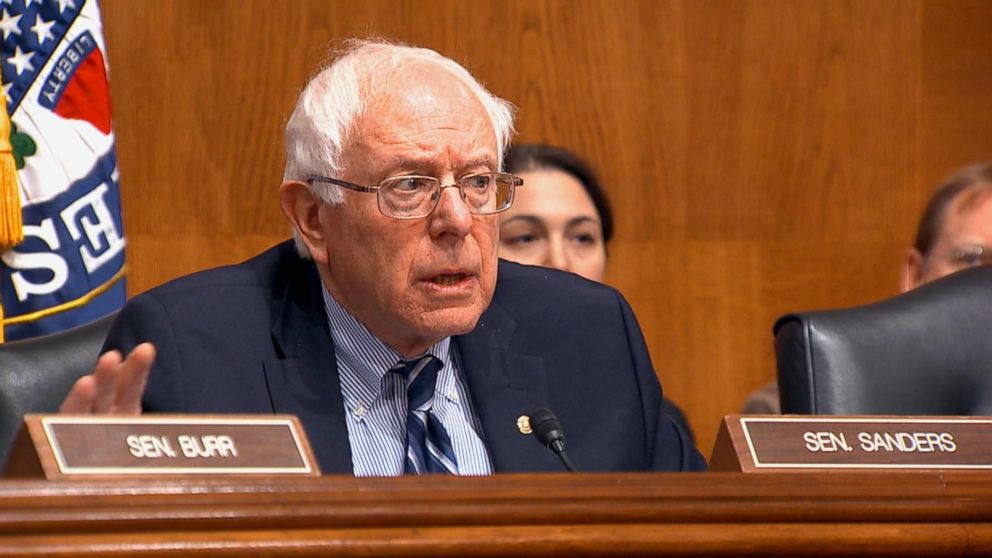 Rob Frankil, a pharmacist and member of the National Community Pharmacists Association, testified that one patient accused him of price gouging after his heart failure medication went up from $15 to $120 for a 90-day supply.
"That's an increase of 800 [percent]," Frankil told the lawmakers.
A January survey of 1,000 NCPA members found that more than three-quarters of the pharmacists reported higher prices on more than 25 generic drugs, with the prices spiking by 600 percent to 2,000 percent in certain cases.
"I'm seeing it in real dollars and cents on my invoices," Frankil said.
A patient, Carol Ann Riha, of Des Moines, Iowa, testified that her prescription costs have increased from $849 to more than $1,700 due to price increases.
"How can anyone on a fixed income deal with these vagaries in the system?" Riha said in written testimony. "You sure can't budget for costs that change month-to-month. And it's not a few pennies, as you can see. These are significant percentages."
Manisha Solanki, a pharmacy owner who was not at the hearing, told ABC News that he's seen generic medications priced similarly to their name-brand counterparts.
"I've had people postpone getting a medication, so if they're supposed to get it this week and they don't have the funds to pay for it they'll say, 'Okay, let me wait a few days. Let me wait till this comes up. Let me see if I have more funds,'" Solanki said. "So we see them slowly pushing back when they should be taking it."
Panelists and lawmakers debated at the hearing whether regulation by the FDA could be contributing to the price hikes, but Dr. Aaron Kesselheim of the Harvard School of Medicine said that was unlikely to be the sole reason.
"These regulatory issues have been around for a very long time, and this is a new issue so I can't see how this is a regulatory issue," Kesselheim said. "I think we all want high quality, safe drugs and we want the FDA to monitor the safety of our drug supply. ... I see this as a market failure and a bunch of individual market failures, in some cases."