— -- The Knickerbockers' 5-month-old son Noah had been awaiting a heart transplant for almost his entire life, so when a family friend offered to set up a GoFundMe page for him, they were grateful for the help.
But then the page disappeared. And apparently so did the money.
"I went to check the dollar amount, and it told me that ... this page no longer exists," Rachel Knickerbocker told ABC News. "Then, you know, my stomach dropped. So what does that mean?"
She said she logged into Facebook a short time later and saw that the friend who created the account -- her husband's godfather, Ken Wills -- posted images of three checks for donations to organizations that helped Noah and his family. At first, Knickerbocker wondered where he got the money to do such a nice thing.
"Then, it clicked," Knickerbocker said, realizing that the money was from the GoFundMe site.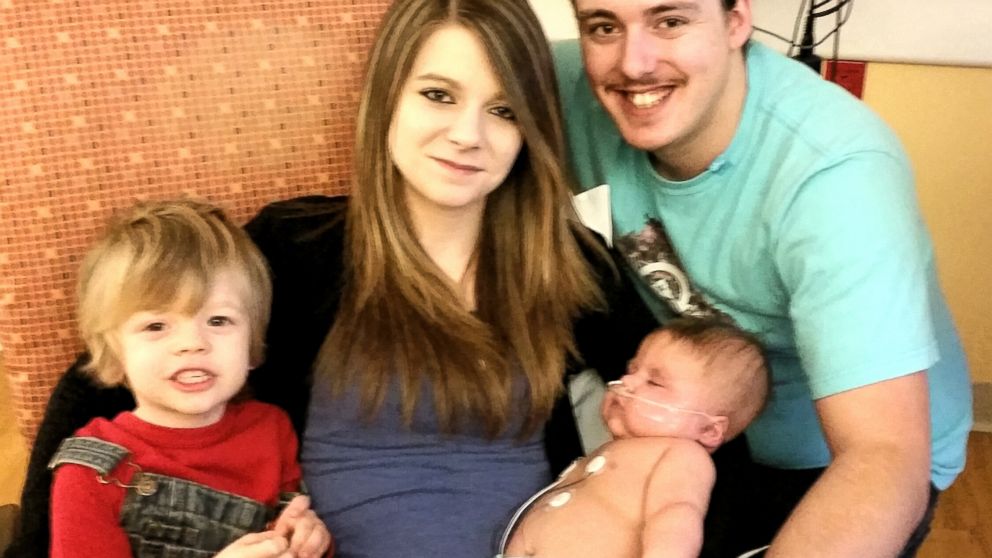 They'd been planning on using the $6,500 raised toward a few months' rent on an apartment near the Wisconsin Children's Hospital, where Noah has been receiving care for five months. The Knickerbockers have been staying at the Ronald McDonald House across the street from the hospital with their 3-year-old, Nathan, because their home is an hour away from the hospital.
The Knickerbockers said they took turns pleading with Wills to let them decide how to allocate the money raised in their son's name. They have health insurance, but left their jobs in Huntley, Illinois, to relocate to Milwaukee for Noah, Knickerbocker said.
"The day prior, he told my husband he would have it sent to him," Knickerbocker said. "It's just kind of upsetting. We have so much going on already. Do we really need that, too?"
Knickerbocker said she learned that Noah had a congenital heart problem when she was about 22 weeks pregnant with him. He underwent his first heart surgery at Boston Children's Hospital before he was born, but three days after his birth in Milwaukee, he was placed on the heart transplant waiting list.
Noah has critical aortic valve stenosis, causing the left side of his heart to be underdeveloped and rendering it nearly useless, said Dr. Steven Zangwill, who directs the heart failure and heart transplant program at Children's Hospital of Wisconsin. As a result of his heart failure, Noah has other health issues, including breathing problems, Zangwill said.
In early December, Noah was intubated because his heart worsened, and Wills tweeted a photo of the baby the Knickerbockers say he's never met, writing to celebrities' Twitter accounts with messages including "you can make miracles happen this holiday season. Plz retweet. #HelpNoah. Thanks." On Christmas, he did the same thing with a photo of the sick child in a Santa costume, tweeting "Merry Christmas. My only Christmas wish is for you to donate and retweet." He tweeted about both his GoFundMe page for Noah and one that the Knickerbockers had set up.
In a screen grab of the GoFundMe page provided to ABC News by Knickerbocker before it was deleted, Wills stated that he would be auctioning off autographs he'd collected over the years to raise money for Noah, and "this is not a scam."
"PLEASE help and join Noah on his journey to a heart transplant," he wrote.
After closing the account, he posted images of the checks to his Facebook page, for $2,500 to the Ronald McDonald House, $2,500 to the Children's Hospital of Wisconsin and $1,000 to Boston Children's Hospital.
Boston Children's Hospital said it received no donation at all from Wills in Noah's name as of Jan. 6. The Ronald McDonald House Charities' global office said it received a $125 donation on Dec. 29 and hadn't received anything further as of Jan. 5. And the Children's Hospital of Wisconsin said it received a smaller donation than the $2,500 check Wills posted, but policy prevented it from disclosing the exact amount without Wills' permission. He hasn't called them back to give that permission, they said.
Knickerbocker said Wills sent her family a copy of a thank-you note addressed to him from the Ronald McDonald House for his donation, but after speaking with Ann Petrie, the CEO of Ronald McDonald House Charities Eastern Wisconsin, Knickerbocker learned it was a fake.
Petrie told ABC News that her chapter did not receive a donation from Wills and the thank-you note wasn't on the official Ronald McDonald House Charities letterhead.
"It clearly looks like some language is probably taken from a Ronald McDonald House Charities letter and then manipulated into a letter to give to this family, making them think a significant donation was made," she said. "I feel bad for anyone who donated hard-earned money not making it to the charity or the family as a gift."
The Ronald McDonald House Charities global office said the note looked like one of its thank-you responses to an online donation, but it didn't mention the dollar amount of the contribution, which is normally included in such messages.
"Without reviewing the original communication from Mr. Wills the Global office of RMHC can neither confirm nor deny its legitimacy," the organization said in a statement to ABC News.
Ken Wills told ABC News that the Knickerbockers, whom he called "family," became upset when they learned his GoFundMe for Noah would not go "to their pockets directly."
"This is just a story of greed on their part," he said. "They were the ones demanding the money."
He said because he raised the money by selling his items on the GoFundMe page, he has the right to donate it where he sees fit. He insisted that donating the money to the charities would still help Noah even though the Knickerbockers have health insurance, pay Noah's hospital bills and have made their own donations to Ronald McDonald House.
Wills said he couldn't explain why the three organizations received so little from him, but suggested his checks have not yet arrived. He said there is still money left over from his GoFundMe for Noah, but he's unsure of taxes and GoFundMe fees, and won't be donating it until that's settled. He said he hadn't planned on helping the Knickerbockers with their Milwaukee apartment rent until after Noah was released from the hospital, but that he's decided that he won't donate any of the money to them now that they have "slandered" him.
The family has another GoFundMe page and hopes to restart their fundraising effort.
GoFundMe gave the following statement to ABC News:
"Anytime that GoFundMe is able to place a hold on accounts that receive complaints, and refund donors, we do so. Unfortunately, we did not actually receive any complaints from the family about this campaign, and the full balance of the campaign in question has already been withdrawn by the account holder. At this point, we would strongly encourage the family to contact their local authorities to resolve this matter."
"Because crowdfunding creates such a robust paper trail of account holder activity, fraud on GoFundMe is extremely rare," the statement added.
Knickerbocker said her husband filed a complaint with the Colorado Attorney General's office. The office told ABC News it could neither disclose the filing nor handling of a complaint.
Though the Knickerbockers' funding issues are far from over, they got some good news today: doctors found a heart for Noah. He underwent heart transplant surgery early this morning, his mother told ABC News, and his family is eager to see him in recovery.