It's been more than three weeks since the Norfolk Southern Railway train derailed in East Palestine, Ohio, leaking dangerous chemicals into the air, soil and water.
Crews are continuing cleanup of the area where hazardous materials including vinyl chloride, ethyl acrylate and isobutylene may have escaped into the environment -- chemicals that are considered to be very toxic, possibly even carcinogenic with high exposures.
The most recent statement from the Environmental Protection Agency on the Ohio train derailment says they have not detected any levels of health concern in the air and they continue to investigate what impact the spill had on surface and ground water, including drinking water. Nearby community members were evacuated during a controlled burn of the chemicals and allowed to return when deemed safe.
While it's unknown what residents were exposed to, and in what quantities, doctors told ABC News vulnerable groups -- including pregnant women and children -- could especially be harmed.
Chemical exposure may affect health of pregnant women
"When we think about pregnant individuals who are exposed to anything, we want to think about the pregnant person themselves first," Dr. Kathryn Gray, an attending physician in maternal-fetal medicine at Brigham and Women's Hospital in Massachusetts, told ABC News. "So, you would want to proceed with an evaluation just like you would have any other adult who has the exposure."
She continued, "I think in this case, there were a lot of reports of respiratory issues, eye and skin irritation and so addressing those symptoms and any other symptoms that patients are having."
There is currently no evidence that exposure to any of these chemicals are linked to problems with growth, development or survival of the fetus in utero.
These chemicals, however, have been known to cause symptoms including drowsiness, lethargy, headaches and nausea.
In one case, vinyl chloride, a colorless gas that burns easily, is associated with an increased risk of several cancers including brain, liver and lung cancers as well as lymphoma and leukemia, according to the National Cancer Institute.
As a report from the U.K. stated, "If the exposure to vinyl chloride causes the mother to become unwell this may affect the health of the unborn child."
Children's anatomy may worsen exposure symptoms
Dr. Fred Henretig, a senior toxicologist at the poison control center at Children's Hospital of Philadelphia, told ABC News the amount of chemicals children are breathing in or ingesting may determine how hazardous something is.
"The dose makes the poison and so, if there's just a little bit in the air that children are breathing, then the exposure is very short-lived," he said. "I would think that their risk of developing that kind of chronic disease as a result of that would be very, very slight."
He continued, "But I certainly understand the concern of families who have a bad smell in their neighborhood and who are concerned about water and air contamination, whether it gets into their food sources, and so on."
One of those concerned mothers is 26-year-old Kasie Beal. She, her husband Nate and their now 2-month-old son Luke fled their home in East Palestine the night of the train derailment to her mother's house about 14 to 15 miles away.
Beal said she refuses to bring her son back to East Palestine. She and her husband have returned to get clothes and other things.
"Any time we're in our house for longer than, say, 10 minutes, our chests are heavy, we get a headache. Nate has said that his nostrils burn," Beal told ABC News.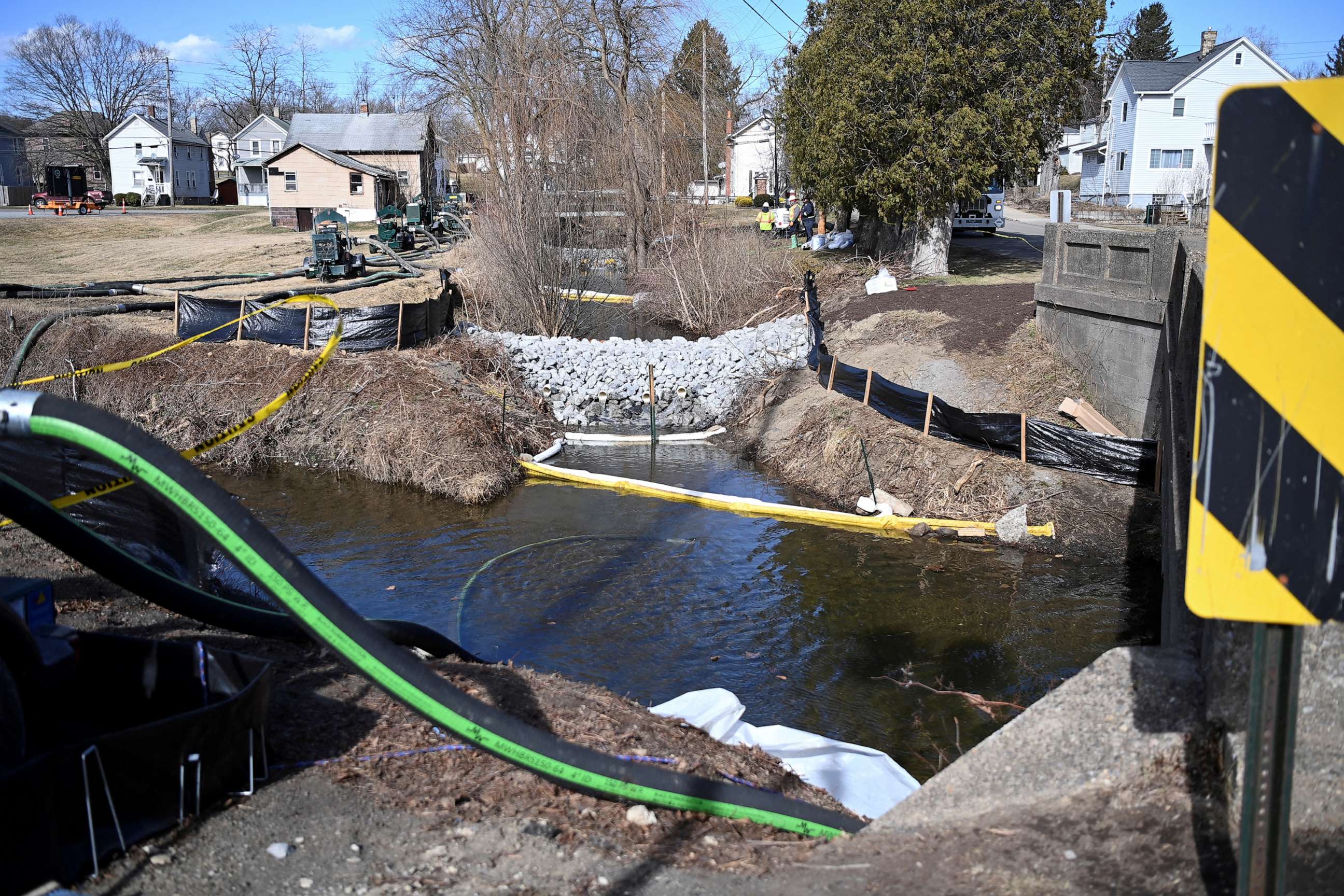 Henretig said the effects of most hazardous chemicals are parallel in young children and adults.
Children, however, might be more affected by certain chemicals because of their smaller size and behaviors,
For example, according to the Centers for Disease Control and Prevention, children have thinner skin and more skin per pound of body weight than adults so if a chemical is splashed on them, their skin might absorb more or it could chemically burn a higher percent surface area of skin.
Children also breathe in more air per pound of body weight than adults so they could breathe in a higher proportion of noxious air and their smaller airways might exacerbate the issue.
"Young kids also live closer to the ground and if the gas is heavier than air, the concentration will be greater at two feet above ground than six feet above ground," Henretig said. "And vinyl chloride is a perfect example of a gas that's heavier than air, so that could increase their proportionate exposure."
Children are also more likely to play outside or on the ground and put things in their mouth that could increase their risk of exposure to soil toxins if present, according to the CDC.
Beal said she's worried to use the water in her home to bathe her son. She has friends who live 25 minutes away who said they had rashes after taking a shower.
Her son's pediatrician told her to document anything health-wise in case it's related to the train derailment.
"Even if you think it's not related to the train derailment, it very well could be," she said.
Norfolk Southern has been offering $1,000 "inconvenience" checks to residents but Beal said she's still not ready to return home.
"They're handing out these $1,000 inconvenience checks but what happened was not an inconvenience," Beal said. "Spilling water on the counter or the line being too long at Starbucks, that's an inconvenience. Your whole life being flipped upside down is not an inconvenience."
She continued, "There's no amount of money that's going to fix that. None. I go home and I can't feel safe. I don't want to get sick when I go to my house. That's my home. That's where I live. That's where my kid was gonna grow up."