— -- Sarah Stage's teeny, tiny baby bump is causing a huge uproar on the Internet, but the 30-year-old model says she is trying to tune out the haters and let the experts guide her on what's healthy.
"As long as the baby is healthy I don't think anything else matters," she told "Good Morning America." "That should be the most important thing."
Like many moms-to-be, Stage has been documenting her pregnancy on Instagram. But Stage isn't carrying her baby like most women. Even as her due date approaches, her belly has remained small, her abs seemingly as toned and tight as ever.
"Eek officially 81/2 months... And he's now 5lbs," she posted on one of her latest Instagram pics.
Her 1.2 million followers are divided on whether her barely-there pregnancy belly looks fit or famished.
"Check this out...almost 9months pregie and look at that tummy!!!" commented one admirer of a modeling shot depicting Stage in lingerie.
"Hope I look like this when im 8 months pregnant," wrote another on a post that has garnered more than 10,000 comments.
But just as many followers posted negative comments.
"Where's this baby hiding at?? Definitely not her tummy!!" one wrote, while many others suggested she was somehow harming a baby and should seek medical attention.
Stage told "Good Morning America" a lot goes through her mind when she reads those criticisms.
"I don't know how someone could say something like that to a pregnant woman," she said. "I think that is so rude. My baby is healthy and we are happy."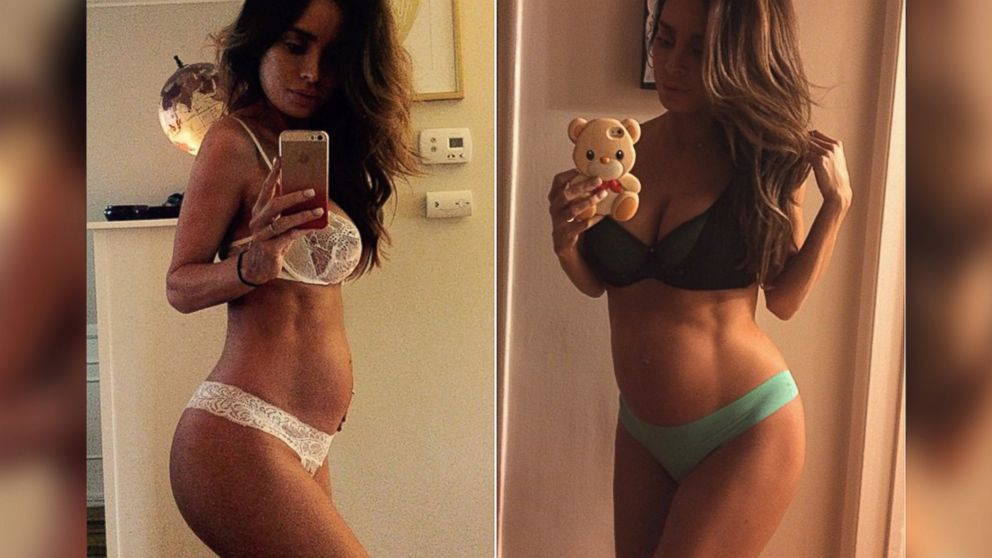 Stage said she has gained about 20 pounds so far. And that's exactly where she needs to be at this stage in her pregnancy, according to Dr. Jennifer Ashton, ABC News medical contributor and a practicing Ob/Gyn.
"The fact that she looks skinny on Instagram does not mean her baby growth is restricted or too small," Ashton said. "It has nothing to do if you can see her muscles if her uterus is the perfect size and she has gained an amount of weight that is acceptable."
Women should gain between 20 and 40 pounds throughout their pregnancy, according to the American College of Obstetricians and Gynecologists. Because she is young, tall and slim, and it is her first baby, her small bump size is not all that unusual, Ashton said. And her tummy will no doubt grow larger in the coming weeks since most women gain about half a pound a week in the last month of pregnancy.
Ashton is also supportive of Stage's twice-weekly workouts.
"Pregnancy is an incredible physical feat and labor and delivery are athletic events so training for them isn't such a bad idea," Ashton said. "Having stamina, strength and muscle tone are good for both mom and baby."
Besides, pregnancy is not a disease, Ashton said, and if Stage is following doctor's orders, she should be fine.