— -- Rare identical triplets were born in Texas, but what makes these babies even more extraordinary is the fact that two of them are conjoined at the pelvis, according to Corpus Christi Medical Center.
The babies, Catalina, Ximena and Scarlett, were born on Saturday night, a few days ahead of schedule because their mother, Silvia Hernandez, when into labor, her husband Raul Torres told ABC News.
"We're good," he told ABC News, explaining that the conjoined babies were in one hospital and the remaining baby was in another with Hernandez, who is still recovering from her cesarean section. "The two babies are going into surgery right now. They're going to check their liquids to see that nothing's blocked up."
He said the babies will likely be separated within six months or a year at Driscoll Children's Hospital, in Corpus Christi, Texas.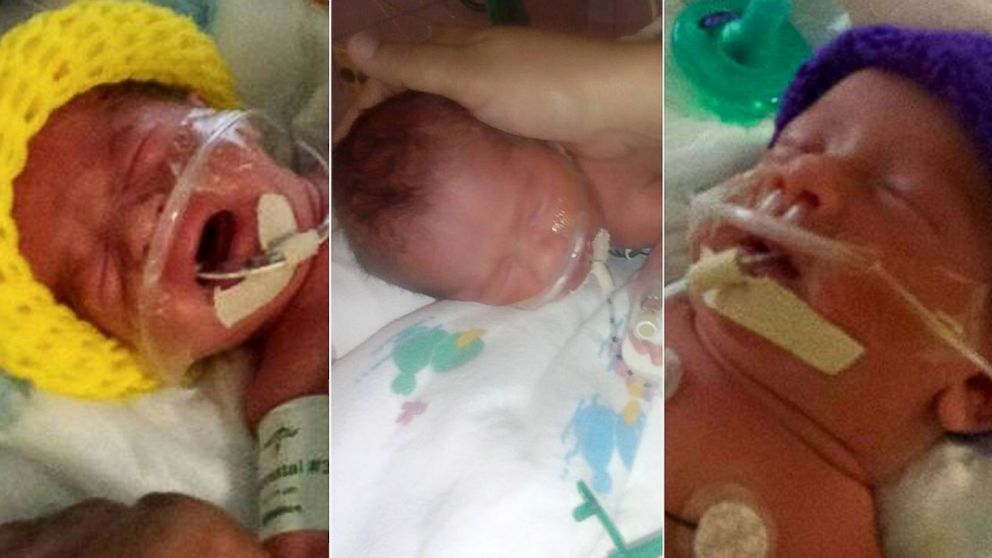 Hernandez and Torres were thrilled to learn they were expecting triplets -- but when they learned two of them were conjoined, excitement turned to fear.
"The truth is I cried, not because of how the babies would look because we knew we would do our best to give them the best and most productive life posible [sic], I cried because the doctor said we had to understand and accept the fact that once they were born they could die," she wrote on a Facebook page she and her husband created to document their journey.
Hernandez spent nearly two months in the hospital awaiting the triplets' arrival, but she often couldn't move, and because she speaks very little English, Torres needed to translate a lot of information for her, he told ABC affiliate KIII News..
"We're going to love them no matter how they look and how they come out," Torres told KIII.
They were born just shy of 34 weeks and they all weigh 4 pounds, 11 ounces, according to the station.