— -- "Good Morning America" co-anchor Robin Roberts is celebrating her fifth "birthday," the anniversary of the day she received a lifesaving bone marrow transplant.
Describing her life today, Roberts said, "I am thriving, healthy, strong and eternally grateful for life."
On this day in 2012, Roberts, a breast cancer survivor, underwent a bone marrow transplant to treat myelodysplastic syndrome or MDS, a rare blood disorder. She received the transplant after undergoing 10 days of extensive chemotherapy.
"It's considered to be a rebirth," Roberts said of the transplant. "And I definitely felt that I was getting another chance at life."
Roberts received donor cells from one of her three siblings, Sally Ann Roberts, who joined the celebration of her sister's "birthday" on "GMA."
"I'm so grateful to be here five years later to see you, Robin, just beaming with health," she said.
Dr. Richard Besser, ABC News' former chief medical editor and now president and CEO of the Robert Wood Johnson Foundation, also returned to "GMA" to celebrate Roberts' anniversary. Roberts called Besser her "North Star" for his help guiding guiding her through her bone marrow transplant and recovery.
"When I reflect back on that time, what you gave to all of us through letting us see your journey, the highs and the lows," Besser said. "Letting us see your strength, that gave courage to people all over the country, all over the world."
Besser said Roberts' public journey also let people see the important role caregivers play in the medical field.
"You can't get a transplant unless you have a caregiver who is willing to be there 24-7," he said. "It takes a person who's got love but may not have medical experience and turns them into a medical professional whose job is to keep you safe."
Amber Laign, Roberts' partner, shared her personal perspective of what she went through as Roberts' caregiver.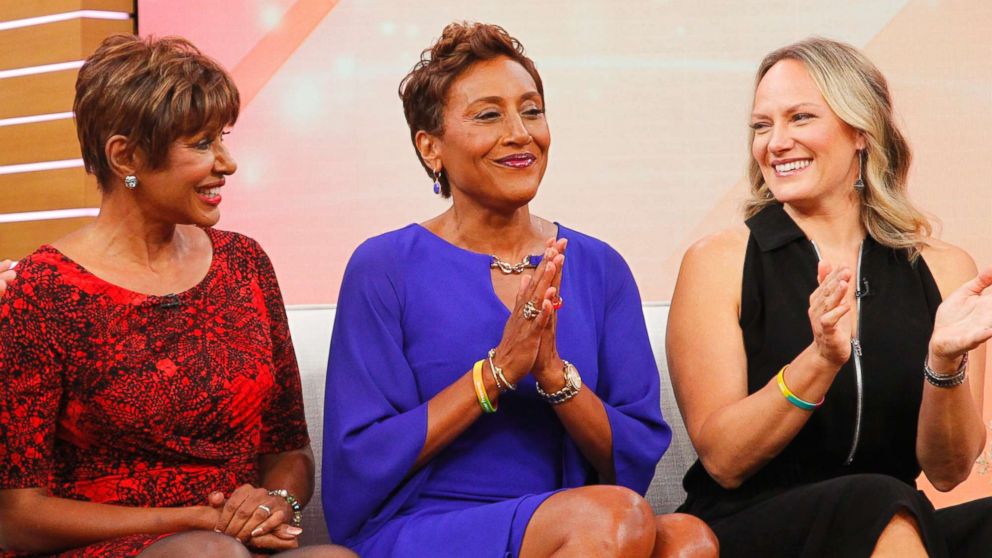 "I learned so much every day just being there and being [there] every step of the way," she said. "You're being thrown information and you're trying to keep it all together."
Laign offered advice to other caretakers, saying, "You have to take care of yourself ... during the days, in your every day life, if you exercise, go to the gym, find a yoga studio. Do something so you can just release all of this energy that you have built up from being around and being the giver and giving, giving, giving."
'At times I felt anything but strong'
While undergoing treatment, Roberts took a leave of absence from "GMA." Stars including Oprah Winfrey, Jerry Seinfeld, Rob Lowe, Brooke Shields and more filled in for Roberts during her time away from "GMA."
ABC News anchors including Amy Robach, Elizabeth Vargas and more also filled in for Roberts during her leave.
"There were people that I heard from that said we showed them how you care for somebody going through an illness like that," Roberts said to her colleagues. "And they are now doing job sharing too to not have to worry about their job like I didn't have to worry about mine."
She continued, "I'm so grateful to all of you. Thank you."
During the transplant, Roberts had millions of her sister's stem cells inserted into a port in her chest.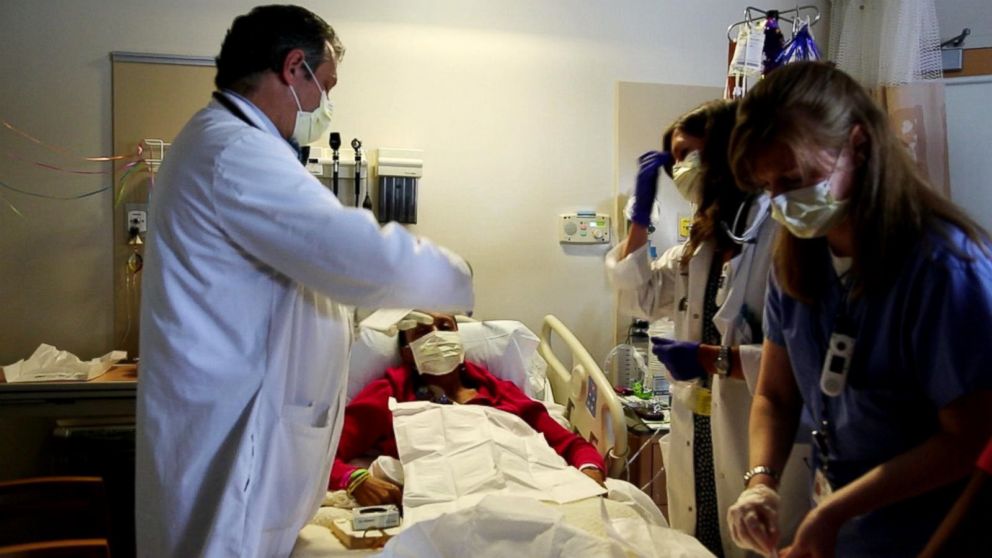 The immediate weeks after Roberts' transplant were spent mostly in isolation. When Roberts was able to leave her hospital room, she had to wear a mask and gloves, as did the people around her, in order to protect her immune system.
Thirty days after her bone marrow transplant, Roberts walked out of the hospital and began the rest of her recovery at home. She returned to "GMA" in February 2013.
Roberts later documented her treatment and recovery in a memoir, "Everybody's Got Something."
Roberts also became an outspoken advocate for bone marrow donations, appearing in a public service campaign to increase bone marrow donations and raise funds to support research for people who are battling blood cancers.
The "GMA" audience today was filled with people who are connected to the bone marrow registry Be the Match.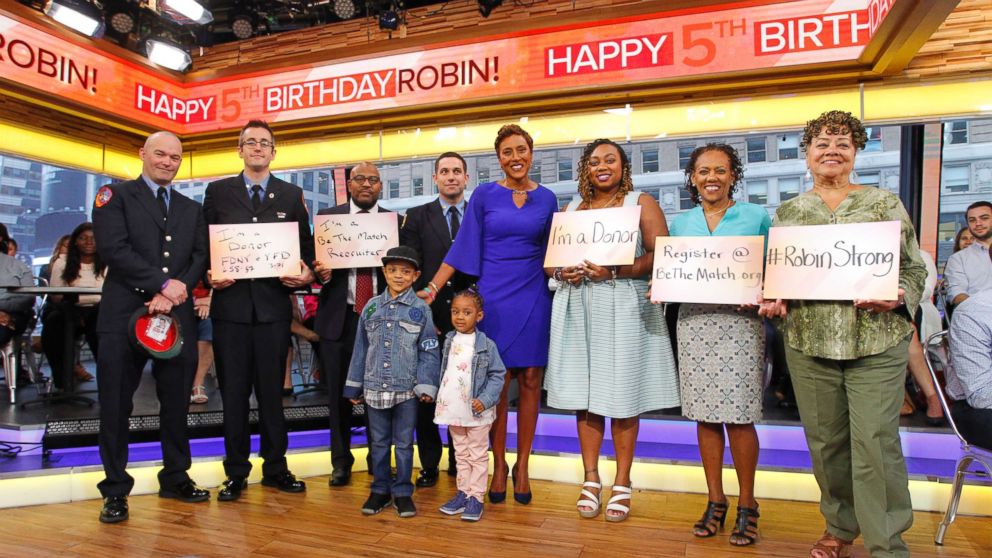 More than 18,000 people joined the bone marrow registry after Roberts shared her story, according to Be the Match. A hundred and seventy-three of those people went on to become bone marrow donors.
"There is nothing to be afraid of," Sally Ann Roberts said of the donation process. "It is easy. It did not hurt."
She continued, "If you have the privilege of being a donor, just consider it winning the Powerball because there is no award that can topped seeing a life saved."
To find out more about bone marrow donation and sign up for a registration kit from the Be the Match registry, click here.
Advancements in the treatment of MDS
Roberts recently caught up with her transplant doctor, Memorial Sloan Kettering's Dr. Sergio Giralt, chief of the adult bone marrow transplantation service, to learn about advancements in the bone marrow transplant community since her own transplant five years ago.
Giralt said one significant advancement has been in the area of genetically modified T cells.
"We take their immune fighting cells. They get genetically modified in the lab to attack a specific protein that is expressed on their tumors, and then we give those cells back," he said. "And lo and behold, eight out of 10 patients actually go in remission."
Another advancement has been in the area of stem cell transplantation for people who, unlike Roberts, do not have a donor in their family.
"Now, even if your brothers and sisters don't match fully, we can do a transplant with their stem cells with similar results to what we got with a brother or sister who's fully matched," Giralt said. "That's huge."
Roberts met Giralt at the Memorial Sloan Kettering Patient Residence, a brand-new housing facility in New York City for patients with blood cancers and disorders.
"We said, 'Well let's make a facility that allows [patients] to heal better,'" Giralt said of the 20-unit residence for patients who are recovering from transplants.