— -- Jarrius Robertson isn't your average New Orleans Saints fan.
The 14-year-old is the ultimate Saints superfan, attending the team's practices and games on a regular basis, even showing the players a little tough love when needed.
"Yeah, because you have to be tough on them or they're going to be soft," Jarrius said on "Good Morning America" today.
The quality time with his favorite team keeps Jarrius' spirits up as he faces a serious illness. He has battled a chronic liver disease called biliary atresia his entire life. The illness has affected his physical growth, and he's on the waiting list for a liver transplant.
"Being in the hospital for seven to 14 days is kind of rough for a kid," Jarrius' father, Jordy Robertson, told ABC News.
Jarrius is no stranger to hospitals, however. He had a liver transplant when he was a year old that left him in a coma for an entire year. From that point forward, he has been in and out of hospitals and has had 13 surgeries in his short lifetime.
He wants everyone to know just how important it is to become a donor to help people like him.
"It takes lives to save lives," Jarrius said. "That means if people go out and donate anything like blood, organ, kidneys or liver, then they can save somebody else's life."
To learn more about how to become an organ donor, visit Donate Life America's website.
Despite all the difficulties he has endured physically, young Jarrius has a remarkably positive attitude. And the one thing particular that keeps him positive is his beloved Saints.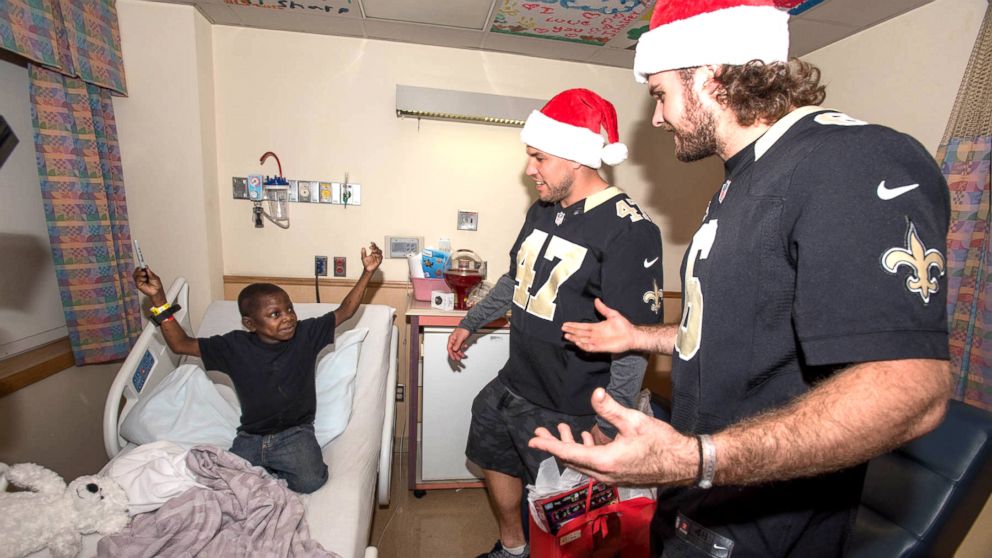 Jarrius first met the Saints a year ago during one of his extended hospital stays at Ochsner Children's Hospital in New Orleans, where he's known as "the mayor" for his lively personality.
"Well before everything started, I couldn't sleep because I wanted to know the secret of who was coming, until the nurse spilled the beans," the lively patient recalled of the surprise visitors. "And then they told me and when they got there I was very excited because it was my very first time meeting them was in person."
Needless to say, he made a lasting impression on the players. Jarrius immediately gave them a lot of constructive criticism to "help make them better."
"The first time I met him he came in and really hit me with that real," defensive end Cam Jordan said live from New Orleans on "GMA" today. "He hit me with that, 'Hey, you need to get in there, and you need to sack the quarterback. This is what you got to do. You can't fall off, Cam. What are you doing?' That's just eye opening."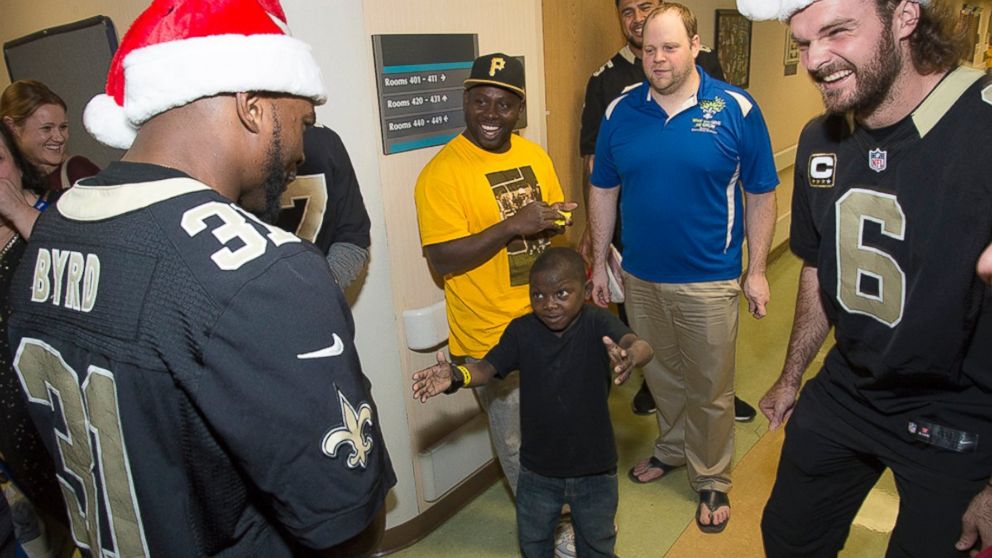 The players were so taken by his honesty and his jovial personality they invited him to their practice so he could meet the other players. This was a dream come true for Jarrius, who now attends the Saints practices once or twice a week and is known as the team's hype man.
"Jarrius has been to about four or five practices and every time he comes out I get some type of coaching point," quarterback Drew Brees said. "He even sent me a selfie video there from New York telling us that we need to quit making these games so close. We need to be putting a few more points between the end of the game so we don't make it so scary.
"We love having Jarrius out here. He's such an inspirational young man," Brees added. "His strength, his attitude, and he's welcome out here anytime. We love him."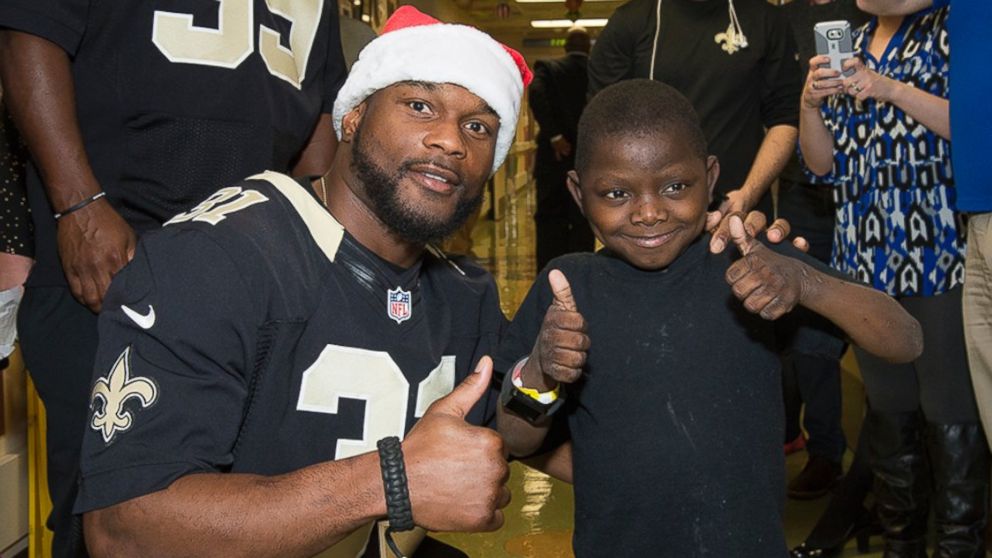 What Jarrius didn't know, however, is that Brees, Jordan and Saints coach Sean Payton had a very special surprise in store for their fun-loving hype man, where he'd soon get a major opportunity to join the team.
"As a coach, you love it when you see someone with his energy. He is on everyone's butt, trust me," Payton said of their biggest fan. "So we're going to sign Jarrius today to a contract to become a New Orleans Saint. Today, right there in New York."
A shocked Jarrius looked around a bit confused before he grabbed the pen to sign his contract printed on official Saints letterhead to become an honorary team member.
"You don't have to tell me twice," the over-the-moon superfan said.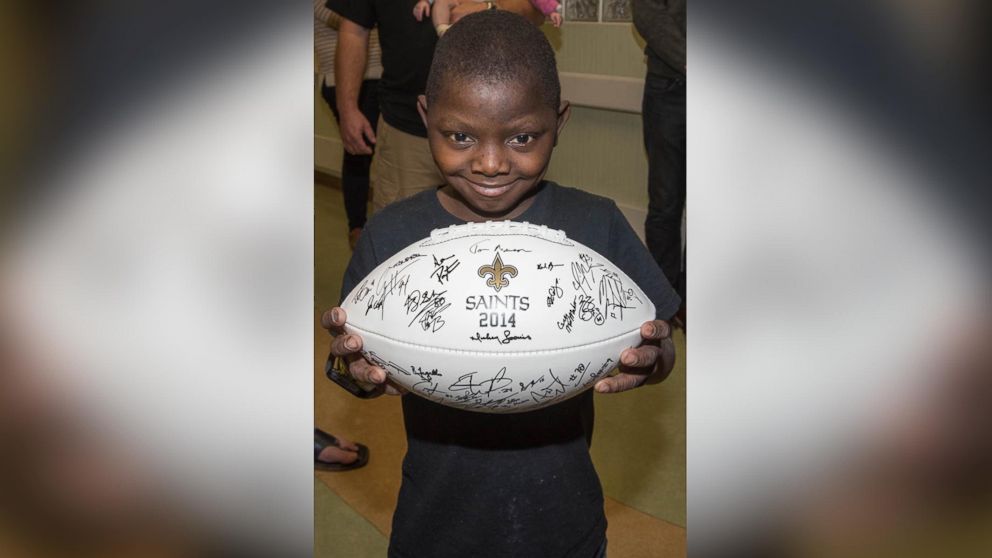 Payton then let Jarrius know his very first assignment as part of the team.
"It's significant," the coach said. "Jarrius, you and your father are coming with us, the Saints, this weekend to Kansas City, and you are going to be our social media correspondent. Heck, we're going to put you in charge of all the media. You're just going to be in charge of the media."
After the announcement of that big news, Jarrius immediately jumped out of his chair and shimmied, thrilled by the opportunity.
Take a look at Jarrius' very first interview with Robin Roberts as the New Orleans Saints' social media correspondent:
Jarrius Robertson, 14, asked the "GMA" co-anchor how she felt about the New Orleans Saints' game on Sunday.