Earlier this week, a federal judge in Colorado temporarily exempted a Catholic healthcare clinic from having to follow the state's recent ban on abortion pill "reversal" treatment.
Gov. Jared Polis signed the ban as part of a series of bills Friday, becoming the first state in the U.S. to ban use of the treatment and furthering enshrining abortion access in Colorado.
However, Bella Health + Wellness, an anti-abortion clinic, sued, arguing the ban violates its constitutional rights, including the right to free speech and equal protection under the law.
Judge Daniel Domenico, a Trump appointee, agreed and issued the temporary halt as the litigation unfolds in court.
Even before the Supreme Court overturned Roe v. Wade this past summer, some states had enacted laws requiring doctors to inform patients that medical abortions could be reversed.
Experts say this so-called "reversal" is unfounded and could be potentially dangerous.
"It's not just that [patients are] being sold snake oil, that somebody is giving them something in bad faith in an effort to somehow persuade them that they can save their pregnancy," Dr. Spencer McClelland, an OBGYN at Denver Health, told ABC News. "It's actually that the best data we have has raised enough concerns about it."
How does medication abortion work?
To induce an abortion, or manage an early miscarriage, a combination of two pills -- mifepristone and misoprostol -- is used.
Mifepristone works by blocking progesterone, a hormone that the body needs to continue a pregnancy.
This causes the uterine lining to stop thickening and to break down, detaching the embryo. The second drug, misoprostol, taken 24 to 48 hours later, causes the uterus to contract and dilates the cervix, which will expel the embryo.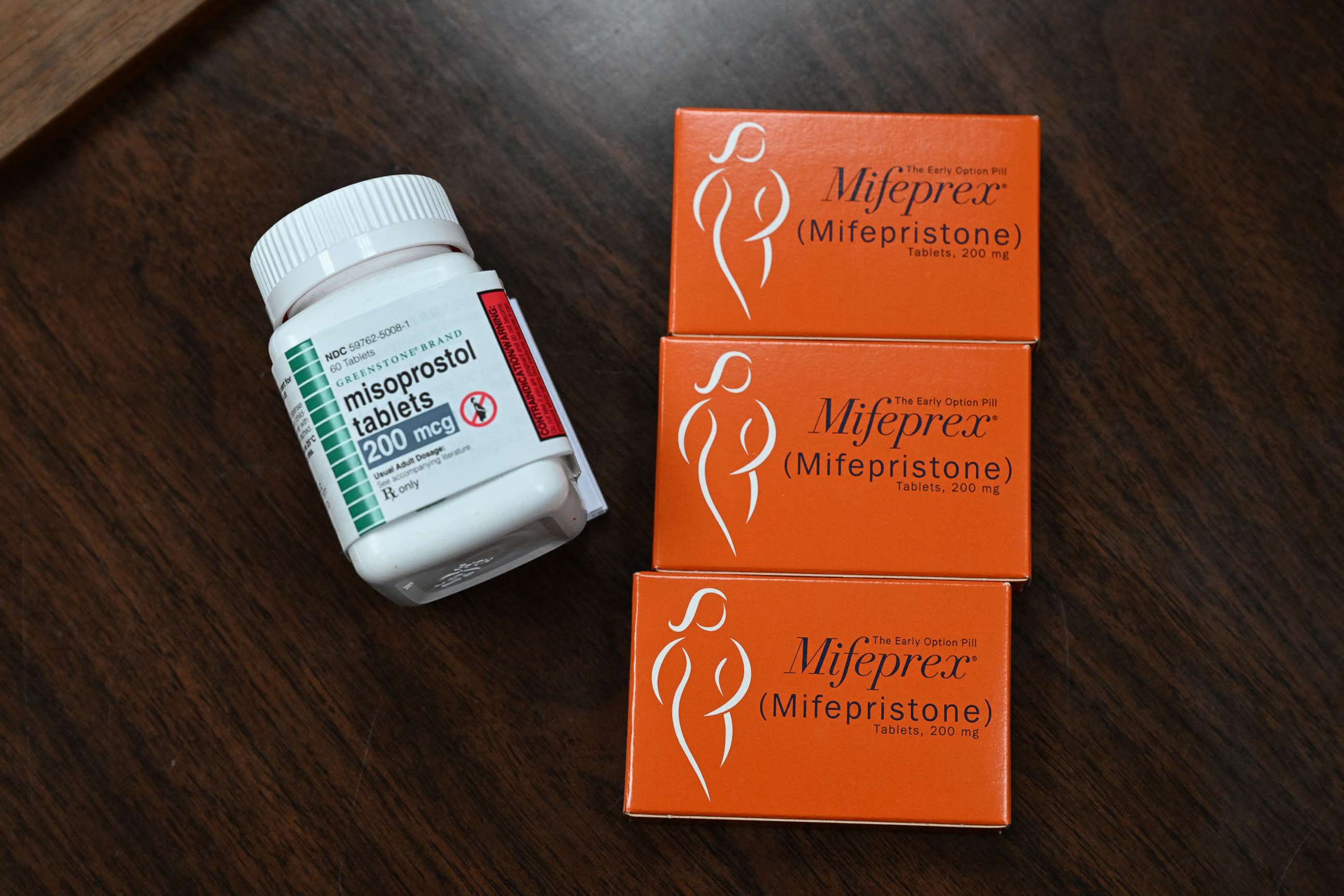 The FDA authorized mifepristone for medication abortion in September 2000 for up to seven weeks' gestation, which was then extended to 10 weeks' gestation in 2016.
However, the World Health Organization says the two drug-regimen can be taken up until the 12-week mark of pregnancy.
Medication abortions currently make up more than half of all abortions performed in the U.S., according to the Guttmacher Institute, a research group focusing on sexual and reproductive health.
McClelland says evidence shows that medication abortions are safe and effective.
"The two being used together makes the process over 95% effective in terms of just completing the abortion process and more importantly, has a really, really, really, really, really, really, really low complication rate," he said.
What is abortion 'reversal'?
So-called abortion pill "reversal" is heralded by anti-abortion groups as a tool for pregnant women who regret deciding to end their pregnancy.
The process involves giving the hormone progesterone -- orally, vaginally or by injection -- after it was blocked by mifepristone in an attempt to "outcompete" the effects of the pill.
Medical groups, including the American College of Obstetrics and Gynecologists and Planned Parenthood, do not support the regimen.
Why is it considered unsafe?
The ACOG has spoken against so-called "reversal", calling the treatment "not backed by science" as well as "unproven and unethical."
"As opposed to mifepristone, which has an amazing amount of studies about its usage, showing its safety and efficacy, the high-dose progesterone for the purpose of abortion reversal has a real paucity of evidence," McClelland said.
The ACOG referenced a 2012 case study that proponents of abortion pill reversal have used, in which six women took mifepristone to end their pregnancies and then took varying doses of an injection of progesterone.
Of those women, four continued their pregnancies.
However, the ACOG says this is not evidence that giving progesterone allowed the pregnancies to continue because it is well-documented that mifepristone is effective with misoprostol, not on its own.
McClelland said this type a case study is different from a randomized controlled trial, in which something -- in this case, a medication -- is compared against a placebo to show that what scientists are seeing is in fact a result of this medication.
"The abortion reversal pill has a lot of case series or case reports, and those are essentially just some groups of people publishing reports about what happened to their patients when they took this without being able to say that the reason that pregnancies continued at a certain rate was actually because of this medication," he said. "Because if you compare them to people who didn't take it, maybe you'd find out those pregnancies continued at the same rate. And it's just a weaker study design."
Another study, in 2019, examining medication abortion reversal was ended early due to safety concerns.
"A really surprising number of women experienced threatening hemorrhage and having to come to the hospital for emergency care after they were enrolled in this," McClelland said. "What we can say for sure is they terminated the study early because they didn't feel comfortable continuing the study."
ACOG has also argued laws that require physicians to tell patients that medication abortion can be reversed "represent dangerous political interference and compromise patient care and safety."
McClelland said these kinds of laws, which include a pregnant person being required to look at an ultrasound before they have an abortion, often have a façade as being in a patient's best interest when it can be just the opposite.
"It's definitely coercive or it implies some lack of support or lack of expertise in the person who's counseling them about their abortion," he said. "There are many, many techniques in this effort to reduce the number of people having abortions."
With mifepristone potentially set to be restricted by the Supreme Court after a ruling from a federal judge in Texas reversed the FDA's approval of the pill -- although it has been temporarily stayed --- McClelland says it's important for experts to do what they can to combat medical misinformation.
Opponents to mifepristone have argued that the FDA did not do enough due diligence before approving the medication, but McClelland says its abortion "reversal" treatment that is unproven.
"What is triggering for the medical community is yet another moment where medical expertise is devalued and reproductive rights are devalued, and we honestly feel like we're screaming into the wind to convince people that we know what we're doing and can be trusted," he said. "When that particularly involves infringing on the rights of people and we can't seem to do our best to advocate based on the evidence we have, and that's paralyzing."