Surgeons at the Cleveland Clinic today described the marathon, 22-hour procedure they performed to transfer 80 percent of a face -- including eyelids, bone, teeth and a nose -- from a cadaver to a living female patient, giving her a chance at a more normal life.
The surgery, a first for the United States, took place sometime in the past couple of weeks and repaired the face of a female patient using facial tissue from a dead female donor. It is the world's fourth face transplant operation, and it may well be the most extensive such surgery yet to take place.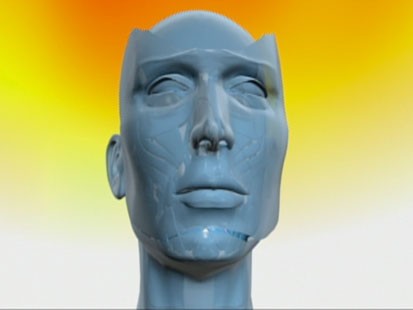 Hospital officials released scant details on the patient, citing a desire by the patient and her family to remain anonymous.
Reconstructive surgeon Dr. Maria Siemionow, who led the team of eight surgeons that performed the operation, indicated at a press conference Wednesday afternoon that the operation was intended to correct "major facial trauma" the patient sustained several years ago that left her missing "major parts of her face."
Siemionow revealed that the trauma had caused the patient to be blind in one eye, and she had lost both her sense of smell and sense of taste to the injury. It also caused her trouble in speaking.
"This patient exhausted all conventional means of reconstruction and was the right patient," Siemionow said. "The patient was really suffering whenever she appeared in social situations. She was called names, children were running away from her; they were afraid."
Thus far, doctors said, the patient appears to be recovering smoothly. No experimental drugs were used in the procedure, and there are no signs of rejection.
And though it will take weeks for the patient to complete her recovery, doctors said that the woman has already seen her new face in a mirror. They added that she has also used her hands to gently feel her new face and is excited to have a nose.
The effort itself was years in the making, Siemionow said. It was based on 20 years of research and had actually been approved by the hospital's internal review board in late 2004.
And the surgery was extensive. The operation involved the transfer of nearly all of the front of the face, including the lower eyelids, cheekbones, the entire nose and the upper jaw, including some teeth.
Face Transplants: Where Are We Now?
Until three years ago, face transplants existed solely in the realm of science fiction. That changed in November 2005 when Frenchwoman Isabelle Dinoire became the first recipient of a partial face transplant.
Since then, two similar operations have taken place. In April 2006, Chinese surgeons replaced part of the face of a farmer who had been attacked by a bear, and in January 2007 another team of French doctors repaired the face of a man who had suffered a disfiguring facial condition.
But while medical experts across the board agree that the nation's first facial transplant is cause for excitement, they remain split on the likelihood that such procedures could one day become routine.
Dr. John Canady, professor of plastic surgery at the University of Iowa and president of the American Society of Plastic Surgery, said cases would have to clear a high bar in order to be considered for the complex and still largely experimental procedure.
"The reason to do something like this is the belief on the part of the transplant team that replacing the face would offer a better result than the traditional methods of skin grafting and other procedures," Canady said. "That, ultimately, is the indication for any procedure."
And Canady said that while the success of this surgery is heartening, the procedure is years from entering the medical mainstream.
"I think that it's important, whenever you are doing a new procedure or when you're using a new medication in medicine, to have enough treated patients and elapsed time to reach some definitive conclusion. It is very hard with a small number of patients and a shorter follow-up to reach conclusions in terms of changing practice."
On the other hand, Dr. David Song, chief and program director of plastic surgery at the University of Chicago Pritzker School of Medicine, said he feels research will nonetheless quickly move forward in the field.
"Our group is also in the process of composite tissue allotransplantation, as are many groups in the country, and we anticipate that these operations and strategies will continue to develop rapidly," Song said.
"This may indeed become a conventional therapy," agreed Dr. Joren Madsen, director of the Massachusetts General Hospital Transplant Center and Section Chief of Cardiac Surgery at MGH, as well as president-elect of the American Society of Transplantation. Madsen described face transplantation as "a seed just germinated and about to bloom."
"This is also the type of transplant that will be needed for rehabilitating soldiers who need composite tissue grafts," he said. "These are techniques that need to be investigated and adopted for our boys and girls coming home with severe injuries."
Face Transplants Expensive, Complex
Still, though medical experts around the country say the procedure may herald a new era of reconstructive surgery, it is unclear how many hospitals nationwide have even developed face transplant programs. Only one medical center out of U.S. News and World Reports' top 10 list -- Brigham and Women's hospital in Boston -- told ABC News that it has a program in place.
Part of the hesitance may be the sheer complexity of the procedure, as well as the anatomy of the face itself.
"A face has what's called mimetic movements," Canady said. "When you laugh or smile, you're not thinking about laughing or smiling; you just do it. These are involuntary movements in a face that make it a face. I don't know how much of that is possible to be regained in a transplanted face."
Increased acceptance of the procedure among patients and the public is another hurdle.
"We have tried to enter patients into our own study to do face transplants, but it is a very uphill battle," said Dr. David Young, professor of Plastic Surgery at the University of California at San Francisco. "Even when we did first heart transplants, it was hard to convince people to do it; it's very hard to break through that psychological social barrier."
But, he added, "Once we do more of it, society will look at it differently, and people afraid to do it now might elect to do it."
Facing the Costs
Cost of the still-fledgling procedure may be another issue. The Cleveland Clinic did not reveal the price tag of the recent procedure, which involved numerous doctors from 12 different specialties. But Young said the costs were likely immense.
"[We] don't know financial impact right now with this case," he said. "It's a huge cost for the first few procedures, but once it becomes a common or more frequent occurrence the cost will go down."
Part of the reason the costs are so high now lies in the fact that doctors are still "testing the waters" in terms of safety and other aspects of the complex procedure. But eventually, he said, the operation could become cost effective.
"Right now they cost hundreds of thousands of dollars to do these procedures for people," he said. "I've done 10 to 20 [facial reconstruction] operations on people just to get them to the point not to frighten people when they walk out in public.
"So in that sense, it'll [eventually] be more cost effective to do a one-stage operation with touch-ups here and there to get people back to point where they can function again."
Personal costs are another issue. Dr. Patrick Byrne, director of facial plastics and reconstructive surgery at Johns Hopkins University School of Medicine in Baltimore, said that the financial burden imposed on future patient for the procedure -- as well as the various immunosuppressants and other drugs they will need for the rest of their lives -- is an issue that begs to be addressed.
"I think insurance will likely challenge covering these procedures," Byrne said. "I would predict ultimately that there's a reasonable chance it'll become part of medical armamentarium that will be accepted by insurance. I think it will happen at some point."
Life With a New Face
Medical experts have also cited the psychological considerations that must be addressed in a surgery that provides an entirely new face.
"If the procedure alters facial appearance, there are obvious psychological issues that go along with that," Canady said. "You need to have a patient who is not only medically fit to receive the operation, but psychologically fit as well. I am sure that those at the Cleveland Clinic put into this countless hours of counseling. It is a serious commitment."
Jeffrey Spike, professor of clinical ethics at the Florida State University College of Medicine in Tallahassee, said it is critical that the patient is also aware of what the surgery can promise -- and what it cannot.
"I would suggest the surgeon warn her patient: 'This surgery may require a year of rehab to get full function back, and then it may only last 10 years. And even during those nine good years, there will be some tough medical problems requiring hospitalization. Do not think you will be totally normal and healthy.'"
"The question is more whether you are willing to go through this medical type of discomfort -- and may even feel like torture sometimes -- as a substitute for your current social discomfort."
Still, Siemionow said she hopes the most recent step forward will offer other patients a better chance at a normal life.
"We envision that this may open a door for patients who otherwise may not be willing to visit us," she said.
Audrey Grayson and Michelle Schlief contributed to this report.