— -- Virtual reality may mostly be used for gaming or entertainment, but researchers have discovered a stunning side-effect that suggests it may help restore feeling and movement in patients with seemingly irreversible spinal cord injuries, a new study shows.
Researchers at Duke University were able to return some muscle movement and sensation in paraplegic patients after simultaneously using virtual reality and brain-controlled robotics to attempt an experimental rehab therapy, according to a small study published today in Scientific Reports by Nature.
"Linking brains to machines directly and providing feedback, we may have created a potential rehab therapy," said Dr. Miguel Nicolelis, co-author of the study and the founder of the Center for Neuroengineering at Duke University and Duke School of Medicine professor in neuroscience.
Researchers used virtual reality and robotic exoskeletons to help train patients to use their thoughts to move. Patients first trained using the virtual reality to mimic walking through an avatar.
The device used is called Brain-Machine Interface, a computer system that records brain signals from human thoughts. The computer translates the recordings into commands to output devices. Patients had to imagine themselves making lower limb movements and then electrical signals from the brain were translated to the computer and moved each patients' avatar on the virtual reality screen. As their digital counterpart took a step, the patient felt the thud of the foot in their arm via an electrical signal.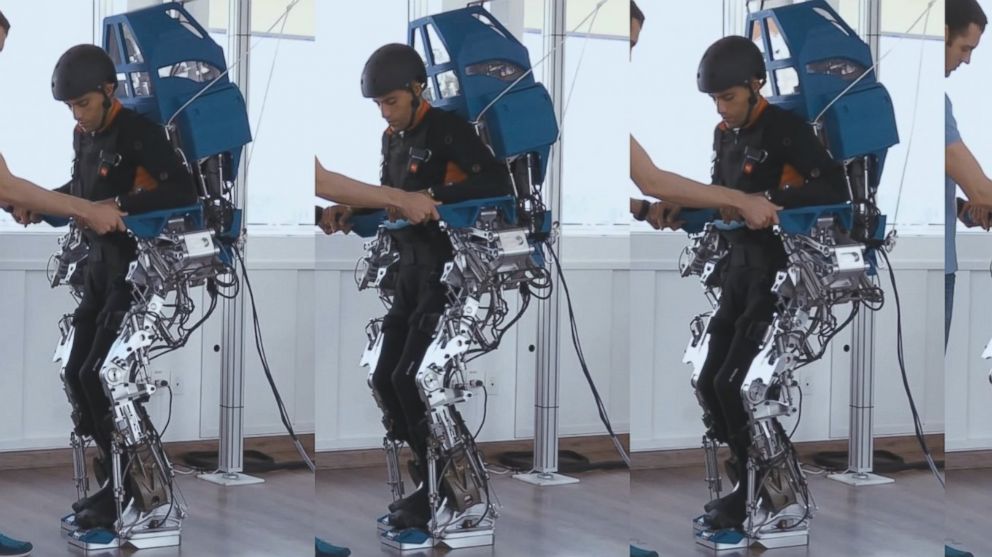 After that initial training, patients then used the same technique while wearing a robotic exoskeleton. The device allowed the patient to "walk" with the help of the machinery as they controlled the machine with their mind.
However, the most thrilling aspect of the study was completely unexpected. After using the exoskeleton, some patients started to regain some sensation and some muscle movement on their own.
"Everybody was stunned to see the footage of these movements," Nicolelis said. The patients "could see how science could help."
One patient, previously unable to stand due to a spinal cord injury, became capable of walking using a walker, braces and the assistance of a therapist, according to the study. This was all the more surprising because of the severity of the patients' injuries.
The eight patients in the study had been clinically diagnosed with a spinal cord injury at least one year prior to the study. Seven patients had a complete injury as classified by the American Spinal Injury Association (ASIA) Impairment Scale, and one patient had an incomplete injury.
Both researchers and patients were overwhelmed by the unexpected results seen in all eight patients.
Researchers theorize that their intense training protocol may trigger an "awakening" of the surviving nerves that remain intact below the spinal cord injury level but are dormant.
"I am very hopeful that we will be able to share these details with spinal rehab centers around the world," Nicolelis said. "If it works with spinal cord injuries, it may work with other injuries such as stroke."
Researchers continue to see improvements in functional recovery in patients who have continued training after the first 12 months, Nicolelis said. More research will be needed to confirm these results from the small study and to better understand the mechanism that may have allowed these patients to recover some movement and sensation below their spinal injury.
Alexandra Bennewith, vice president of government relations at the nonprofit United Spinal Cord Injury Association, said the technology sounded "amazing" but that it needed to be proven to help people on a larger scale.
"I hope that the study shows that is it has long-lasting effects that can be broadened to more individuals," she said. "There is a such a clamoring need for new trials, new innovations, new technologies. ... People are willing to try things if it will help them gain more functional ability."
Dr. Shakira Sanchez-Collins is an internal medicine/urban health resident at Johns Hopkins Hospital and is currently working at the ABC News Medical Unit.