One of the world's last cities with a mask mandate plans to drop it
Masks will still be required in health care settings.
Hong Kong is ending its mask mandate Wednesday, becoming one of the world's last cities to drop rules demanding face coverings.
In a press conference Tuesday, Chief Executive John Lee said residents and tourists will not be required to wear masks indoors, outdoors or on public transportation for the first time in nearly three years.
However, masks will still be required in health care settings such as hospitals and nursing homes.
The mandate, which went into effect in mid-July 2020, imposed a more than $600 fine to those who didn't follow mask rules.
"After looking at all the data, the trends and the fact that the winter surge [of influenza] is nearing the end, in order to give people a very clear message that Hong Kong is resuming to normalcy, I think this is the right time to make the decision," Lee said.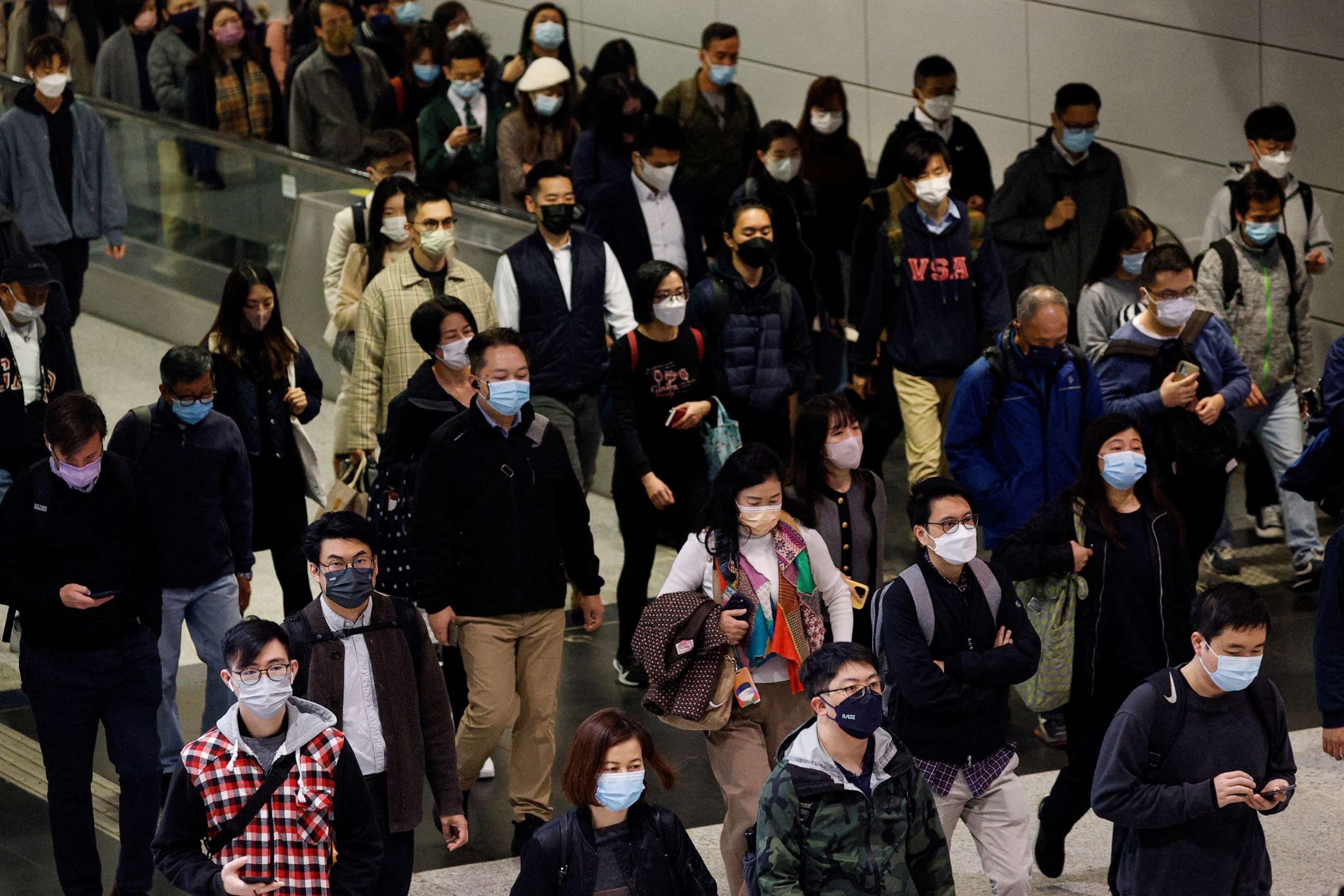 For much of the pandemic, Hong Kong has followed mainland China's so-called "zero COVID" policy, enforcing harsh restrictions -- such as universal masking -- in an attempt to prevent outbreaks.
However, after China dropped several of its stringent policies in December 2022 and Hong Kong followed suit, it led to a surge of cases not seen since March 2022, according to Our World in Data, which uses data from Johns Hopkins University.
Cases have been declining for weeks. On Tuesday, Hong Kong recorded just 96 COVID-19 cases, according to Hong Kong's Centre for Health Protection.
Several other countries and territories in Asia have been rolling back COVID-19 restrictions as leaders look to shift to an endemic phase.
In late January, South Korea rolled back face covering requirements for most indoor places.
Additionally, last week, the gambling hub of Macao said people will not be required to wear mask outdoors but will still be required in elderly care homes, hospitals and public transit. Indoor venues, such as casinos, can set requirements at their discretion.
Leaders in Hong Kong hope the easing of requirements will help bring back tourists and businesses. Earlier this month, the tourism board launched the "Hello Hong Kong" campaign, giving away 500,000 free airline tickets in an attempt to lure international travelers.
"With the masking requirement removed, we are starting to resume to normalcy comprehensively and that will be very beneficial to the economic development, our international competitiveness, as well as our activities which involve everyone in Hong Kong," Lee said.
Lo Chung-mau, director of the Medical and Health Bureau, said at the press conference that he expects cases of respiratory viruses, such he expects the peak to be short and that it will have very little impact on public health systems.
"We look forward to a better tomorrow, which is the 1st of March so that we can all put a smile on our faces say, 'Hello, Hong Kong,'" he said, according to Hong Kong Free Press.
ABC News' Britt Clennett contributed to this report.