19-year-old American becomes youngest person to row solo across Atlantic Ocean
"I lived off of Pringles and candy for a long time," the New Jersey native said.
January 29, 2018, 1:17 PM
— -- New Jersey teenager Oliver Crane became the youngest person to row solo across the Atlantic Ocean early Sunday, when he arrived on the Caribbean island of Antigua to a crowd of cheering friends and family.
The 19-year-old broke the previous record for the youngest solo crossing, set in 2010 that was held by then-22-year-old Katie Spotz.
Crane completed his 3,000-mile voyage in 44 days after starting in the Canary Islands on Dec. 14
"It was hard starting out from La Gomera, off the coast of Africa, taking that first stroke and knowing I had close to a million more strokes to go and 3,000 miles left," the teen told ABC News. "But I got through it, and I'm glad to have."
Crane's 23-foot, custom-built boat, nicknamed "Team Homeward Bound", has a solar-powered water maker and is designed to right itself if it capsizes, which happened a number of times along the way. There's no toilet on board - Crane had to use a bucket.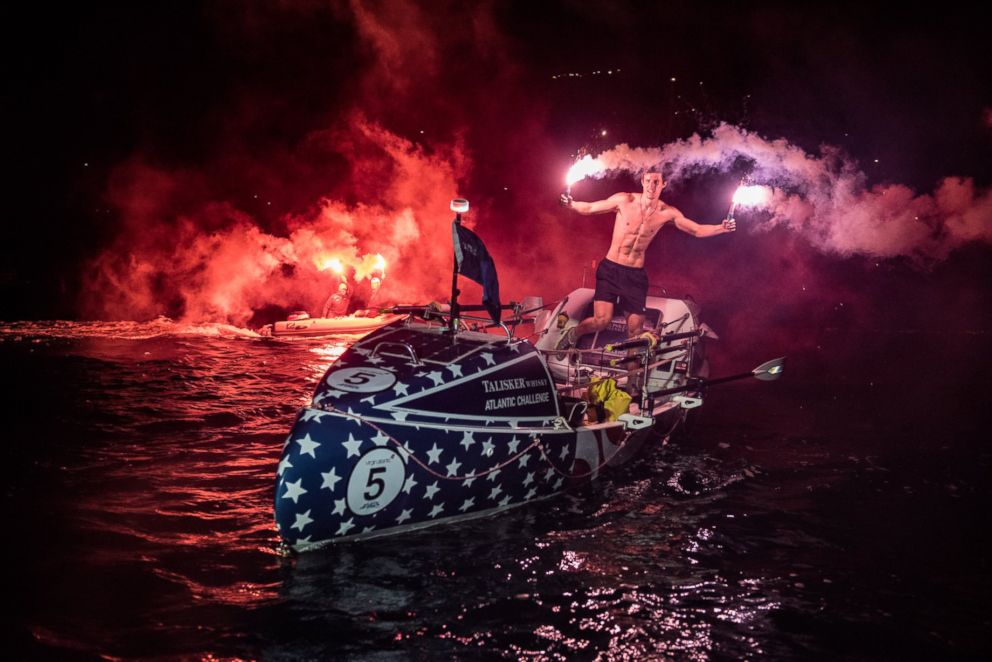 Crane says he had two satellite phones on board to communicate with his team on shore, who helped him with navigation and weather forecasts, and got texts from his family, who he says have always pushed him to test his limits. But just like a lot of 19-year-olds, left to his own devices, Crane's nutrition took a hit.
"I ate mainly junk food," he said. "I was supposed to eat freeze-dried food as my main energy source, but I had a hard time getting it down, so I lived off of Pringles and candy for a long time."
Leaving in December meant spending Christmas and New Year's alone for the first time as well. But Crane says it turned out to be one of his favorites of all time.
"I was out there rowing and I got visited by a passing sailing yacht," he told ABC News. "They sang me Christmas carols, circled around and wished me well on my journey."
Arriving in Antigua Sunday morning in the dark of night, Crane was greeted by a pack of friends and family on shore, Crane lit red flares on his boat, holding out his arms in triumph. He said seeing the crowd was a homecoming in itself.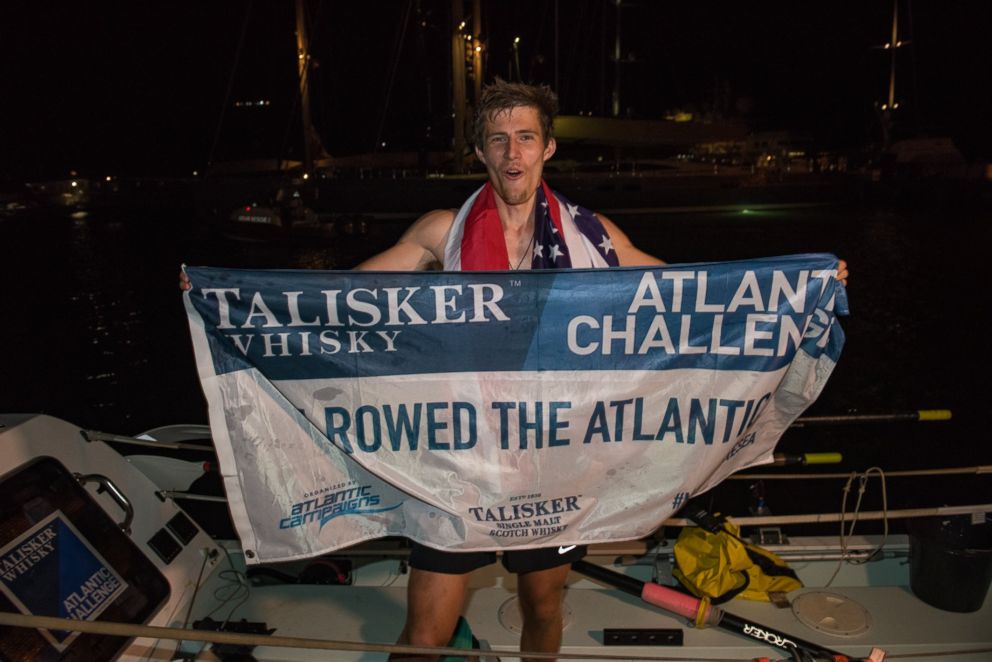 "It was incredible," Crane said. "You are out there with just you, the boot and water, day after day. You get really lonely. And then coming into Antigua harbor, seeing my family and friends. I've never felt so much joy, seeing them all, never felt so much love. It was an amazing experience."
On his website, Crane said he was using the trip to raise money for ocean conversation and homelessness.
He said he plans to head to Princeton University to study political science. As far as his next adventure, Crane, a longtime rower, said that for now, no more water.
"Now that I've got this under my belt I'm excited, I'd like to take on new things," Crane said. "Maybe climb a few mountains. Land-based, definitely. I'm going to take a break from the ocean for a while. I'm enjoying solid ground."